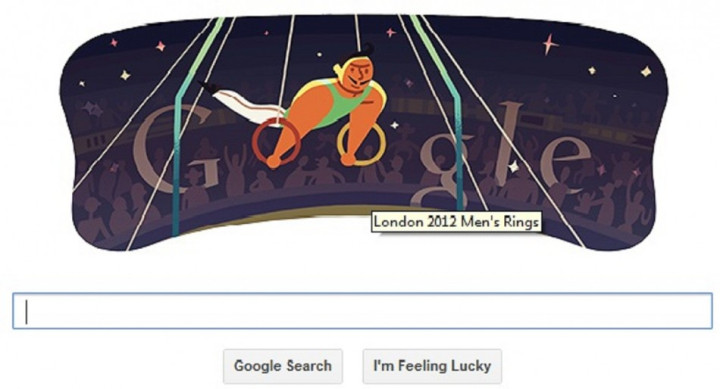 Google has dedicated its latest doodle to the Artistic Gymnastics Men's Ring on the fourth day of the London Olympics 2012 which also followed the British team winning a medal in the category, the first in a century.
Team GB's Louis Smith, Max Whitlock, Daniel Purvis, Sam Oldham and Kristian Thomas have won the bronze medal in the gymnastics team event held on 30 July. The team was in the second position after the final round but an appeal from the Japanese team pushed them to the third position.
The last time a British team won a medal in team gymnastics - bronze - was in Stockholm 1912.
"For us, this is a dream come true. To get a bronze medal is a miracle. Silver, bronze, it doesn't matter. We have the bronze medal on our necks, who cares about silver? We set out to come top six or top five; to enjoy ourselves. To get a medal was unbelievable," team captain Louis Smith said.
The graphic image on the Google's home page depicts a male mustachioed gymnast performing on two rings which is made of the two Os in the Google logo. It also shows a cheering crowd in the background.
Artistic Gymnastics uses still rings as the gymnastic apparatus and requires extreme body strength to perform. It is known for three gymnastic disciplines - artistic, rhythmic and trampoline.
The event has six fields - the pommel, the high bar, the rings, the vault, the parallel bars and the floor. There are four phases to the competition such as qualification, team final, individual all-around final and individual apparatus finals.
The London 2012 Artistic Gymnastics events are taking place from 28 July to 6 August. The event has been part of modern Olympics since the first Games in Athens.
Google is celebrating the biggest sporting event in the world dedicating doodles of specific sports events each day, a tradition it started at the Sydney Olympics in 2000.
Google marked the first day of the Olympic Games with Archery, with focus on swimming and fencing on the second and third day respectively.