2012 London Olympics: Britain Wins Historic Gymnastics Team Bronze
Team GB's male gymnasts win Olympic bronze to secure the country's first team medal in 100 years at London 2012
Team Great Britain's male gymnasts claimed the country's first Olympic team medal for 100 years after winning bronze at the end of a final drenched in controversy at the North Greenwich Arena at London 2012.
Britain's quintet of Sam Oldham, Dan Purvis, Louis Smith, Kristian Thomas and Max Whilock went into the final discipline trailing Ukraine in fourth.
But Purvis, Thomas and Whilock produced faultless routines on the floor to thrust Great Britain above both Ukraine and Japan to seemingly snatch silver in an event which saw defending champions China retain their title.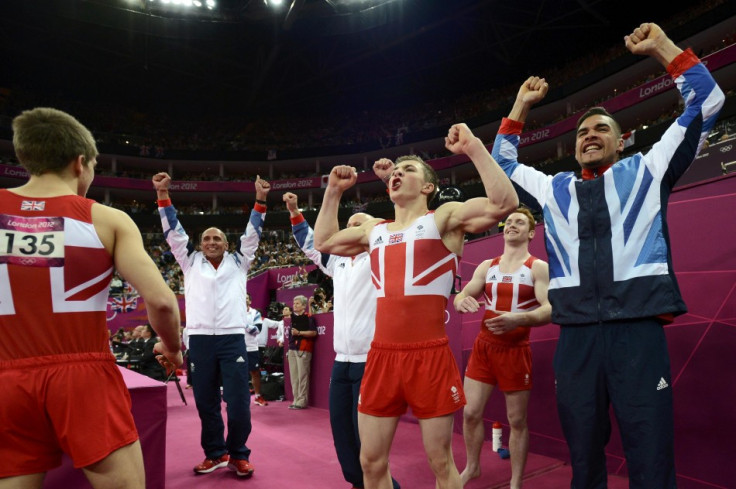 However, the Japanese, who had been contesting for the gold with China throughout, appealed the final decision, as they dropped into fourth following Kohei Uchimura's mistake from his pommel horse dismount.
And the appeal was accepted, with Britain being demoted to a bronze medal, as Japan won silver with Ukraine finishing empty-handed.
The controversial end to the team competition marred a thrillingly fought final, which saw Smith produce a peerless pommel horse routine in the opening to set GB on their way, and set himself up for the individual competition.
Britain looked likely to be contesting for gold when Thomas scored 16.550 on the vault, but the youngster member of the team, Oldham, fell from the high bar, and hence forth, Team GB were always fighting for bronze, with Ukraine hot on their heels.
However, the final discipline on the floor played into the hosts' hands, with Thomas and Purvis, who competed on every part of apparatus, producing a vintage showing in the pressure cooker of an Olympic final.
The electric crowd at the North Greenwich Arena went into hysterics when it was confirmed Team Great Britain had finished above Ukraine, who could only meanwhile score 45.699 on rings.
But then confusion reigned in the Japan camp when, following Uchimura's shaky pommel horse showing, Great Britain was placed above them in the final standing, immediately submitting a review.
The judged quickly concluded the dismount was legible and awarded Japan enough points to see them edge out Ukraine and Great Britain and take their place in second.
The ruling did little to take the sheen off Great Britain's achievement of breaking a 100-year wait for a team medal at the Olympic Games, with a stunning bronze on home soil.
© Copyright IBTimes 2023. All rights reserved.