Best Smartphone Apps for the London 2012 Olympics
With the London 2012 Olympic Games just days away, we take a look at some of the best smartphone applications to help you keep up to date with your favourite athletes and on top of all the planned travel disruptions.
London 2012: Join In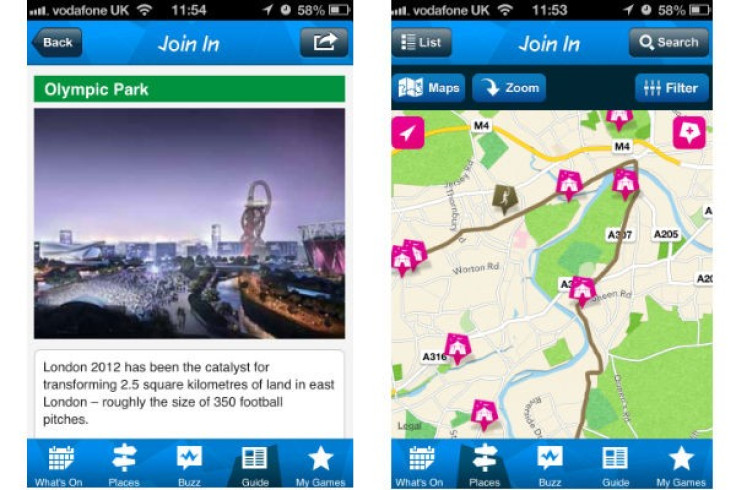 The official Join In app for iOS, Android and BlackBerry is free and offers information on a huge number of events and activities from London and all of the host cities around the UK.
From a night at the BBC Proms and a performance of Tempest at the Royal Shakespeare Theatre, to events at the Newcastle Live Site, the Join In app will keep tourists and locals alike busy while not attending the games themselves.
As for Olympic events, they're all listed in the app, along with the time and location of the event and instructions explaining how to get there from your current location. If you need wheelchair access then that can be accounted for, and if there are any travel disruptions they are also shown for each event and venue.
The Torch Relay is also included, with detailed information from every day of its journey. There's minute-by-minute updates on where the torch will be, photos and videos of it and even weather forecasts for the rest of its route through London.
The guide section caters for every sport and Olympic event, with information on local road closures for the road races, and information for if you're visiting an Olympic venue, such as what you can and can't take in with you.
Finally, the Join In app has deep social network integration throughout, so you can share links to information in the app to Facebook, Twitter, via email and text message.
There's a wealth of information packed into this application, but some of it requires a data connection. For example, you can't look up travel information without a signal, and the Guide section covering the torch relay and spector guide is unavailable offline.
London 2012: Results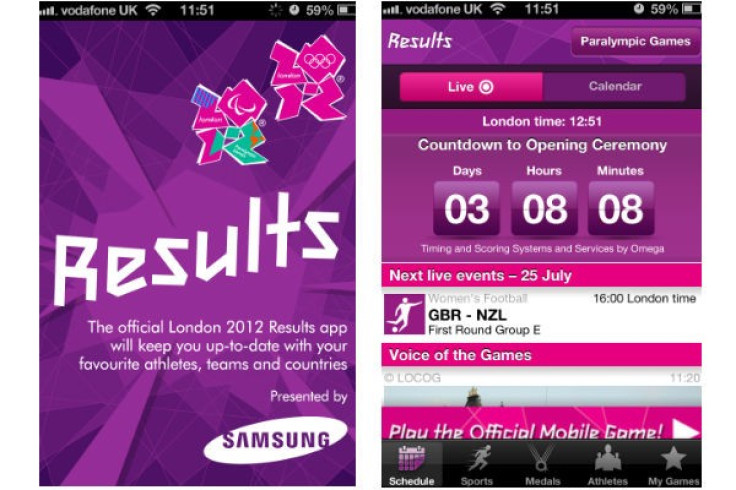 Offered alongside the Join In app, London 2012: Results does as you would expect, and shows results for every round of every sport, photos and news from the games. There's also the same 'Athletes' section as found in the Join In app, detailing every athlete and country competing.
Every event from the Olympics and Paralympics is covered and there's a medals table so you can keep track of your country throughout the games.
Reuters London Olympics 2012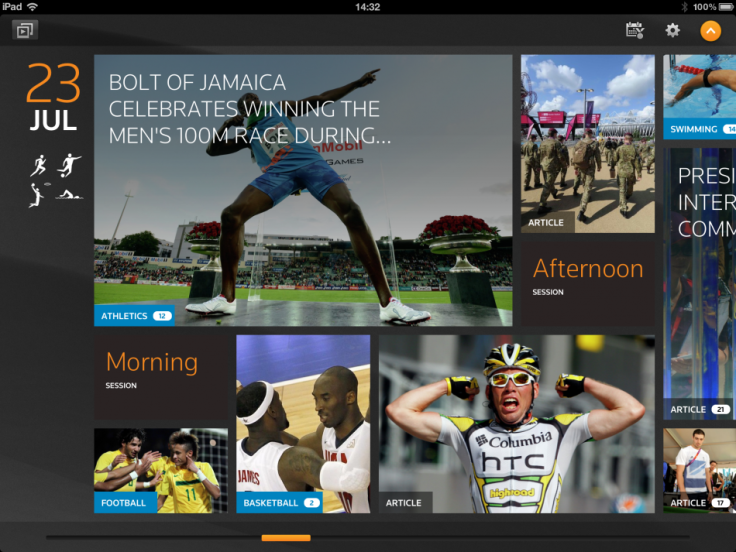 Choosing to show off its image catalogue, Reuters' Olympics app for iPhone and iPad is an attractive display of photos taken before and during the games.
Shown as a scrollable timeline documenting the games, Reuters Olympics adds captions explaining each photo, while some get turned into infographics with extra information about each sport laid over them.
As well as dozens of images added daily throughout the games, the Reuters app also has a calendar of all events and the compulsory medals table.
Reuters Olympics London 2012 is free, but only available from the App Store for iPhone, iPad and iPod touch.
BBC Olympics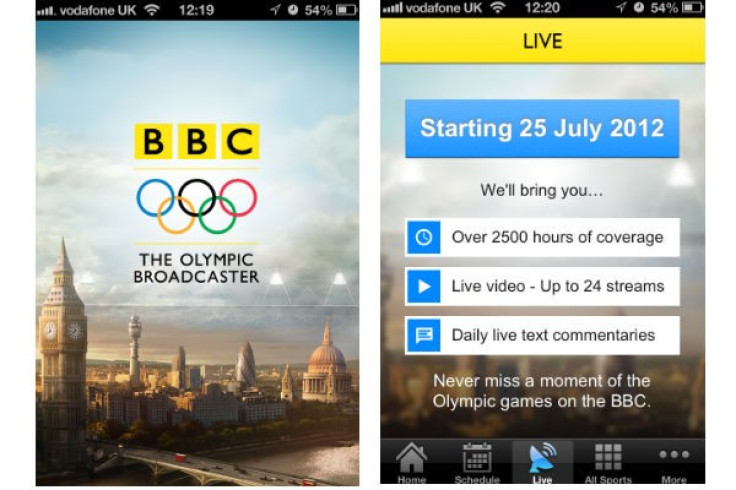 Being the official broadcaster of the Olympic Games, the BBC has gone all out this summer and is offering its coverage live across 24 channels available on Sky, the Red Button, iPlayer and the Olympics app for iOS and Android.
Along with the live video channels, there's Olympic news for every sport, recent images, highlights from the Beijing Games, biographies for all of the teams and athletes, and a medals table for when the games get underway.
We should point out that streaming of those channels is only available if you're in the UK.
London 2012: Official Mobile Game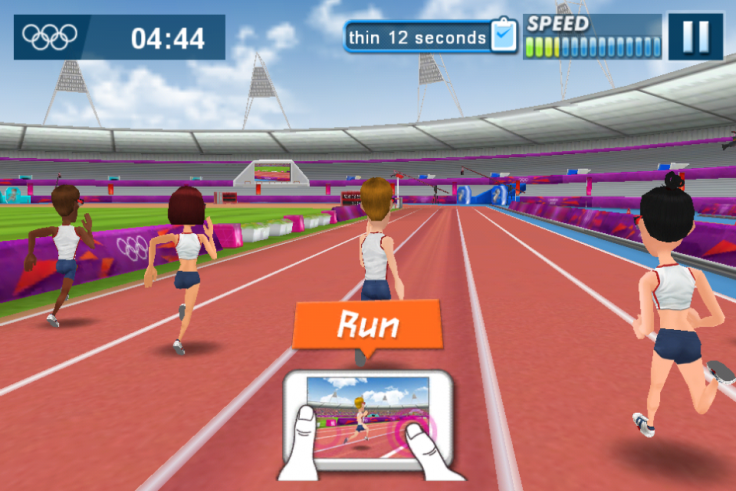 Following in the footsteps of the official London 2012 videogame for Xbox, PS3 and PC, the iOS and Android version is available in free and paid-for versions.
The game includes key Olympic events such as the 100m, 110m hurdles, various 100m swimming events, kayak, triple jump, pole vault and archery.
Create your own player, train to improve statistics and compete against either virtual competitors, or other players with the app.
While the Olympic venues are all recreated, the athletes are not, as countries had not confirmed their teams before heading out to London. You'll have to make do with a host of unnamed 'Player 1' and 'Player 2' characters - this is also the case with the console game, which we played in May, but it doesn't really detract from the game.
Travel Apps
So you've got your tickets, read up on every athlete from every country, and know the rule book to every sport inside and out, but getting to the games on time is crucial, and with a million extra people using London's transport system during the games, knowing where you're going will be key.
Tube Deluxe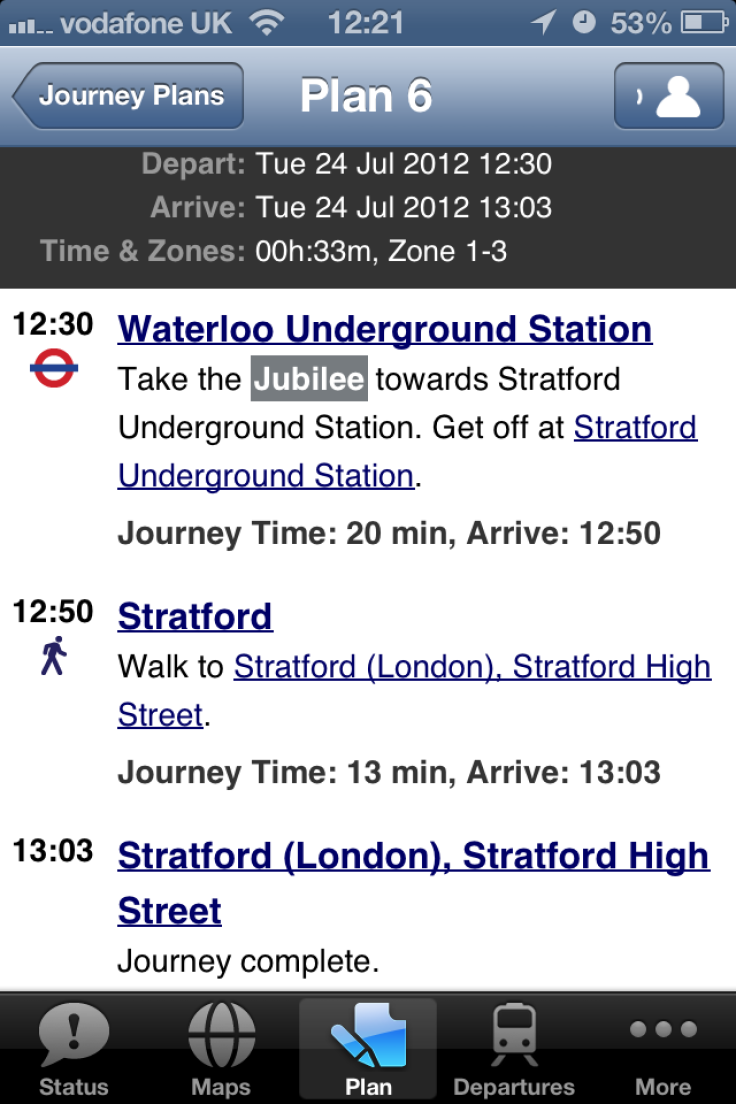 There's a huge range of London transport apps for iOS and Android, but our favourite is Tube Deluxe on the iPhone. It's 69p and offers everything from live statuses of all lines - including the DLR and Overground - maps of the whole underground and each line, live departures and a simple system to plan journeys to and from any station in the UK.
There's also information on planned closures and the app will use your iPhone's GPS to tell you where the nearest station is.
Bus Live Countdown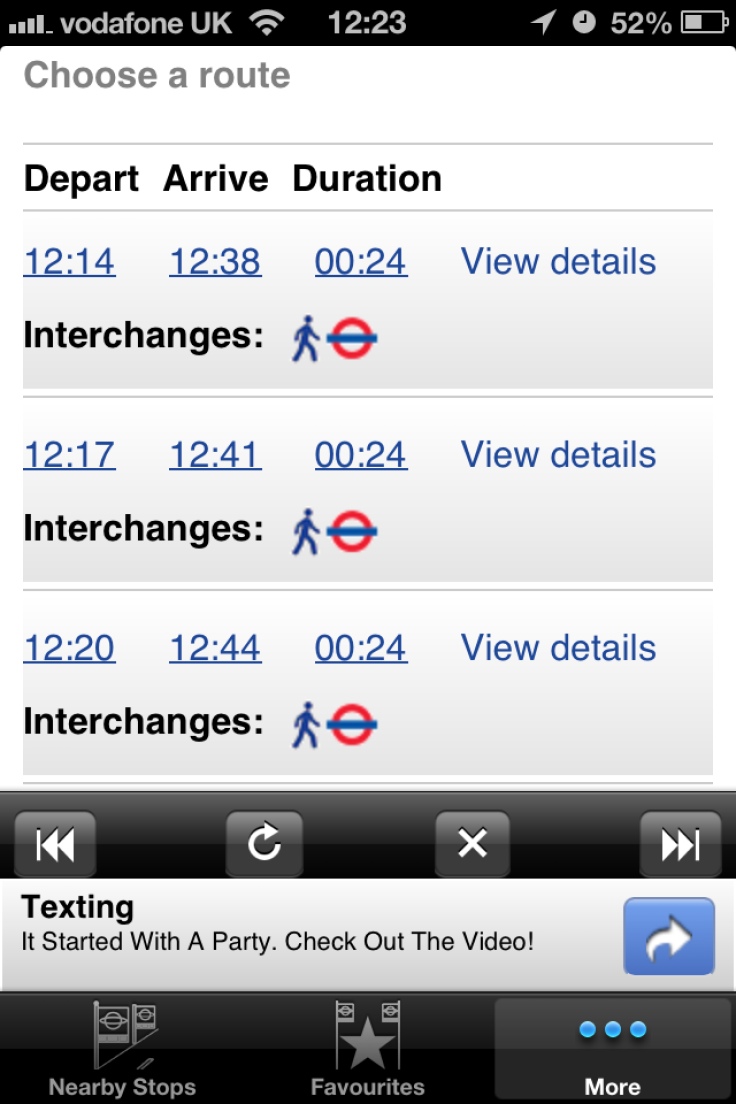 If buses are your thing, then Bus Times for iOS and London Bus Live Countdown for Android give live updates on all London bus routes. There's clear maps showing where the nearest stop is, and the app can help you get from one end of the capital to the other in a few taps.
If you're doing a regular journey then favourite stops can be saved and there's also details on road disruptions, although this just says which roads are affected, rather than specific bus routes.
The apps are both free with adverts.
Get Ahead of The Games
Everyone in London is bound to be aware of the Get Ahead of The Games website by now, which gives comprehensive information on travel disruptions to the underground, trains, buses and road network throughout the Olympic and Paralympic games.
While there isn't an app, the website is smartphone-friendly and can be viewed in a simplified mobile version if you prefer.
Most Olympic apps offering planned travel disruption information and routes all get their information from the same source, but Get Ahead of The Games is the one supported by Transport for London, so if one service is going to be the most comprehensive, it's this one.
© Copyright IBTimes 2023. All rights reserved.