The Metropolitan Police are prosecuting the Euroteam website for ticketing offences relating to the London 2012 Olympics.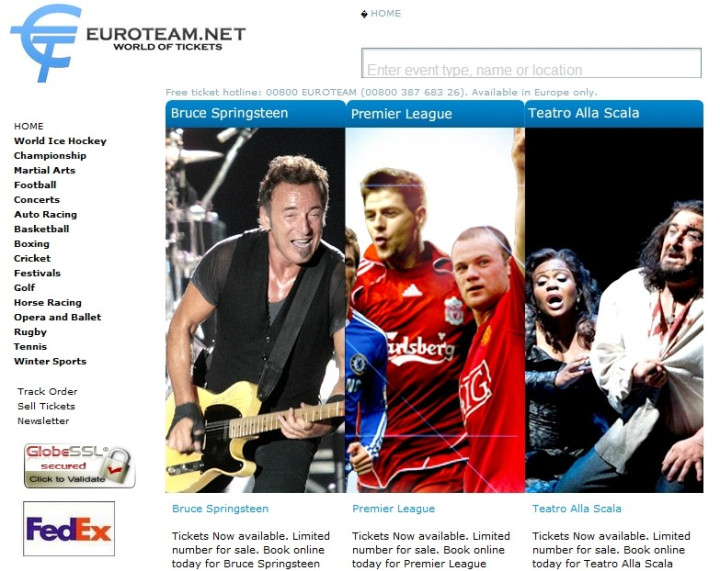 "We are prosecuting Euroteam for offences under Section 31 of the London Olympics and Paralympics Act 2006. Their lawyers have already appeared at the City of Westminster magistrates and the next hearing is in February," Det Supt Nick Downing of Operation Podium told IBTimes UK.
Police are also looking for the accomplices of Simon Maxwell, who was arrested in a separate case relating to ticketing and accommodation websites relating to the Olympics.
Maxwell has been remanded in custody pending his next hearing but Operation Podium officers said they were still actively searching for other people as part of the same investigation.
The 43-year-old from Walton-on-Thames has been charged with four offences, including conspiracy to commit fraud in connection to the letting of properties and the sale of Olympics tickets.
"One of his websites, Shortlondonlettings, is suspended from the web but we are still trying to remove Globalticketmarket, which was .com but now ends with the suffix .ru. Again we would strongly advise members of the public to not even entertain buying tickets from that website. We are doing everything we can to stop it operating," Downing warned.
Operation Podium has provided advice for those who think they might be victims of ticket fraud, which can be found here.
IBTimes UK spoke to four people who bought tickets to the games from unofficial websites rather then the official London 2012 site and fear they may have been caught out.
Three of the buyers have tried to contact the online ticketing companies they dealt with but their emails and phone calls went unanswered, while another was told their ticket was unavailable but the company was trying to find one from another source.
Three of them live outside the UK but say it is too late to cancel their plans and they will travel to London regardless of the tickets.
Xavi Aymamí Valero from Spain paid €3,000 (£2,345) for tickets to see the athletics, basketball, football, handball and swimming. Carolina Sanchez from Rennes in France paid £560 for six tickets to the basketball and Pauline Chong from Norway bought a single ticket to watch tennis at the Wimbledon Centre Court for £250.
Nick Gould's wife, Christine, bought him tickets as a present to see the canoeing for an undisclosed fee as Nick used to canoe in his youth. The couple from Bristol have been left with a difficult choice.
"A woman answered and said the tickets would be delivered a day before the event - however they must be delivered to either the hotel we were staying at or an address within the city the event was happening at," Christine told IBTimes UK.
"Do we waste over £300 on staying at the hotel we have booked only to be disappointed even more because no tickets will arrive?"
Public Awareness
Downing said Operation Podium, which specifically deals with offences related to the 2012 Olympic Games, had tried to raise public awareness and prevent people getting caught out. A warning was issued about Euroteam early in July.
"We are aware that the Norwegian authorities - and we have been working with them closely - have arrested the directors of Euroteam. The company has indicated that they cannot supply all of the tickets they have sold. As soon as I heard that I got the message out as wide as we possibly could," Downing said.
"We have told Euroteam to write to all their customers who they do not believe are going to [get] tickets and tell them that they can't supply tickets. As of yet we haven't heard of anyone who has received that kind of letter from Euroteam."
IBTimes UK repeatedly tried to contact Euroteam but both the general number and the emergency number it directs customers to remained unanswered.
"If you have ordered tickets for the Olympic games you will receive information to your registered email address at the latest one week before the event," said an automated voicemail.
Emails sent to two addresses listed on the site and through an online form also produced no response. The company uses a service to keep their Whois details private so there is no registered name of who set up the website.
Downing said Operation Podium had asked for the Euroteam website to be taken offline but the decision to suspend websites was left with domain service providers.
"Some don't recognise the legislation of Section 31 and some do and take action. We have requested a number of Euroteam's websites to be suspended and as yet, to my knowledge, we have not been able to suspend any of them," Downing reported.
Payment providers
However, he said his team had found more success with the payment providers who usually process Euroteam's transactions.
"We work with the payment service providers and say to them, 'This is the activity' and ask them to remove the payment services. And they will look at that as well as their own terms and conditions," he said.
"Doing that is a much more impactful way of disrupting a company. Stop the money flow and then it is going to be much harder. That is another tactic we have used in relation to Euroteam and had some degree of success."
Must Read:
London 2012 Olympics: Advice for Victims of Ticket Fraud
London 2012 Olympic Tickets Website Scam: Police Arrest Surrey Man
London Olympics 2012: Metropolitan Police Warns of Euroteam Web Ticket Scam