London is counting down to one of its most festive events of the year - the Trafalgar Square Christmas tree lights being turned on.
The ceremony will start at 6pm tonight (December 5) and will last half-an-hour, with the lights expected to be switched on at around 6.20.
Hundreds of people are expected to attend the event, with Lord Mayor of Westminster Councillor Sarah Richardson inviting Governing Mayor of Oslo Fabian Stang to turn on the lights.
The tree, a Norwegian Spruce, is an annual gift from Norway that has been sent to the people of London every year since 1947 as a mark of thanks to Britain for its support during WWII.
It stands at 20m tall and is decorated with around 900 LED lights. It was cut down in a forest in Oslo last month, having been chosen by the forestry division of Oslo City Council.
Richardson travelled to Oslo to accept the tree and it arrived in the UK last week after being transported 700 miles across the North Sea.
As well as the switch on, there will also be Carol singing led by the choir of St Martin-in-the-Fields and Norwegian singer Siliva Moi, who will sing O Holy Night.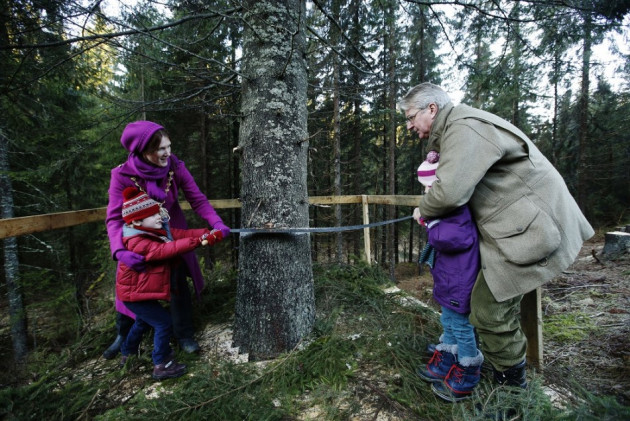 Three schoolchildren will recite a poem written by Kevin Crossley-Holland especially for the occasion. The poem was the result of an annual project run by the Poetry Society that invites hundreds of London schoolchildren to write poems.
Richardson, said: "This tradition has its roots in a deep friendship between our two cities, and I would like to thank the people of Oslo for their generous gift.
"The lighting of the Trafalgar Square Christmas tree has become a highlight of Christmas in the capital. I am delighted to welcome everybody who comes to witness the ceremony and see Trafalgar Square lit up by this spectacular tree."
People planning to attend are advised to wrap up warm as the forecast is chilly and rainy. Temperatures are expected to feel around 4C.
The Met Office has also issued an amber warning for wind in London and the South East: "Westerly gales are expected to spread southwards across northern and central areas of the UK on Thursday, with widespread gusts of 60 to 70 mph," it said in a statement.
The tree will remain lit for 24-hours per day every day until midnight on the Twelfth Night (6 January), after which it will be recycled by being chipped and composted to make mulch.
READ:
World's Most Expensive Christmas Wreath On Sale for Nearly £3m