London Heathrow Gets Driverless Pod Cars to Transport Passengers Around Terminals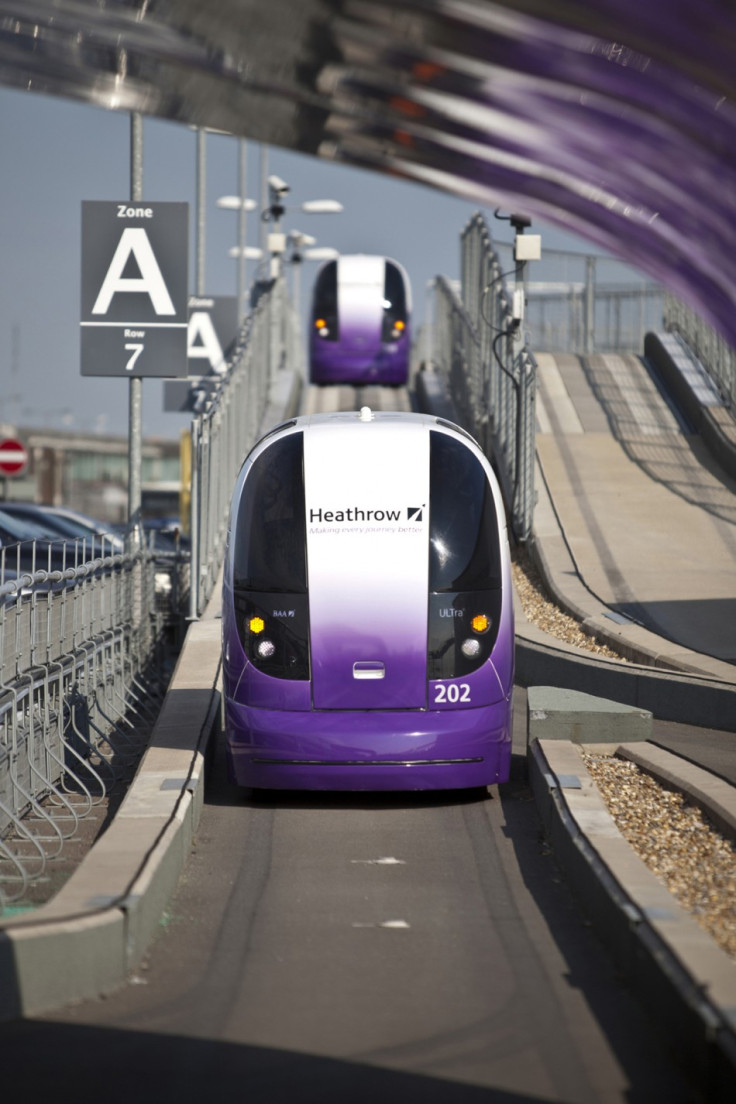 The wait is finally over! Londoners will see a new future unfolding with the official launch of automatic and driverless laser-lit pods transporting passengers around Heathrow Airport's Terminal 5 from Wednesday.
The automatic pod, unveiled by Heathrow last month, is the airport's most innovative transport system. The pods, developed at a cost of £30 million for the last six years, will carry 500,000 passengers traveling between the Terminal 5 Business Car Park and the main terminal each year, giving them a smooth and virtually silent five-minute ride. The journey is on-demand and non-stop from start to destination at the touch of a computer screen.
Developed by the UK company Ultra and BAA, the zero-emission vehicle consists of 21 low-energy runs on battery power and is capable of carrying four passengers and their luggage along a dedicated 3.8 km route.
On the UK's first Personal Rapid Transport system, the passengers are for a surprise.
Born from a Bristol University project, the Heathrow pods score points with their privacy and comfort levels designed for the passengers, allowing them to select their own direction.
Travelling up to 25 mph (40 kph), the automatic pods promise a comfortable journey for passengers by doing away with long queues, fixed timetables, waiting time and shared travel space. With the central computing system in place, it ensures that pods are distributed at each station according to passenger demand. While the pods wait for passengers, they will recharge themselves at battery points and be on the move.
The pods are expected to eliminate 50,000 bus journeys on the roads around Heathrow each year. Additionally, they take 10 minutes less time than the buses with less congestion.
These pods are going to give a run for their money to cars and buses as they consume 70 percent less energy per passenger than a car and 50 percent less than a bus. With pod car services running for 22 hours on weekdays, 21 hours on Saturday and 20 hours on Sunday, they offer only the best of the best for the passengers.
The pod system, along with Heathrow's existing £4.8 billion investment in improving the passenger experience, should reduce the overall environmental impact of the airport's operation.
Fraser Brown, MD of Ultra PRT, said: "We're very excited about the benefits that the Heathrow pod can offer Heathrow's passengers. Its service is predictable, reduces waiting time and offers reduced journey times; it's also an environmentally sustainable form of transport that ensures reduced emissions. There's an enormous sense of pride for all the staff who were involved in turning this science fiction dream into a reality at Heathrow and demonstrating the best of British innovation."
John Holland-Kaye, Commercial Director at Heathrow, said: "We've been listening carefully to our passengers as part of our plan to make every journey better at Heathrow. Passenger feedback has been amazing, and positive Twitter comments abound. We love watching people's reactions when they see the pods for the first time and then again when they step off just five minutes later at their destination."
© Copyright IBTimes 2023. All rights reserved.