Scientists and their supporters, including celebrities such as Peter Capaldi, marched through London and around 500 other cities worldwide today (22 April) to celebrate Earth Day 2017 and the quest for knowledge.
Many scientists, including climate change experts, fear the election of President Trump and the so-called post-truth era could undo many of the advances achieved by science.
President Trump has called anthropological global warming (AGW) a hoax and has threatened to withdraw the US from the Paris Agreement. He has also reportedly dismissed data proving the safety of vaccine immunisation.
Scientists and academics across the world feel under attack, with the possibility of funding being withdrawn and their positions undermined, by a trending view encapsulated by Michael Gove's comment that the public has "had enough of experts".
In a press release, the March for Science organisers said: "At a time when fake news is rife and independent experts face challenges in getting their message heard, the March for Science is a celebration of the vital role that science plays in each of our lives and the need to respect and encourage research that gives us insight into the world. The March for Science champions science and the cross-border collaborations that are vital in enabling progress."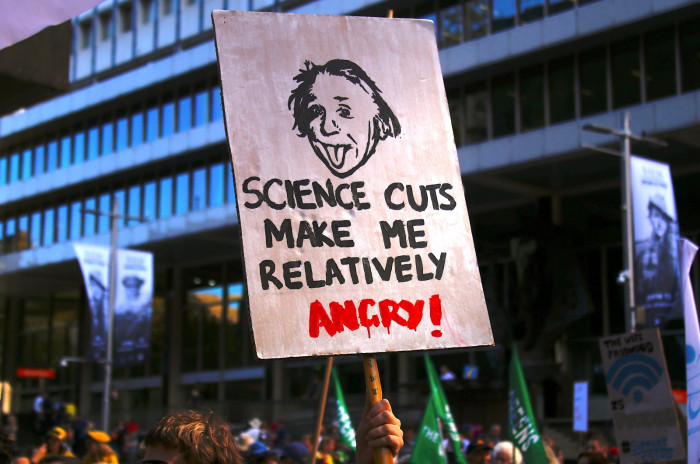 London organiser Story Sylwester, who is studying a masters degree in palaeopathology at Durham University, added: "From the foundation of the Royal Society and the Royal Greenwich Observatory in the 17th Century, to more modern institutions such as the British Library, the Francis Crick Institute and the Wellcome Trust, London has long been a bedrock of scientific inquiry. The London March for Science is an opportunity for scientists and science enthusiasts to come together and defend the scientific integrity, inquiry and curiosity they love."
Among those marching through London today, along a route which included the Science Museum, were the current "Doctor Who" Peter Capaldi and comedian Robin Ince. There were also marches in hundreds of cities around the world including Sydney, Australia, Hyderabad, India, and Abuja, Nigeria.