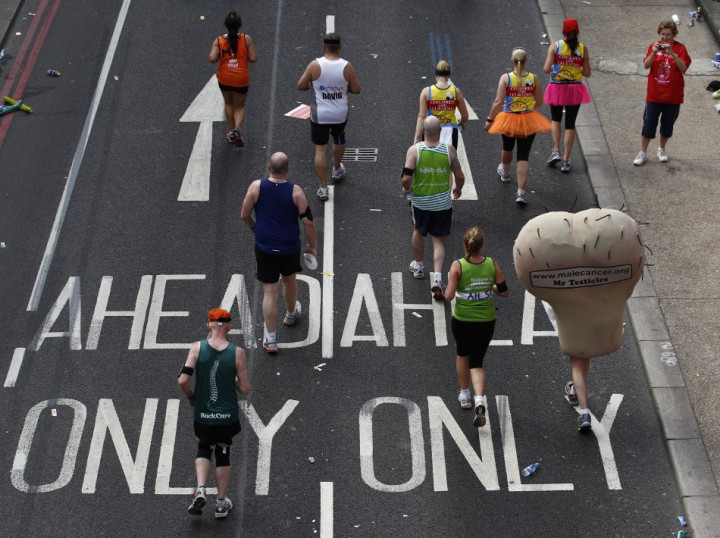 With one week to go until the London Marathon I thought my only concern would be maintaining a level of fitness that means I am able to drag my sobbing frame over the finish line.
However, as I started to plot my plan for the day itself, I realised there was an entirely different organisational factor that needed consideration - the spectators.
Like most people running the London Marathon, I can't stop going on about it. Instead of being honest and explaining that the race haunts my nightmares like the sporting equivalent of the Childcatcher, I talked about how excited I was and how great I would feel upon completing it.
In a surprising development, friends and family failed to see behind the veil of false confidence and expressed their intention to come along to the race and watch me run past, feigning a smile as I hold back tears.
In my final marathon preparation pack I was also sent tips for spectators, with detailed tables and graphs helping me ensure my nearest and dearest can watch me lumber past.
I thought I would pass on a few tips to those of you planning to stand by the side of the course and savour a bacon sandwich in the eyeline of passing runners:
The start and finish are both listed as "places to avoid" because of the density of the crowds. This might come as a disappointment for supporters hoping to savour their hero's Chariots of Fire moment but in reality anyone standing at the finish line will see just as many runners projectile-vomit as celebrate in slow motion.
Greenwich town centre is also off limits, as restoration work on the Cutty Sark, the Greenwich foot tunnel and the pier will seriously cut down space. Runners should take note that the crowds will be thinner in this area, so they don't need to worry about being so far behind that everyone has cleared off.
Make a plan and stick to it. On the official site there is a spreadsheet that allows you to pick a time and place to be and cater your arrival to suit your runners' speed. Synchronising watches like a military unit is encouraged although not mandatory.
Don't rely completely on mobile phones. Anyone who has drunkenly attempted to call a friend during New Year celebrations or at a music festival will know that mobile phone traffic will lead to a signal being practically non-existent. I don't know the science behind this so let's just say it's because of phone calls bouncing off each other. It's as good a theory as any.
Stay by a pub. That's not an official marathon tip - it's just what I would do.
From the point of view of a runner, I implore any supporters to let their runner know where they will be during the race. This gives them fair warning to run that little bit faster, look that bit fresher, and even smile as they jog past.
They say the crowd pulls you through the last few miles of the London Marathon if you're struggling. The spectators' efforts at around miles 21 to 23, as they attempt to rally runners who have spectacularly hit the wall into pulling themselves together and finishing the race, are legendary. Here's hoping I don't need it.
I've done the training, planned the run and even stopped drinking alcohol (hence the shaky hands). All that I have to do is run the race. Joking aside I am looking forward to it. If you're going along to watch why not give me a cheer? I'll be the one lying on his back. You can read all about it here on 23 April.
Nick is fundraising for Amnesty International and is hoping to raise £1,800. To support him visit his fundraising page.
London Marathon Man 7: Last Big Run With Hi-Tec V-Lite Infinity
London Marathon Man 6: No Escape From the Nike+ Sportsband
London Marathon Man 5: K-Swiss Blade Max Beats The Wombles
London Marathon Man 4: Learning to Run With Nike Lunar Eclipse
London Marathon Man 3: Harsh Lessons of the Hardest Run of My Life
London Marathon Man 2: Out of the Comfort Zone