I really thought I had made progress.
After completing a 20-mile-run, the longest of my life, without the need for emergency resuscitation, I was feeling good about myself. Suddenly the London Marathon looked like a challenge I could conquer.
Until I tried to walk the next day.
Despite the fact that the run itself passed off without serious incident, three hours of hammering away at London's pavements had taken its toll on my right foot. Each step caused a stabbing pain to rocket up the outside of the foot and ankle. Frankly it felt like I was standing on broken glass - and I am no John McClane.
After consulting a physiotherapist I was informed that my running style, which I like to think represented a masterful display of technique and poise, in fact was so ungainly I was doing myself harm over distances, like a car driving on a burst tyre.
So I made my way to Niketown in Oxford Street for gait analysis. For this free service, you run on an in-store treadmill while a set of cameras films you. A staff member then takes you through your run in slow motion and you can see where alignment could be improved.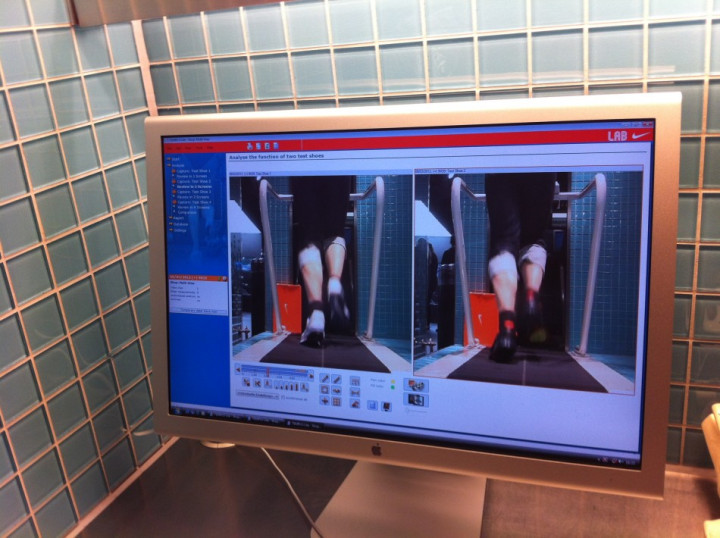 Things started well with the right leg, which I was told had "nearly perfect" ankle alignment. This was not the case with the left leg, which saw my ankle bow out like limp celery with each step.
To counter this I was given a pair of Nike Lunar Eclipse 2 running shoes to try out. After a few days of resting my feet and sticking to a strict diet of beer and pies, I felt ready to head out again and took the shoes for a 10-mile spin.
The first thing that hits you is the sheer amount of padding in the shoe. My feet were comfortable to the point where I was questioning my circulation as changes in terrain or rough ground had no impact whatsoever. However all that padding did bring a noticeable increase in weight, something that could prove telling over greater distances, but that had a marginal effect over 10 miles.
Amazingly, nothing rubbed and there was absolutely no movement in the heel. My foot was locked in nicely.
I did notice that the area of the shoe around the toes was tighter than in other shoes but I have wide feet that would not look out of place on a platypus so this probably would not make a difference to most runners.
Generally it seems to be an accepted fact that running shoes favour brash, loud colours over any sort of style, but the Lunar Eclipse is actually not a bad looking shoe, considerably more stylish than some of the spectacularly lurid footwear on runners I passed.
I was recently told that the average lifespan of a pair of running shoes is one marathon-level event so I was way overdue replacing my three-year-old footwear. The new shoes are a revelation. It seems this workman can no longer blame his tools.
Nick is running the London Marathon in an attempt to raise £1,800 for Amnesty International. To sponsor him, visit his fundraising page.
Marathon Man 3: Harsh Lessons of the Longest Run of My Life [BLOG]
Marathon Man 2: Out of the Comfort Zone
Marathon Man: Nick Edmondson Trains For London's Big Run