Anna Chicherova won gold for Russia in the women's high jump at the London Olympics 2012, with a leap of 2.05m. Chicherova won gold for the same event at the World Championships in Daegu, South Korea, last year. She enjoyed a comfortable win this time around and was the only woman to clear 2.05m.
"I'm extremely happy, it is my dream. I cannot say it was easy for the last two months. I had the problem with my back in July and I knew didn't have room for any mistakes tonight. I know the price of this medal and I know I deserve it," Chicherova said, fighting back tears, "When I got to the high jump area today, I told myself, 'You do not have the right not to win this, because of all the people who have helped and supported you. They compete with you.' It is such a wave of emotion. I would like to express my thanks to all the fans in London who supported all the athletes, not just the British ones."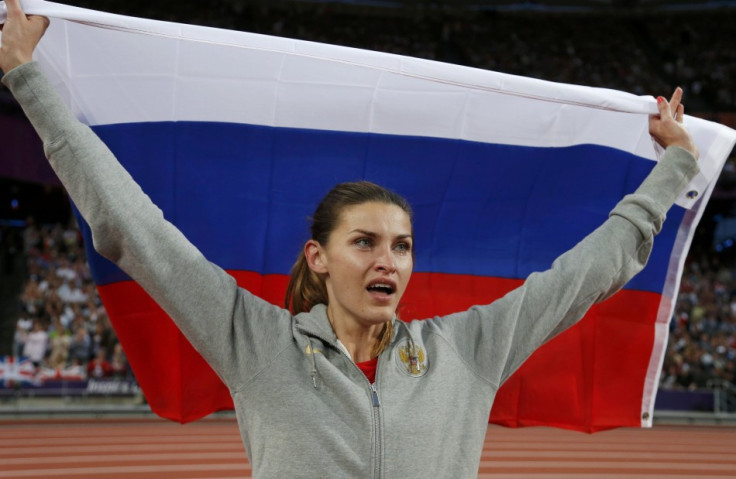 The American Brigetta Barrett claimed silver with a personal best of 2.03m, which she cleared on her second attempt, and also thanked the crowd for their support.
"I could not do anything, but my best. The crowd was phenomenal. I had to cover my ears a couple of times. I could not think," the International Association of Athletics Federations' (IAAF) website quoted her as saying.
Bronze went to another Russian - Svetlana Shkolina - who also cleared 2.03m, like Barrett, but was ranked third because she took an extra attempt. Nevertheless, the mark also represents a personal best for Shkolina and was a far better performance by the 26-year-old, who finished eighth at the Beijing Olympics 2008.
"I have worked really hard over the last four years. To do a personal best in the Olympic Games is something which is very special to me," Shkolina said.
Defending champion Tia Hellebaut of Belgium managed only fifth, with 1.97m, behind Ruth Beitia of Spain, who managed an even 2m. Both jumps, incidentally, equalled season's bests for the athletes.