Uber Angry: London Shut Down by Black Cabs Protest to Protect Historic Privileges
Cabbies warned London mayor Boris Johnson today that if he doesn't impose stricter regulations on services like Uber, the iconic black cabs will disappear from the capital's streets forever.
Billed by many reports as a protest against taxi booking app Uber, the thousands of London black cab drivers who gathered around Trafalgar Square on Wednesday were aiming their anger at Transport for London (TfL) and Boris Johnson who they believe are undermining their livelihood through a lack of action.
A lack of proper regulation of services like Uber means the huge expense and time spent by cabbies in London to get their licence and maintain their vehicles to certain standards is wasted as anyone with a smartphone and a car can set themselves up as an Uber driver and offer a service akin to the London taxi driver.
The hour-long protest in central London mimicked similar protested in cities across Europe as taxi drivers across the continent call on authorities to implement stronger regulation on the private hire business.
In London, TfL has applied to the High Court for a legal ruling on the situation but that decision is not expected before the end of the year.

It was unclear how many black cabs took part in the protest but all arteries around Trafalgar Square, including Whitehall came to a standstill as thousands of drivers made there opinions clear.
"What ever happened to the black cabs?"
Keith Townley, who has been a London taxi driver for 36 years said that only once has he seen anything like the protests seen this week, and believes that if something isn't done soon, the iconic Black Cab will soon been consigned to history.
"All we are doing is making a statement that this is the demise of the trade. If they don't stop it now, in a few years time people will look around and say 'Whatever happened to the black cabs?' and we'll be gone and it'll be too late."
David Wallis, an RMT representative and also a cab driver, told IBTimes UK that the unions just want to sit down with London Mayor Boris Johnson and discuss their problems.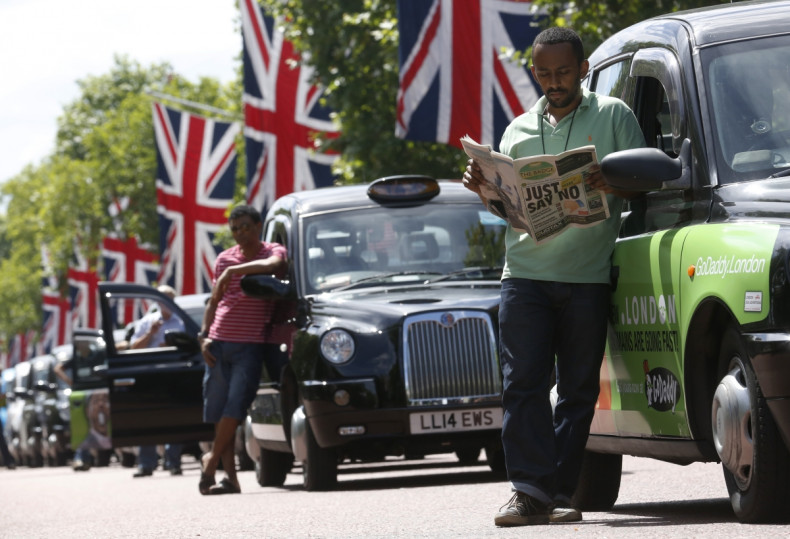 "We want Boris Johnson and his entourage at TfL to sit up and listen to what we are saying."
Wallis, who is a cousin of the late RMT general secretary Bob Crow, said that taxi drivers will continue to fight until something changes.
"We're not going to stop protesting until we actually get Boris Johnson discussing these issues with us, and start enforcing the law and legislation which TfL have set to stop all these issues."
Not backing us
Patrick Bradshaw who has been a cab driver for over five years said he hoped the protest would "make people aware of what is going on and spur TfL to actually do something about [the lack of regulation] instead of putting their heads in the sand and hoping it will go away."
Stephen Lattimer, a cab driver with three years experience said that Boris Johnson and Peter Hendy, who is commissioner of TfL, had "washed their hands" of cab drivers:
"I am a proud hackney carriage driver. I don't mind any competition, but we've got to play by the rules. If we don't play by the rules then you've got to do something about it - but they are not backing us. There is no empathy towards the London taxi driver at TfL."
Uber
The issue around regulation of private hire vehicles came to a head with the launch of the Uber app in the UK, and its subsequent popularity.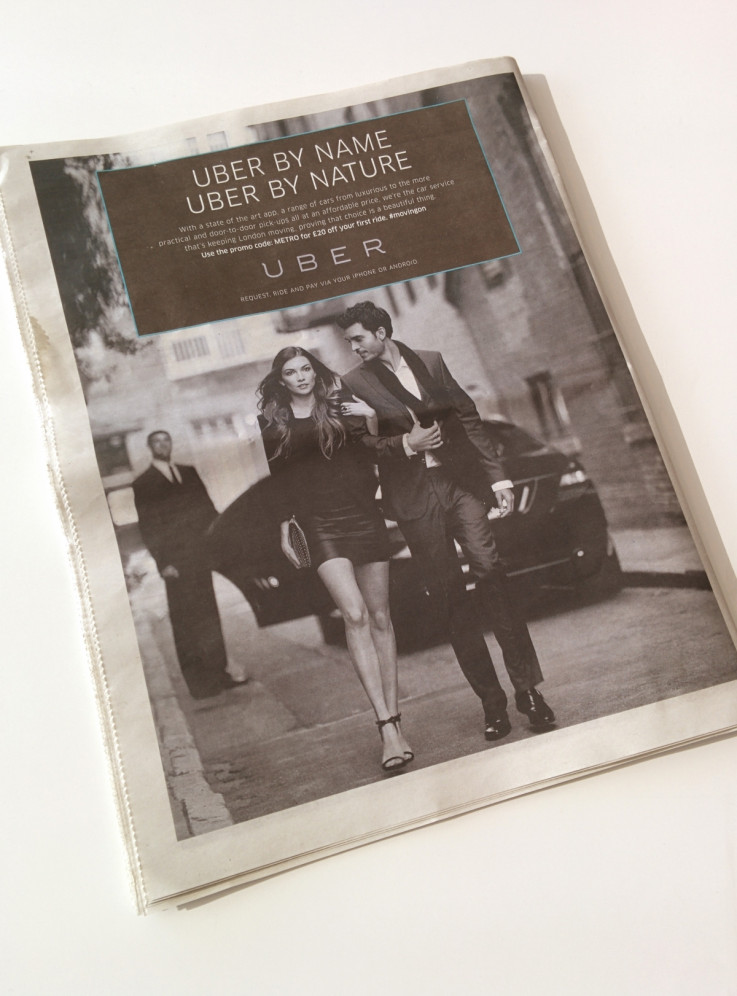 Uber's full-page ad in the Metro on Wednesday morning
For its part, Uber is not backing down, taking out full-page ads in the two main free London newspapers on the day of the protest, and even more provocatively, launching UberTaxi - a service which allows black cab drivers to use the Uber service.
Asked what if this service would become popular among London's cabbies, Lattimer told IBTimes UK that it was just a PR stunt and "it does have a chance" of succeeding.
"[Uber drivers] are no competition for us. We are the finest in the world, the finest in the universe. We are the best cab drivers in the world, we go through the Knowledge."
Announcing the roll out of UberTaxi in London, the San Francisco-based company said it recognised "the unique heritage and value of traditional black cabs when it comes to getting around."
The company has also revealed that it had seen an 850% spike in new customers signing up for its service on Wednesday compared to the same day last week, though without knowing what last week's figure is, it is hard to know how impressive this stat is.
"Londoners are voting with their fingers, tapping the app in support of new and innovative services as we see our biggest day of sign-ups in London today since launch two years ago," Jo Bertram, general manager for Uber in the UK told The Next Web.
Failo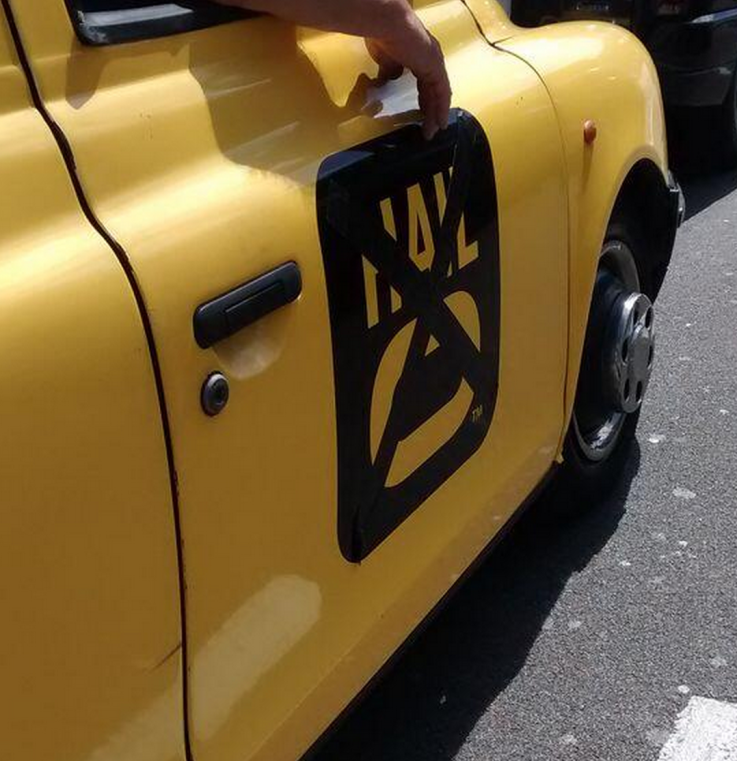 Black Cab drivers have turned their backs on Hailo after it decided to allow non-licensed vehicles to use the app.
IBTimes UK
Another common gripe among cab drivers at the protest on Wednesday was the decision by cab booking app Hailo to allow its app to be used by private vehicles too. Many of the taxis taking part in the protest which previously bore the yellow Hailo livery and logos had crossed them out in protest.
While some have accused the taxi drivers of burying their heads in the sand to advances in technology, they said on Wednesday is not the case.
To show this, a new app called TaxiCab will soon be launched which is operated by a cop-operative of London taxi drivers which "promises to maintain the standards and integrity of the Licensed Taxi trade, thus ensuring our customers continue to received the world's finest taxi service."
Speaking of technology, another common gripe among the drivers at the protest was the use of sat navs and Google maps by drivers in private hire vehicles, with one saying that "no Sat Nav in the world can compete with The Knowledge."