London is to begin trialling hybrid buses that are capable of wirelessly charging their batteries while they wait at bus stops.
Transport for London (TfL) announced that a new trial will see inductive charging capabilities built into up to four buses operating in east London from next year.
It is hoped that the charging technology will reduce running costs and extend the range of diesel electric hybrid double deck buses in the capital.
TfL has a fleet of around 800 hybrid buses, as well as several all-electric buses. The buses involved in the wireless-charging trial will operate on route 69 between Canning Town and Walthamstow bus stations, with onboard batteries receiving a charge boost at bus stands at either end of the route.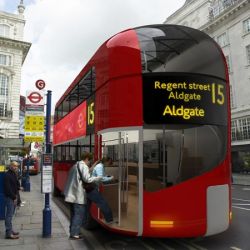 "We are continuing our assessment of new technology in the capital that can deliver genuine environmental benefits," said Mike Weston, TfL's director of buses.
"This trial of extended range diesel electric hybrid buses, utilising the latest inductive charging technology, could be a step closer to getting even cleaner double deck buses on London's streets.
"We will be closely monitoring the results of the trials, which may help us adopt this new cleaner technology more widely in London."
Year of the Bus
This year marks the 60th anniversary of the creation of the iconic Routemaster London bus and to celebrate TfL has named 2014 'Year of the Bus'.
Earlier this month, TfL announced that two buses had been installed with free Wi-Fi as part of a trial that could eventually roll out across the bus network.
Other technologies being introduced as part of the anniversary celebrations include intelligent seat sensors that can inform passengers when they get on the bus which seats are free.
"Innovation is a key theme of the Year of the Bus and we have worked with our suppliers to find new and innovative ways to further improve the experience of our passengers," said Simon Reed, head of technical services group at TfL.
"These trials will establish whether this technology provides genuine benefits to people on the move."