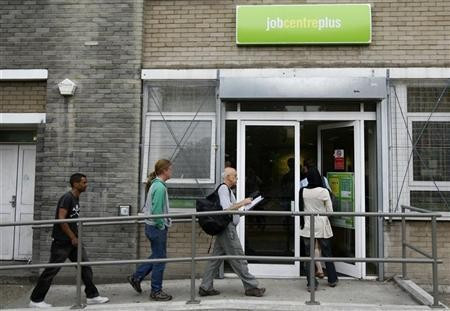 After making her daily trip to the library or job centre to trawl through the latest vacancies, 51-year-old Lyn Coates would return to her Scunthorpe home ready to repeat the process again tomorrow.
Bored and frustrated, she found herself trapped in an ever-lengthening period of unemployment. Endless rejected applications dented her confidence and 13 months after losing her job at a supermarket Lyn was left feeling like she may never work again.
"I desperately want to work. I absolutely hate being unemployed," she says in an interview with IBTimes UK.
"I really dislike going into the job centres, because the job centres, to me, don't feel as though they give you any encouragement.
"I know there are a lot of people unemployed, but I feel as though you're herded through like cattle, to be honest."
Job centres lack the personalised approach for each individual and their various needs, says Lyn.
"You feel you're lumped in together and when you go to a job centre they're looking at you as just another drain on the benefits system."
Lyn's experience highlights one of the most challenging tasks the government faces in steering Britain out of its worst recession in at least a generation - guiding the long-term unemployed back into work.
Statistics show the number of people out of work for more than a year is approaching the million mark, while experts warn of the social and economic costs such exclusion can have as a result.
A bigger challenge is faced by the job-seekers themselves, who are battling against a ferociously competitive labour market, controversial welfare reforms and unemployment schemes, and a number of personal enemies, such as skills gaps.
"It is well known that a period of long-term unemployment can have a 'scarring' effect on the future employment and earnings prospects, particularly of young people," said a report by the think tank Institute for Public Policy Research (IPPR) called Jobs for the Future: The Path Back to Full Employment in the UK.
"This is bad for the individual and it results in a loss of productivity for the economy as a whole. There is therefore a strong economic and social rationale for intervention to prevent these effects.
"The key concern for policymakers should be to improve the employment and earnings prospects of groups who face the greatest structural barriers in the labour market."
Official data shows that in the three months to July, the most recent statistics available, there were 904,000 people who had been out of work for a year or more.
This was up 22,000 on the previous quarter and is expected to soon pass a million.
'Guaranteed jobs for long-term unemployed'
Competition in the jobs market is fierce. Despite employment data following the right upward trend, unemployment is still relatively high and times are tough for everyone.
Inevitably those at the bottom of the pile in the scramble for work are the ones who suffer the tightest asphyxiation in the suffocating crush.
While the long-term unemployed are sucked deeper into the quicksand quagmire at the rough end of the labour market, the business world sprints off in the opposite direction at a terrifying pace.
Skills soon become outdated, industries and workplaces evolve, technology advances. Unless you can keep up, and in some instances this is almost possible to do, you will be left behind, isolated and unable to compete with those who are in still in employment or fresh out of it.
Put simply, the longer someone is out of work then the harder it is for them to get back into it.
IPPR's report recommended that the government guarantee a job, paid at least the minimum wage, to anyone who has been claiming Job Seeker's Allowance (JSA) for 12 consecutive months.
They should only have to work for a maximum of 30 hours a week to allow for time to search for another job, and should be for a period of six months.
Jobs could come from the private, third or local government sectors.
Those who reject this offer should be refused JSA and told to find an alternative source of income, suggested IPPR.
Reacting to the news that the long-term unemployed figure had risen again, IPPR chief economist Tony Dolphin reiterated the think tank's proposal.
"The long-term unemployed should be offered a guaranteed job to make sure they don't become permanently cut off from the jobs market," he said.
Unemployment bad for your health
A Department of Work and Pensions study titled Is Work Good for your Health and Well-Being? found "a strong association between worklessness and poor health."
"There is strong evidence that unemployment is generally harmful to health, including higher mortality; poorer general health, long-standing illness, limiting longstanding illness; poorer mental health, psychological distress, minor psychological/psychiatric morbidity; and higher medical consultation, medication consumption and hospital admission rates," the report said.
Inevitably, as the number of long-term unemployed people rises, so does the demand for health services.
NHS departments, already stretched because of swingeing austerity cuts to their budgets, face an increasing burden from the long-term unemployed.
Perhaps more compelling is the mental health impact that worklessness, particularly in a troubled economy, can have on individuals.
Greece has one of the highest unemployment rates in Europe and watched its economy collapse in the eurozone crisis.
Billions upon billions of euros of cuts have fallen on its once-booming public sector leaving millions out of work.
Coupled with a high cost of living because the country is still a member of the single currency area and so could not unilaterally devalue its currency, families are in a daily financial grind just to put food on the table.
The number of people taking their own lives has soared by 40 percent since 2010. Many of them are over 50.
Link between unemployment and crime
It isn't just the health of the individual that suffers during sustained unemployment, but the wellbeing of wider society.
A significant collaborative study between the DWP and Ministry of Justice - the first they have ever done - revealed that in 2010 a third of those people claiming JSA had a criminal record for a recent offence. It highlights two problems.
The first is that those who are released from prison do not find employment, likely because of a lack of will or means and society's writing off of those with criminal pasts.
Two years after being released from prison in 2008, just 15 percent of offenders were in jobs.
Just a third of all offenders who were sentenced or cautioned in the year ending November 2010 were in employment the month before their sentence.
The second problem is that some of those who do not work for an extended period of time are at risk of sinking into criminal behaviour.
It puts extra strain on scarce police resources, as the authorities inexorably have to battle more petty crime as a result of long term unemployment, such as drug offences and theft.
Cuts to benefits add pressure
As if being out of work for a long time was not stressful enough, and having already seen many supportive public services snatched away under the government's austerity programme, those who cannot find a job are bracing themselves for their meagre welfare payments to be cut further still.
Prime Minister David Cameron has lamented the "culture of entitlement" in a "truly awry" welfare system.
His government says that the system before its Welfare Reform Act 2012 was passed, which saw cuts to disability and housing benefits, did not incentivise going back to work.
Ministers argued it was unfair for those in employment to pay taxes and support a comfortable life for people without a job.
Under new proposals announced by Cameron, jobseeker benefits could be tied to wages growth rather than inflation, which at current rates would be more than a percent lower, and limiting the amount of child benefit that can be claimed by the unemployed.
However one piece of welfare reform that can offer hope is universal credit. This will come into effect in 2013 and sees six of the means tested welfare benefits brought under one umbrella payment, simplifying the process and, in theory, making people better off.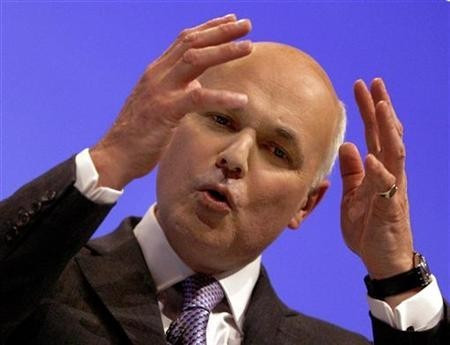 It also means that those people who were worried about finding work because they risk losing certain lifeline benefits would be guaranteed a higher amount under the universal credit payment, which could help prevent those who were once worse off working than on benefits stay in work rather than drop out just to keep their households afloat.
It will not be until universal credit has been implemented and in place for some time that we will know how effective it is at keeping people in work.
Work Programme replaces New Deal
In June 2011 the government replaced all the old unemployment initiatives, such as the New Deal, with the Work Programme.
Initial reports suggest that it has been effective, produces results sooner and at a cheaper cost than its predecessor, though it is early in the Work Programme's life to draw any solid conclusions.
Before the end of 2012, the government is due to release some data around how it has worked so far.
Organisations from the public, private and third sectors bid for local contracts to carry out the Work Programme's goals, which is to stop the unemployed falling into long-term worklessness and to help train or re-train those who have been out of work for years.
These service providers are then paid on the basis of their results.
"The longer a customer stays in work, the more delivery partners will be paid, so there are strong incentives to continue support once participants are in work," says the DWP.
"Previous UK welfare-to-work programmes specified in varying levels of detail what interventions providers had to deliver.
"The Work Programme, in contrast, gives providers far greater flexibility to design programmes that will work, using their experience and creativity.
"Rather than asking providers to make one-size-fits-all services work for a wide range of participants with varying needs, government is providing freedom for providers to personalise support for the individual in a way that fits the local labour market."
Despite noble ambitions, the Work Programme and the government has seen some controversy because of it, most notably from the workfare scheme.
Under workfare, those out of work are given the chance to take up positions in participating firms, often retailers, in order to gain experience and living in a routine that mimics employment to ensure that participants are well prepared to enter or re-enter the workplace.
However some firms, such as Tesco and Poundland, have faced accusations of exploitation as some of those on the workfare scheme say they were made to work like a paid employee yet were only receiving JSA, rather than a proper wage.
It is argued that workfare is stifling job creation by allowing business to take on staff for no cost.
Some claimed they were told it was compulsory to participate in the scheme, which has seen placements last as long as six months with no salary.
The government denies it forced anyone to take part.
Intraining and the Work Programme
While there has been criticism of some parts of the Work Programme, Lyn Coates's story shows that others are producing positive results.
She found her way onto the government's Work Programme with Intraining, a not-for-profit organisation that helps develop the employability of those out of a job and get them back into work.
"I was very short on confidence, I think. Really short on confidence," she says, so Intraining invited her to a confidence building course.
"After a bit of coercion, I said yes I would do it.
"So I did that course and was very, very nervous. In the morning we were in a group session and we chatted about things and tried to introduce ourselves to everybody and one thing and another.
"Then it was sprung on us in the afternoon that we would be doing mock interviews in front of a panel of people they had brought in."
On the panel sat a representative from Intraining, somebody who helped manage a care home, and an HR manager from ASDA.
"We had to go in and sell ourselves - I think that was the way they put it - to these people.
"To be perfectly honest, I was bordering on the hysterical. I was really, really frightened of it.
"I really didn't think I could go through with it, but I had a lot of encouragement from the people in the office at Intraining ... and I walked in and I did my bit."
Lyn emerged "walking on air" and felt "amazing".
"I was so proud of myself for having done it and got through it. I really felt as though I had a sense of achievement.
"I thought it was nowhere near as bad as I had anticipated ... I was so pleased with myself. So chuffed.
"I feel as though I can get through things a lot better. I really do feel as though I can cope with the interviews a lot better now.
"These people weren't there to talk down to me, or put me down, in fact they really triggered me up these people they got to do the panel interview."
Iain Salisbury, employment related services director at Intraining, tells IBTimes UK that their programmes are designed around "individualised plans for the individual's needs".
"So on the Work Programme we may get people who have never ever worked, perhaps for 20 or 30 years, and it is part generational unemployment.
"They have never had a role model, even their circle of friends sometimes have never had a job.
"The good thing about the Work Programme is we get two years to work with the customer, so whereas in the past programmes have been six months and you start to do some work, but you maybe can't go all the way through it, with two years you have a real chance of supporting people."
Motivating the long-term unemployed and getting them to "take responsibility for their own job search" is at the heart of Intraining's objectives.
"We very much don't want it to be us doing something for somebody. There is no point in me forcing someone to go to an interview. That's not going to get them a job and if they just scrape into the job, they're not going to keep it. They have to want to do it for themselves," Salisbury says.
Another important part of helping the long-term unemployed is about realistic job goals.
"There are relatively few people who would prefer to be unemployed, but quite often people would like be earning £35,000 a year for 20 hours a week at the end of our road, which I'm sure we'd all take. Quite happily," Salisbury says.
"Unfortunately, those jobs don't always exist. There is, quite often, a point about matching realistic job goals."
There are a number of courses people can take, from English and maths lessons to interview techniques and CV writing.
As well as helping to rebuild Lyn's confidence when it came to interviews - she had only had one since she left school at 16 as she held down two jobs for many years before finding herself out of work - Intraining worked with her on CV writing and computer skills.
"All of these things are about building up attainment and trying to give people the right skills to do the job," says Salisbury.
"For some people this is the first qualification or achievement they have ever had. So this is all part of building that virtuous circle of improving."
Getting employers on board is as important, if not more, than the work Intraining does around the individuals, says Salisbury, as they are the ones who need to be convinced into taking on staff who have a history of unemployment.
"We have an engagement team that goes out to meet employers and to really support their needs, particularly from a small business point of view, understanding that we do everything from training for their employees that are in work, but also pre-employment training for people they are wanting to recruit and screening services," he says.
"So what we are trying to do is make it a one stop shop for employers."
Once someone is in work then Salisbury says that for at least 18 months Intraining will work to support them in the hope that they will not fall back into unemployment.
"In that time we'd hopefully develop their skills, potentially with an apprenticeship if that's an appropriate thing for the employer and the customer. We try to solve any issues they may have with employment," he says.
One of the biggest barriers those who have been out of work, particularly people who have never had a job, which must be overcome, is social and interpersonal skills.
Without direct experience of workplace politics, or how to handle confrontation in a professional or working environment, many struggle to cope and this is an area Intraining works hard on.
"There's no point in having an artificial environment. You need to be able to deal with a whole range of people in the workplace, so we try to encourage that," Salisbury says.
They do this by having mixed group sessions where people from a range of backgrounds who are looking for work come together in the same room.
From ex-business owners and managing directors, to young people who have never found employment, it is a place they can meet, understand and become familiar with each other.
Not only are basic skills often a serious hurdle, but so is mental health.
"I think mental health is a real problem. We do a lot of work around anxiety and depression," Salisbury says.
"I guess it stands to reason that if you have been out work for a couple of years or longer that'll probably set off some kind of mild depression or anxiety, but that can manifest itself in quite serious ways for some people.
"I think with a lot of these customers we are talking about it is quite often not just one thing. They have got multiple complex barriers."
Fears for older unemployed
Despite the concerns around the growing level of youth unemployment in Britain, and fears of a lost generation left behind because of the recession and a feeling of no prospects, Salisbury says he has bigger concerns over the older section of society.
Official figures show that in the three months to June, 968,000 16 to 24-year-olds were not in employment, education or training.
"There's a lot of political focus on, for understandable reasons, young people, but actually we are quite happy when we get a 16, 17 year old onto our programme because they're not really expected to have a lot of work history at that point and are also reasonably willing to learn new things and give them a go - not always - but actually there are a growing number of people who are 60 plus claiming benefits," he says.
"That's never been a group before. It's always been 50 plus at the older end of the market.
"There's not really a lot of additional support and services at that end of the market, so that's often a concern.
"As you can imagine, selling a 60 year old person who hasn't worked for ten years to an employer is a bit of a harder sell than a young person who hasn't worked for a couple of years."
Salisbury says that it is still important to focus on the young people who cannot find work "because if you get disengaged people and idle time I suppose that's when riots and all that happen", but there is a serious risk for unemployed people aged over 50 who fear they will never work again.
"The older you get, the more employers have concerns about health and that level of liability, which is a shame, because just the amount of life experience, even if people haven't worked much, can add a lot to a lot of employers," Salisbury says.
Time will tell tale of success or failure
Though Lyn is still looking for work, she is much more optimistic about her future and knows something will come along soon.
In the meantime she works closely with Intraining to keep her CV up to date and they encourage her to apply for a wider array of jobs rather than just supermarket roles as she was solely seeking before.
Once she is in work they will continue to support her, as they do with all those they help find jobs, to ensure she doesn't have to suffer unemployment again.
Just as Lyn must wait to see if her hard work results in a job, so too must the government wait to see if its Work Programme can be defined as a success.
Having only been launched in June 2011, and with its contractors being given two years to work with each individual, the first set of firm conclusions can only really be drawn at the end of 2013.
--
Follow @shanecroucher