Poverty, Homelessness and Suicide: Greek Citizens Bludgeoned by Austerity
Greece is under obligation to make drastic cuts to public spending and the labour market, reform pensions and raise taxes in line with an agreement it forged with the European Union for receiving crucial bailout cash to stave off bankruptcy.
The sovereign debt crisis has caused systemic problems for the rest of the eurozone with a Greek default at the centre of concern. EU leaders are debating whether to grant Greek prime minister Antonis Samaras more time to carry out the €11.5bn (£9.1bn) worth of cuts the country pledged in exchange for its second tranche of emergency funds. It is, however, unlikely that Greece will be granted much leeway.
Even if Greece receives the next round of bailout money, granted by the International Monetary Fund (IMF) and the EU for a combined total of €320bn, the country will face a fifth year of recession.
But while Greece's agreement to make significant changes to the country's spending was put in place to help strengthen the country's crippled economy, the raft of numbers and theoretical arguments often means the human side of the crisis is almost forgotten.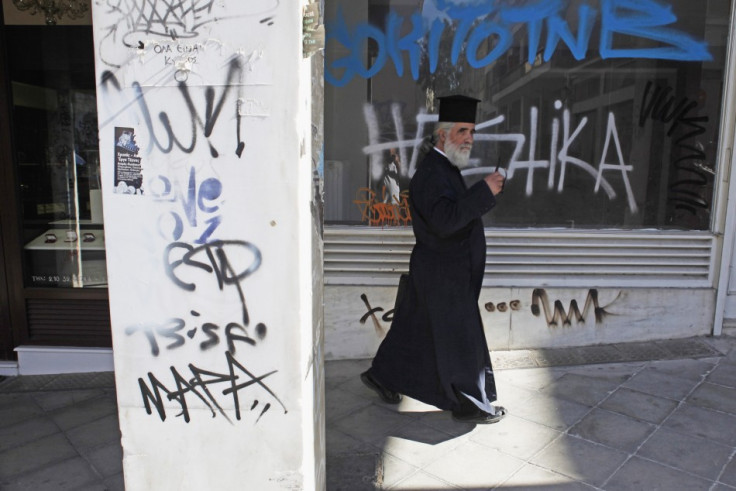 Mass Unemployment
At the beginning of 2012, Greece said it would cut 15,000 state jobs this year as part of the new austerity measures it has to implement.
While economists have welcomed the cuts, for ordinary Greeks it has proven to be the tip of the iceberg.
Latest data available shows that Greece's jobless rate climbed to a new record in May, rising 23.1 percent with nearly 55 percent of those aged 15-24 out of work. The jobless rate in Greece is more than twice the average in the 17 euro-currency countries and nearly on a par with Spain's 24.6 percent.
One Greek woman in her mid-20s told IBTimes UK: "There is no future in the country." She promptly emigrated to Australia to find work after losing her job.
Despite drastic measures at the beginning of this year, the Greek government now plans to target a total 40,000 public servants for eventual dismissal.
"My unemployment benefit runs out in a few months, I hope the government keeps its promise to extend it by another 12 months," said Eva Grigoriou, 42, who lost her job in retail trade. "I don't see light at the end of the tunnel with more austerity ahead. Recovery is being pushed back every year."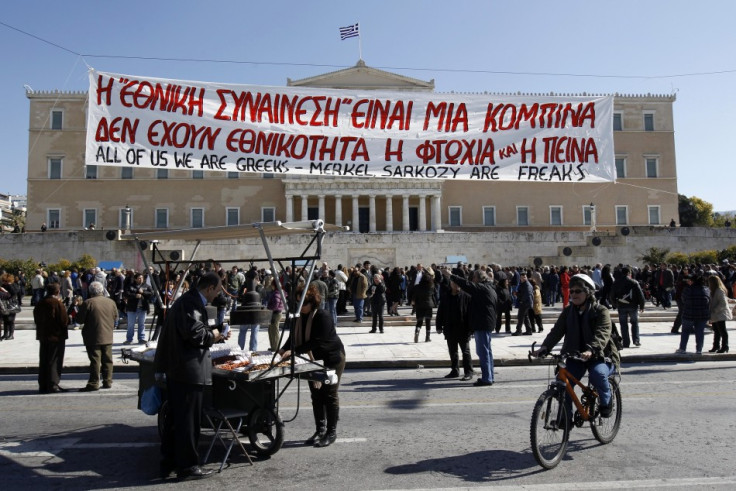 Rise in Taxes
For those in work, many are finding the hike in taxes intolerable.
One woman who works for a construction company and who wants to remain anonymous but will be referred to as N said that she still lives at home even though she is in her late 20s. Her salary would not cover an average rent because of the amount of tax she pays along with price hikes in living expenses.
"I have many friends that have been laid off but some are luckier than others," she said. "While some have been able to fall back on family businesses for employment, those businesses are still not doing so well so they may be out of work again. However, for those in employment, our taxes have more than doubled. Even food shopping takes such a large proportion of your salary that you really have to be careful what you buy.
"In addition, for those like myself who don't work in central Athens, we have to drive to work because the infrastructure for public transport is not reliable and I need to get to work. However, it now costs me over €90 to fill my tank. If I wasn't living at home, my salary wouldn't cover the basic way of living or renting," added N.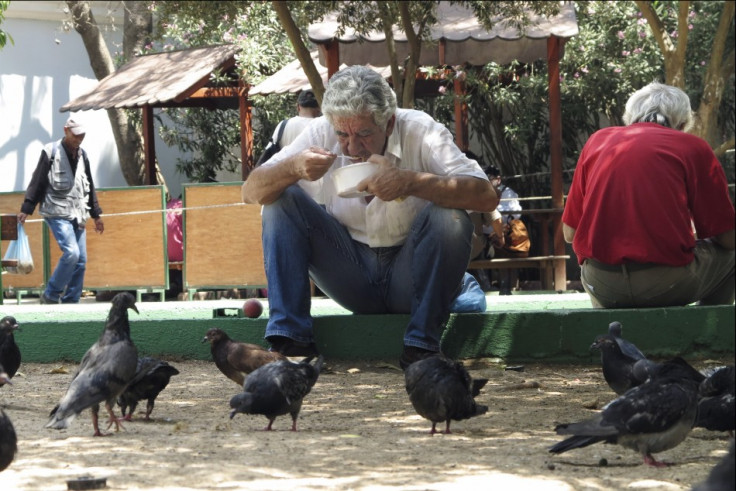 Poverty, Pensioners and Suicide
Poverty is a growing problem for Greece as mass unemployment, high taxes and the rise in the cost of living threatens Greeks' ability to buy food. But pensioners are feeling it the most.
Under the austerity measures, pensioners have seen a 60 percent fall in their pensions - meaning their life savings are now less than half what they expected. Meanwhile, the government is considering more cuts, raising the retirement age and putting a cap on free healthcare provision of just €1,500 per person per year.
"Things are terrible," said Peggy Moschona, 55, while waiting in a food handout queue. "We are constantly paying taxes. They are cutting pensions. The situation is dramatic and as time goes by, things will just get worse. Although I am optimistic, I don't think I should be."
Times are hard for Greek citizens and suicide rates are on the rise.
Greece used to have one of the lowest suicide rates in the EU but since 2010, the number of people taking their own lives has increased by 40 percent, with a large proportion from the older generation.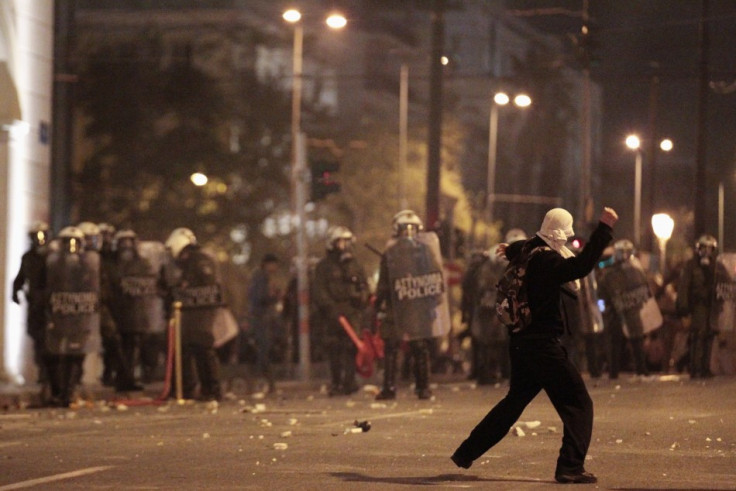 Riots and Political Dissent
The situation for Greek citizens is bleak.
According to the Quarterly Review by the European Commission on EU Employment and Social Situation, poverty is a reality for more than two thirds of Greeks.
"In Greece, homeless people are not officially recognised as a group requiring assistance. Homelessness traditionally was taken care of within families," said the report, published in June.
"Only recently has it started being seen as a major social problem as Greece spirals further into crisis with unemployment touching 20 percent, wage reduction (minimum wage reduced by 22 percent and by 32 percent for the young) and cuts in social expenditure.
"Sixty-eight percent of Greece's population living below the at-risk-of poverty rate (ie, having an income below 60 percent of the national median) were spending over 40 percent of their income on rent or mortgage payments," it added.
Social unrest has been somewhat inevitable and earlier this year, violence erupted on the streets of Athens.
Some 40 buildings were torched and several people injured in February as up to 7,000 took to the streets, throwing petrol bombs and rocks at riot police who responded with teargas.
Anger over strained resources, job cuts and rising poverty, immigration and race issues have also risen to the forefront.
Javied Aslam, head of the Pakistani Community Organisation and president of the Migrant Workers' Association said that racist attacks against immigrants were on the rise. Hundreds of victims had been injured and at least had been killed.
According to Aslam, at least 500 migrants have been attacked in the last six months alone.
Prime Minister Antonis Samaras was struggling to maintain social peace and Greek police have arrested over 1,650 paperless migrants in a sweep codenamed "Xenios Zeus."
The popularity of far right parties, including the neo-Nazi Golden Dawn, has risen in tandem.
Taking advantage of growing poverty, members of the Golden Dawn delivered free potatoes, pasta, milk and olive oil to citizens - as long as they could prove that they were Greek.
Recipients had to produce their ID cards and one woman in the queue said on TV that the initiative made "Golden Dawn much more attractive".
© Copyright IBTimes 2023. All rights reserved.