They catapulted to fame after making the finals of Britain's Got Talent in 2012 and now the Loveable Rogues are heading for the dizzy heights of superstardom with their quintessentially British sound.
The Essex trio of Eddie Brett, Sonny Jay Muharrem and Te Eugene, have been signed to Simon Cowell's label Syco and are preparing to release their debut album.
Speaking exclusively to IBTimes UK at the Sony offices in London, the group insist that although they were initially sceptical about appearing on Britain's Got Talent, it turned out to be a blessing in disguise.
"It was a hard decision for us to make after we were scouted," Te says. "Sometimes with shows like X Factor you can get lost in covers and lose your identity. It was key to us to portray ourselves and our sound.
"At the time BGT was the right thing and it worked really well for us. It's such a catalyst of a show."
Nineteen-year old Sonny adds: "It was a great opportunity and who wants to turn one of them down?"
As another series of Britain's Got Talent prepares to hit TV screens, the lads are gearing up for their biggest shows to date. Over the next weeks they will be supporting Olly Murs on his UK tour.
The group, who kick off their 24-date tour at Metro Radio Arena in Newcastle on 26 February, say that going from playing gigs to playing in arenas is something they are keen to do.
"The big difference is that there will be people there. We used to do gigs and there would be a cleaner going across the floor," says 21-year-old Eddie.
Small is scarier
"It so much scarier when you go to small venues like universities and you can see everyone. This is a step up for us."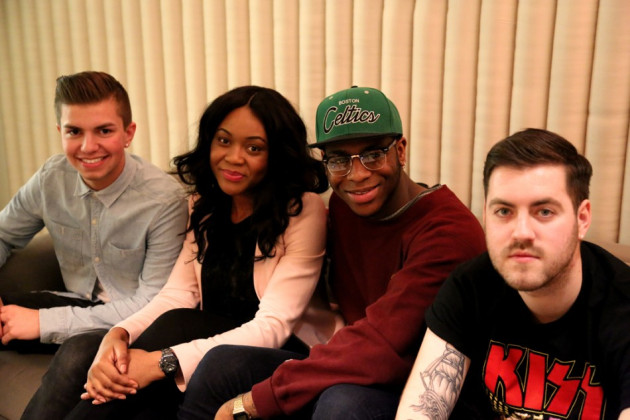 Speaking about the inspiration behind their debut single, What a Night, which goes on sale on 21 April, the boys say that they wanted to make a statement.
"We wanted to do a modern-day take on the Beastie Boys' Fight for Your Right," says Eddie. "It's not a club song but it's about a party and being on a night out.
"It's got lots on anecdotes about things we have been through and everyone can relate to it."
The lyrics include "I don't get drunk, I get awesome" and "We drink, we party, make love, make money".
They admit that they are chuffed about being the first band on Syco to get "f**k" in a song.
"We have boobies in the video too," Sonny smirks.
The band have spent six months working on their first studio album which is set for release later this year. Sonny insists that fans can expect a bit of everything.
Rock, reggae, soul and pop
"We have worked with a lot of different producers and we have kept our elements within the genres. We have kept the instruments we play, we have kept the harmony, the colloquialisms that we use," he says.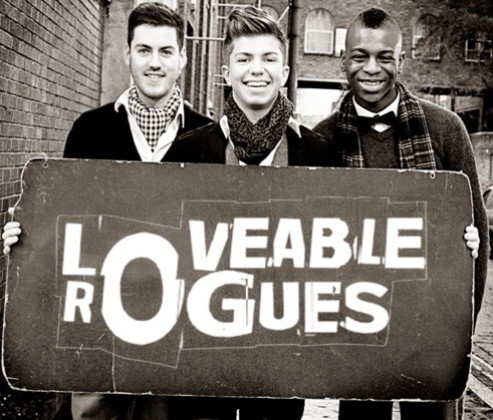 "There is rock, there's reggae, there soul, there's pop and we keep our core elements. That's a good thing for an artist. It's about variety and it's about growth."
Eddie and Sonny say they hope to emulate the same success as English heavy metal band Iron Maiden.
"They are globally well known and they are always stamping the British flag across the world while staying true to themselves. Their career is a great thing to aspire to," they say.
Te,19, says he hopes the boys will be as successful as critically acclaimed R'n'B star Frank Ocean.
They have racked up legions of female fans in just a few short months but the Loveables insist they are not ready for relationships just yet.
Eddie laughs. "I've never had this much attention in my life so why would I want to throw that away with a girlfriend?" he says. "Five years' time maybe I'll settle down."