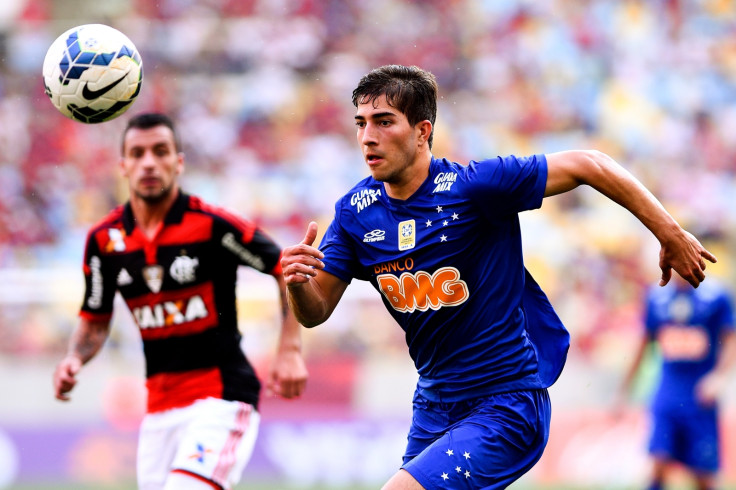 Brazilian starlet Luca Silva's father has claimed the player is likely to stay at Cruzeiro until the summer amid reports claiming the 21-year-old midfielder will move to either Real Madrid or Arsenal during the January window.
Reports in Spain last week claimed the Champions League winners were expected to complete his signing this January, following Luka Modric's injury, and even manager Carlo Ancelotti revealed the club's interest in him.
"It is true that we are interested in Lucas Silva but also in other players. If we need him we will evaluate after the Club World Cup. We have to wait for the Christmas period for the recovery of Modric [and] Khedira... and then make a decision," Ancelloti said.
Meanwhile the player himself added fuel to the speculation, claiming a transfer to the Santiago Bernabeu would be a "dream come true".
"Of course I'd like to play for Real Madrid, it would be an honour," Silva said.
However, Spanish newspaper Marca claimed on Wednesday that even though the player is eager to move to La Liga, Arsenal are currently the only club to have met Cruzeiro's £12m asking price.
Arsene Wenger is desperately looking to add a holding midfielder to his squad in January, following injuries to both Mikel Arteta and Jack Wilshere.
However the player's father has now claimed that Silva is planning to stay at Cruzeiro for the rest of the season.
"The objective for Lucas and at the same time for his family is that he moves in six months or so [June 2015]. The idea is to close the negotiation now but he leaves in half a year's time," Miguel Vieira said, according to AS.
"The important thing for him is to have pre-season with the rest of the team and also play in the Libertadores with Cruzeiro."
Vieira also suggested that, if his son were to leave in January, Real Madrid would be the only option as he would prefer to live in Spain.
"If he wants things to work out in a different way and he moves to Europe before, we'll be delighted" Vieira told reporters.
"If the move goes ahead, we'll move to Spain to support him and be with him to assist with his adaptation to the new city [and] new team-mates."