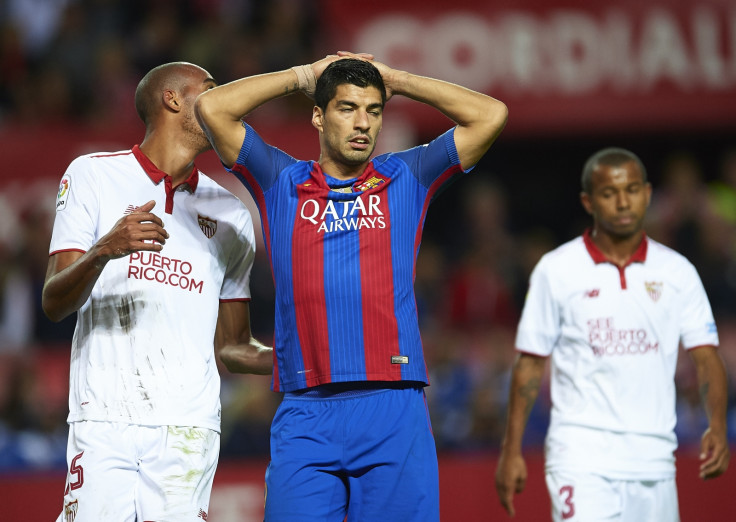 Luis Suarez has confirmed the negotiations to commit his future to Barcelona with a new long-term deal are "on the right track". The former Liverpool star hopes both parties can reach an agreement amid reports in Spain suggesting that a deal is imminent.
Neymar, Sergio Busquets and Javier Mascherano have all signed new deals in recent months, while Barcelona have publicly admitted their intentions for Lionel Messi, Marc-Andre ter Stegen, Ivan Rakitic and Suarez to follow in the same footsteps in the near future.
Mundo Deportivo and Marca reported earlier this week that the former Liverpool star will be next after Suarez's agent, Pere Guardiola, and Barcelona officials stepped up the negotiations in recent days.
Suarez still has a contract at the club until 2019 but Barcelona want to reward him with a pay-rise following his impressive contribution to the team since his arrival from Liverpool, having scored 95 goals in only 112 appearances for the club, including 11 in the start of the 2016-2017 campaign.
Mundo Deportivo reported that the new contract will see Suarez extending his stay at Barcelona until 2021, when he will be 34-years-old, and could be announced when the striker returns from his current international duties with Uruguay.
Marca backed those claims, adding that the deal worth around €25m (£22m, $28m) a year before taxes will put Suarez in third place on Barcelona's salary table, behind Lionel Messi and Neymar.
Suarez, asked by the reporters during a press conference from the Uruguay camp, has confirmed that the deal is advanced.
"Everything is going on the right track," Suarez confirmed. "I think the two parties want to reach an agreement and I hope [the negotiations] end with a happy ending, because Barcelona is the club where I always wanted to be. I'm very happy there and I want to keep on achieving goals and winning titles."
Last week Barcelona president Josep Maria Bartomeu confirmed the Catalans were in negotiations to tie Suarez with a new long-term deal following reports linking him with a move to Manchester United.
"We read, we listen, we see this news, but of course, our interest in this particular case is that Luis Suarez is happy at Barcelona," Bartomeu said to Sky Sports when asked about the Manchester United rumours. "For me, he is probably the best striker in Europe and we want him to be with us. Right now, we are trying to extend his contract with Barcelona and he is one of our big future efforts because he is still young, he has a vision, a lot of ambition."