Uruguay internationals Edinson Cavani and Diego Forlan have backed compatriot Luis Suarez's decision to leave Liverpool this summer. The two strikers believe Suarez should be allowed to pursue his dream of playing in the Champions League, something the Reds have not been able to offer.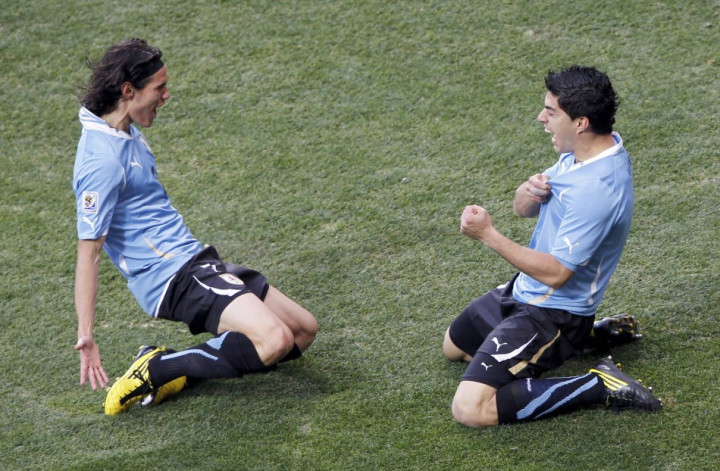 Cavani, who signed for Ligue 1 champions Paris St Germain (PSG) earlier this month, believes the Anfield club do not have the resources to finish in the top four this season. However, the 26-year-old, who was born in the same city (Salto) as Suarez, also acknowledges that the Reds' talisman is reluctant to disappoint the club's fans.
"We have been speaking a lot. I can tell you he is desperate to start playing Champions League football. Liverpool know that because he told them. I think if he thought Liverpool would qualify for Champions League next season he would stay but with other teams in England adding players, he doesn't think Liverpool have the resources," PSG's new £55m signing said.
"I have said before one of the most complete strikers in the world needs to be playing at the top level and I hope Liverpool understand. He doesn't want to leave on bad terms because he respects the club and fans, but he needs to achieve his dreams," he added.
Forlan, who played for reigning Premier League champions Manchester United between 2001 and 2004 and won the championship in 2002/03, says the Gunners would become instant title challengers if Suarez signs on; he expects the former Ajax star to fill the gap left by ex-French international Thierry Henry and more recently Dutchman Robin van Persie.
"Only Luis knows what his plans are - but he would be a great signing for Arsenal. Of course, Arsenal are a very strong team, but, for the last years, they have not been able to compete with Manchester United, Manchester City and Chelsea for the title. They have had very good players, but have maybe lacked that one special player you need to win a league," Forlan explained.
"United have had Wayne Rooney and Robin van Persie and City have had Sergio Agüero and Carlos Tevez. But Arsenal have struggled since Thierry Henry left. If they manage to sign Luis, then I think, with the players they already have, they would be serious title contenders again," he concluded.
The Gunners have already made two bids for the Uruguayan, at £35m and £40m. And the second of those bids, it is believed has triggered a clause in Suarez's contract that allows the player to discuss terms with Arsene Wenger. The Liverpool Echo, however, claims no transfer will be permitted unless Arsenal offer a fee in excess of £55m.
Wenger has since confirmed he remains keen to sign Suarez and is prepared to play a waiting game and allow the player and the club to work out an agreement for this summer.