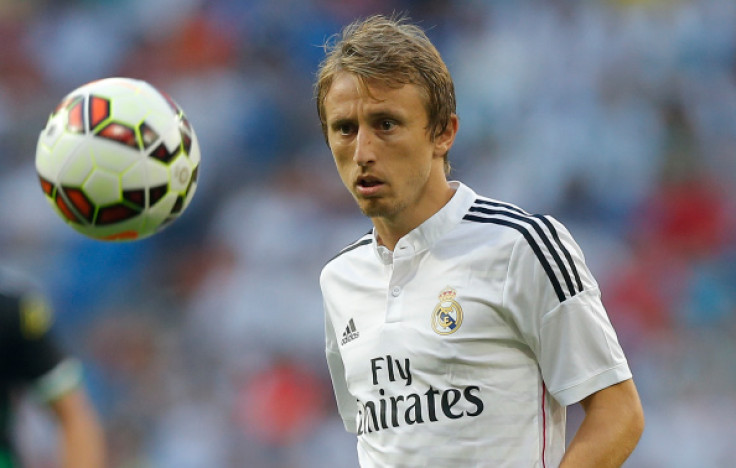 Manchester United and Chelsea have been alerted to the availability of Luka Modric as the star midfielder is planning to leave Real Madrid in the summer, according to Le 10 Sport.
The Croatian international signed a new deal last August and his current deal will keep him at the Spanish capital club till 2018. He was linked with a move to Old Trafford, while the 20-times English Champions' League rivals Chelsea are also keen on securing his services.
Modric picked up a thigh injury while on international duty and has been ruled out of action till February. The former Tottenham man has started individual training, but is still four weeks away from regaining full fitness.
The 29-year-old joined Real in 2012 after leaving the north London club. His wife is struggling in Madrid and has not adjusted to life in Spain, which has forced him to consider his future.
The midfielder is set to leave Carlo Ancelotti's side at the end of the season and a move to the Premier League could be on the cards. Fifa agent Francois Gallardo has revealed that Modric's wife has continued to struggle in Spain.
"Modric is the engine of Real Madrid, but the problem it is his wife who did not fit into Madrid in Spain," Gallardo said, as quoted by Le 10 Sport.
In Modric's absence, the former Chelsea manager fielded Isco and used Sami Khedira. The Spain international has impressed in the new position and any potential departure from the Croatian will see Ancelotti have more options in the midfield.
Real are also chasing Juventus star and former United midfielder Paul Pogba. The arrival of the French international in the summer will see him replace Khedira at Santiago Bernabeu. The latter is in the final few months of his contract.
The German international is likely to leave the La Liga giants on a free transfer and Pogba could take his place in the squad. However, Modric's decision to leave Real will force them to enter the market and sign a replacement for the former Tottenham star.