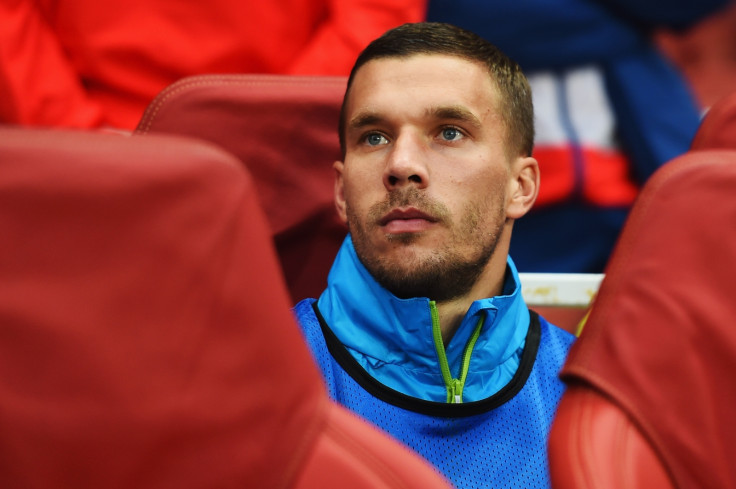 Lukas Podolski insists he is more than happy to return to Arsenal ahead of preseason.
Podolski, 30, struggled to force his way into Arsene Wenger's first-team plans in the first half of the 2014-15 campaign and failed to deliver an impact after joining Inter Milan on loan for the second half of the season.
The Serie A side would not consider taking the Germany international on a permanent basis, leaving his immediate future in limbo.
Werder Bremen emerged as a possible destination for the forward but in recent days the club has dismissed the reported move as 'unrealistic'. Podolski now believes remaining at Arsenal until the end of the 2015-16 season when his contract expires is an option.
"It looks like I will return to London," Podolski told ESPN. "But things can change in the upcoming weeks or even days. If need be, I will be at Arsenal next season.
"It is a great club, and I think that I can help the team."
Reflecting on the 2014-15 season when opportunities for both Arsenal and Inter came at a premium, Podolski added: "From a sporting perspective it was certainly not the best year.
"But I am still young, in spite of the big 30 now. I still very much feel like playing football. Let's see what happens. I will not vanish from the football world."
Podolski failed to start a single Premier League game for Arsenal in the first half of the season, scoring four goals in his handful of appearances in the club's Champions League group stage campaign.
His move to Italy failed to improve his fortunes and the forward scored just once in his 17 appearances for the Nerazzurri.
Despite his misfiring form, he was still included in the Germany squad for Wednesday's friendly with United States and Saturday's European Championship qualifier against Gibraltar.