Continuous evolution is the key to longevity in the music business and Machine Gun Kelly (real name Richard Colson Baker) is the perfect example of this. Dropping his first mixtape back in 2006, it's now 11 years later and the Cleveland, Ohio spitter is in a place of contentment creating art for himself and nobody else.
With an obvious growth both artistically and personally, he's worked hard to earn himself a dedicated fan base, a major motion picture wallet, a heavily stacked catalogue of mixtapes and three studio albums that all sound different to one another.
Embracing his love of rock music in a major way on his latest album, Bloom, he's gone from rapid-fire spitting - heard on tracks such as Chip Off the Block and Breaking News - to channelling his inner Kurt Cobain, playing the guitar and singing complicated love songs, such as the worldwide smash hit Bad Things.
Overnight success stories are all too familiar these days and never last long which is why it's refreshing to watch someone grow organically the way MGK has. It's been a joy to witness his ups, his downs, and how he's gotten back up again after said downs.
Giving his fans everything for the first 10 years of his career, Bloom is the first time he's made a body of work solely for himself - and what's ironic about that is as a listener it's his most relatable project to date.
Sitting down with IBTimesUK backstage at his recent O2 Brixton Academy show as part of his 27 tour, we asked him to share some of his favourite experiences that were soundtracked by rock music.
"A lot of my favourite experiences listening to music involve me trippin' on acid," Machine Gun Kelly admits while laughing hysterically. "In fact, there was this time we took some liquid LSD while we were listening to the Easy Rider soundtrack. We thought we couldn't feel it kicking in so we took some more - what a huge mistake that was. It all hit at the same time and it hit while we were listening to the Jimi Hendrix song If 6 Was 9.
"On the side of my vinyl player I had drawn a big mouth around the speaker hole so it looked like the speaker hole was the inside of a mouth. I had tripped out looking at it before but I truly appreciated it on this particular occasion because I was laying on the floor just looking at it and it helped me realise something.
"I had listened to that song a million times but hadn't realised until then that there's someone playing jazz flute, or a recorder, in the background just going ape sh*t on it. And I swear to God I transcended into the studio session with Jimi and that flute player and I was looking at everyone do it live and I was like, 'Holy sh*t.' Then it was over."
Claiming that Marilyn Manson's Lest We Forget: The Best Of is one of his favourite albums because he's had sex to it so many times, when the validity of his claim that it's great baby making music is questioned, MGK comes to its defence simply replying: "It really is! It's like vampire sex music. It's hot!"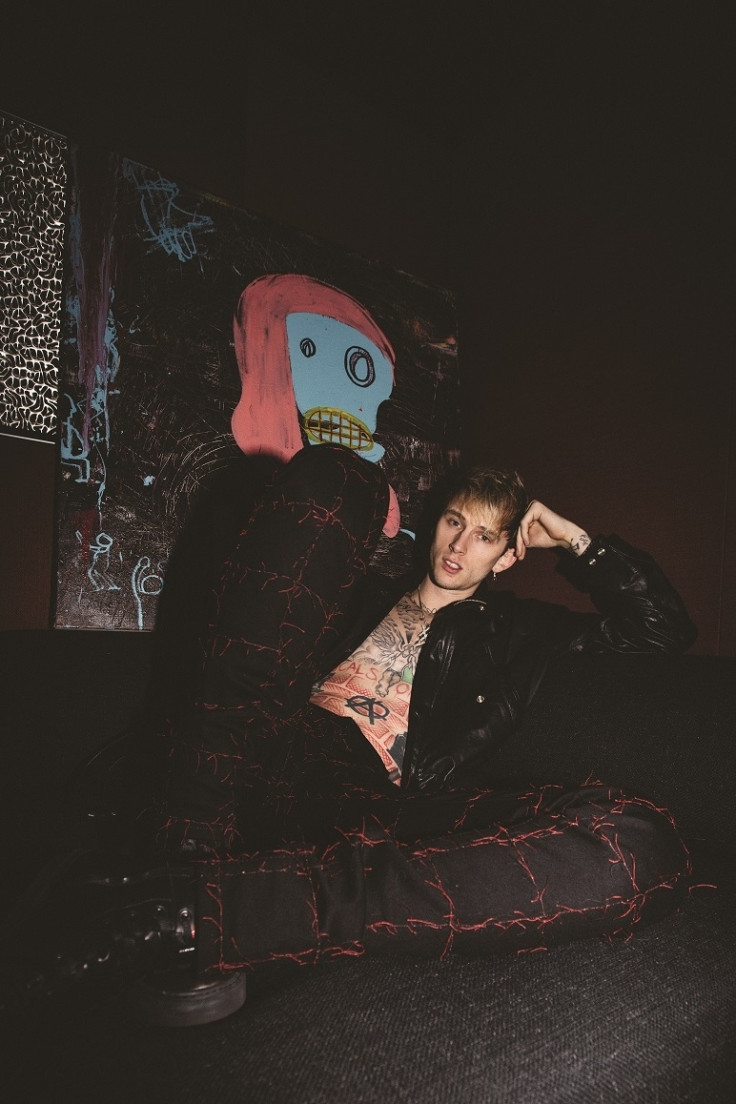 Revisiting a childhood memory with the next album on his list, Linkin Park's Hybrid Theory now means that much more to MGK following his time as the band's support act on their One More Light tour and then the untimely death of lead singer Chester Bennington. Sharing a fond memory when discussing Hybrid Theory, the snapping of old headphones seems to be the main reason for loving the album so much.
"I'll never forget back when we used to use tape player headphones on CD players," says MGK. "We'd take the headphones off of a tape player and use them on a CD player but me and my friend only had one CD player between the both of us and we both wanted to hear the album.
So I'll never forget us in sixth grade on the bus snapping our headphones in half so that he could put one in his ear and I could put one in my ear. Couple that with the fact that it was something we had never heard before makes it a very fond memory."
Thinking we're done because MGK starts a conversation with his tour manager, after speaking about half a line he suddenly interrupts himself by saying: "F**k that! Nirvana Live At Reading in 1992... I think."
Explaining that he may have put someone off of Nirvana for life by playing the live album, he continues. "I was playing it on vinyl in my room to somebody who had never heard Nirvana and I think right when you go to side two Smells Like Teen Spirit plays, and I was like, 'Oh, well you definitely know this song. Listen to how f**king good it sounds.' But I had forgotten how this particular version sounded at Reading, especially seeing as the rest of the album is so God damn on-point.
"Kurt [Cobain] purposely f**ks that whole song up and plays the wrong chords and to an average listener it just sounds awful. But to me the reason I love it is because it's so f**king punk that it makes it glorious. I remember that was my pitch to the person in my room and they were like, 'This is absolute sh*t!' I'm sure they probably never listened to Nirvana again."
Machine Gun Kelly's Bloom is out now via Interscope Records.
---
Will Lavin is a hip-hop music and lifestyle Specialist of 10 years. A 2015 IMC Award winner, he's written for publications such as VIBE, XXL, Complex and Blues & Soul. He's worked with artists such as Chaka Khan, Timbaland, will.i.am. and Chris Brown. He also runs illwill.co.uk.
---