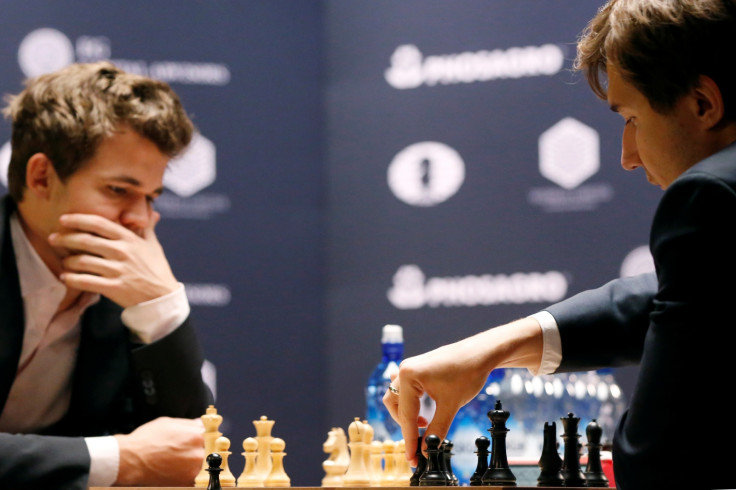 It could be considered the most lucrative checkmate of all time. But in a battle between some of the world's most brilliant chess minds, only one man can walk away with the €1 million (£845,200) prize at stake.
In a tense World Chess Championship final in New York between world number one Magnus Carlsen from Norway and Russian Sergey Karjakin, it was Carlsen who triumphed.
The players squared off for a penalty-style face-off on Wednesday (30 November) after the score was locked 5½ – 5½ after 11 games.
Carlsen, who turned 26 on the day of the decided game, won two of the five rounds, securing himself the title, after the first two games were drawn.
After he won the championship, the Norwegian media serenaded Carlsen with Happy Birthday.
Speaking after his victory, Carlsen said, reported the Guardian: "I pretty much knew this was going to happen when we made the draw in the 11th game.
"But I felt good coming into today having had a few days of rest and days to prepare. The second game was a bit frustrating, but I'm very happy to have gotten there in the end."
Carlsen is considered the "world's poster boy of chess" after becoming a grandmaster at the age of 13, and has the highest chess rating in history.
He is more than just a strategic mastermind, however. Carlsen has modelled for fashion chain G-Star Raw, and in 2013 he was voted one of Cosmopolitan's sexiest men.
He was also asked to be in JJ Abrams's 2013 Star Trek Into Darkness movie, but could not get a US work permit in time for shooting, the Independent reported.
Though this victory makes him the world champion for the third time, his battle with Karjakin was not an easy one. In their playing history, the pair have drawn 11 times and defeated one another once each.
However, Carlsen got the better of Karajakin on this occasion, and the Russian congratulated his counterpart on the victory. "The classical part [of the match], I'm quite satisfied," Karjakin said to the Guardian.
"But somehow after we played 12 classical games, I was completely not ready to play rapid games. In the three games out of four I was lost. Of course, Magnus took advantage of my mistakes and he deserved to win. My congratulations to him."