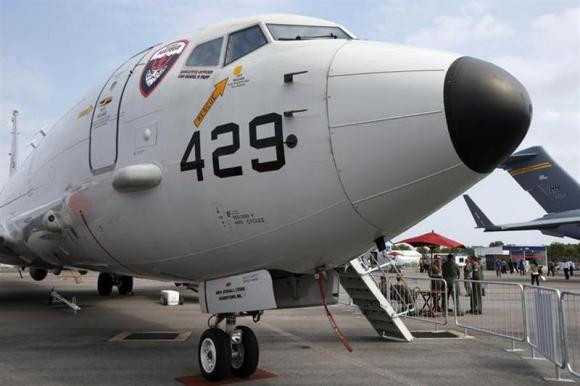 The Australian search mission has reported sighting two objects believed to be part of the wreckage of the missing Malaysia Airlines flight MH370, raising hopes the nearly two-week search would yield results finally.
Shortly after the sighting, Australian authorities said hi-tech surveillance aircraft were on their way to join a Royal Australian Air Force Orion aircraft which was in the area.
Among the reinforcements sent to one of the most intractable and remote parts of the southern Indian Ocean was US Navy's Boeing P-8A Poseidon anti-submarine aircraft.
This hi-tech navy aircraft would form the nose of a massive patrol and surveillance mission covering a wide swath of the ocean, in what would be a diversion from its original purpose of encountering and destroying enemy submarines and ships.
US Navy's newly inducted P-8A Poseidon aircraft arrived in Perth, Australia, on late Tuesday night after the focus of the search for the missing plane shifted to the southern Indian Ocean.
And the fabled plane, which cost more than $30b to develop, has some distinct features that make it the right option in an operation of this scale.
"For a mission such as the MH370 search, the P-8A will typically fly at 5,000 to 10,000 feet at 350 knots, with a search time of approximately 8-9 hours depending on the distance to the search area," US Navy said a statement.
What makes Poseidon so special?
Deep sea surveillance
Produced by Boeing, Poseidon was designed to find and sink submarines and ships. It is often touted as the world's most advanced long-range anti-submarine and anti-surface warfare aircraft. It is specially suited to carry out searches on and under the water simultaneously.
Massive range
With a build based on a Boeing 737 airframe, Poseidon can touch a maximum speed of about 565 mph and can fly at 41,000 feet. The aircraft's range allows it to scan over 1,200 nautical miles in four hours.
Microscopic accuracy
Owing to its advanced radar capabilities, the crew can zoom in to recognise and investigate small contacts on the water's surface. It has a powerful on-board camera system and a large variety of sensors that can effectively investigate the contacts.
Cost and timeline
The Poseidon programme has cost over $30bn. The US Navy signed a $2.1 billion initial deal with Boeing for 16 P-8A Poseidon long-range aircraft, and it was followed by a similar deal by Australia. Boeing has plans to make additional sales to the UK, India and New Zealand.
The US Navy deployed Six Poseidon P-8A aircraft to its Okinawa base last November, which was the aircraft's first operational engagement.
Previous run

During its missions out of Kuala Lumpur, the P-8A crew identified more than 400 radar contacts, according to TheStar. However, none of them bore any association with aircraft debris or wreckage.
Poseidon was deployed to Kuala Lumpur from the US Navy base in Okinawa, Japan.