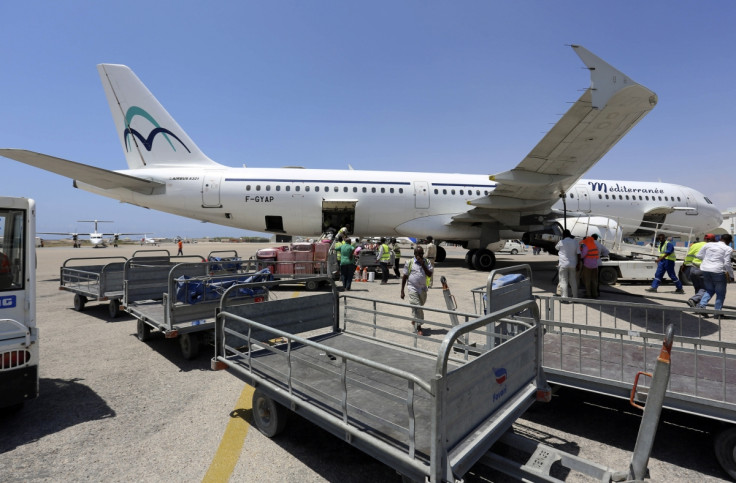 A passenger was apparently sucked out of a Daallo Airlines plane after a blast on board left a huge hole on the side of the aircraft. The flight was headed to Djibouti from Mogadishu, Somalia when the explosion occurred on 2 February. The pilot, however, successfully managed to land the aircraft safely.
According to reports, one of the passengers – yet to be identified – caught fire after the explosion and was sucked out of the plane, due to vacuum that was caused following the blast. Eyewitnesses spotted the body of a badly charred man that had "fallen from the sky" around 15 miles away from the Mogadishu airport.
Of the 74 passengers on board, two others were also injured in the blast.
Daallo Airlines, the national carrier of Somalia, posted a statement on its Facebook page confirming that an Airbus 321 had "experienced an incident shortly after takeoff" from the airport in Mogadishu on 2 February.
"The aircraft landed safely and all our passengers were evacuated safely. A thorough investigation is being conducted by Somalia Civil Aviation Authority," the statement said"
The aircraft's Serbian pilot Vladimir Vodopivec was quoted as saying, "I think it was a bomb. Luckily, the flight controls were not damaged so I could return and land at the airport. Something like this has never happened in my flight career. We lost pressure in the cabin. Thank god it ended well."
According to CNN, a source disclosed that initial investigations into the incident showed traces of explosive residue, indicating that it might have been part of a terror plot. Somalia's alternate ambassador to the UN, Awale Kullane, was on board the flight and mentioned on Facebook that he "heard a loud noise and couldn't see anything but smoke for a few seconds".
Other sources from the Aviation industry indicated that if there was a bomb on board, it was meant to go off further into the flight when the plane would be at a higher altitude. But, due to a delay at the airport, the blast which may have been triggered by a timer, probably went off at a lower altitude making it easier for the pilot to land.
Somalia has been witnessing a large number of violent attacks by Islamist extremist group al-Shabaab and if the airplane blast turns out to be the result of a bomb, the investigation will move towards looking at the militant group's link to the incident.
In January, al-Shabaab attacked a beach resort in Mogadishu, killing 20 people. In November 2015, an attack on another hotel left 12 people dead, while a suicide bombing in July killed 10 people.