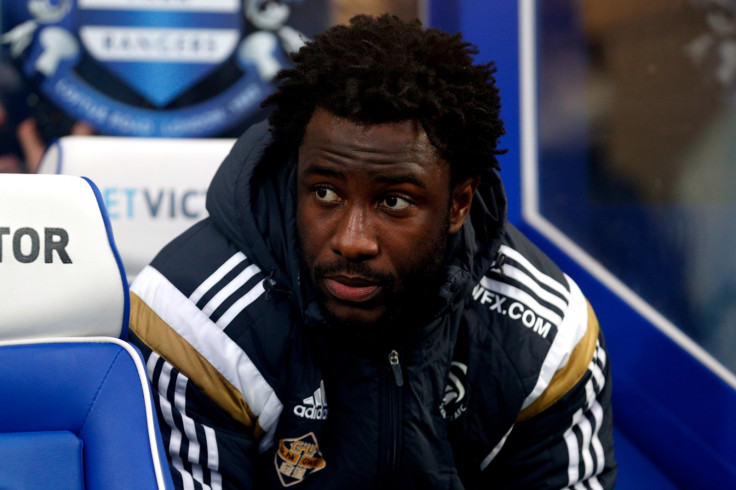 Manchester City have completed the signing of Swansea City striker Wilfried Bony.
The reigning Premier League champions have been in talks with Swansea over a deal to take Bony, 26, to the Etihad Stadium for a fee that could rise to £28m.
The striker will wear the no. 14 shirt.
"It's a great feeling for me, it's a big honour to be here and it's a great challenge," Bony said. "As a player it's always good to be part of one of the biggest clubs in the world and it's a good opportunity for me to be in that situation now – I'm really proud.
"I felt excited to wait for this moment and now it's come, it's fantastic.
"I think it's a great decision for me - Manchester City is in the Champions League. You remember at the end of last season I said that if I want to move it will be to a team in the competition because it's a great tournament that I really want to play in and one that I want to win.
"It's a motivation for me to give my maximum to be in that place. City is a big club with great players with a lot of experience; I believe we can do it."
Manager Manuel Pellegrini, whose side trail leaders Chelsea by two points at the top of the Premier League, added: "He is very difficult to mark because he is so strong. He is an intelligent footballer who has skill and power. His goals record has been excellent since he came to England. He adapted very quickly to the game here and I think he will settle in at City quickly.
"He will be a very good addition to our squad. We now have four top class strikers and I am looking forward to seeing them work together."
The Ivory Coast football federation confirmed the transfer prematurely on Wednesday morning via their Twitter account, prompting a firm denial from Swansea.
City subsequently said there was still work being done on the deal but have now confirmed the arrival of the former Vitesse Arnhem star.
Bony, who was also heavily linked with a move to Liverpool this season, is currently on international duty with the Elephants for the Africa Cup of Nations, which begins on Saturday.
Persistent injuries to Sergio Aguero, Edin Dzeko and Stevan Jovetic have prompted City boss Manuel Pellegrini to push for a fourth striker to boost their assaults on the Premier League and Champions League.
Pellegrini said on Friday: "The injuries were part of the decision, because we had too many. It's normal strikers are injured more than other players especially here in England where you need strong footballers and it's physical football. That's why I said last year, and this year also, we need a fourth striker.
"You cannot say that because you are bringing in another striker you are going to win. In the first part of the season it's important to analyse and I assure you that we need a fourth striker.
"If that striker will help, we are going to be a strong squad with him. It's very important for all players to have competition because they have their best performance when they have important competition."