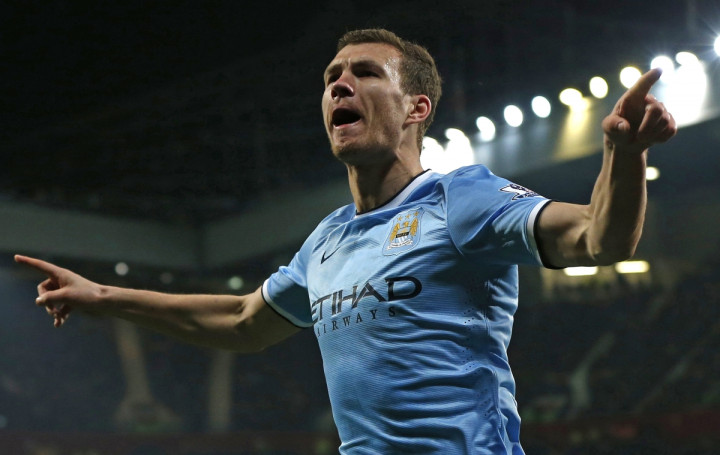 Manchester City have suffered a major blow after it was revealed that striker Edin Dzeko could be sidelined for longer than expected as he was withdrawn just four minutes after coming on during the clash against Queens Park Rangers in the Premier League on Saturday.
It is believed that the striker could be out for over three weeks with a reported calf injury and could miss vital clashes against Southampton and their crunch clash against Bayern Munich in the Champions League.
Reports suggest that the former Wolfsburg striker could also be unavailable for City's upcoming league fixtures against Swansea City and Southampton, and their Champions League tie against Bayern Munich.
Bosnia-Herzegovina team doctor Reuf Karabeg has confirmed that it is a serious injury. He is likely to be out for a long period of time and will surely miss their Euro 2016 qualifier against Israel on Sunday, he added.
"It's a very serious injury and requires the kind of treatment whose time-frame unfortunately rules out a quick return," Karabeg said, as quoted by the Daily Mail.
It is a big blow for the Bosnians as they have struggled in their European qualifiers up until now and their coach is already sure that they will struggle to beat Israel without their top scorer.
"If Dzeko can't play we will be resigned to playing for a draw against Israel because we have no hope of winning without him," Bosnia-Herzegovina coach Susic said.
"If that turns out to be the case, we will have to mount a sustained challenge after the winter break and win five of the remaining six games if we are to reach the finals in France," the coach added.
However, Dzeko, who is disappointed with the news, is confident that his teammates have it in them to get a positive result against the Israelis on Sunday.
"I am extremely disappointed with the news that I will miss this match but I have faith in my team mates and believe that they have it in them to get a result," Dzeko said.