Micah Richards will be out of action for the next four months for Manchester City, the club have confirmed, with the defender recovering from a knee injury sustained when the side defeated Swansea at the weekend.
Richards came off in the 81st minute, appearing to be in a great deal of pain as he was stretchered off the ground with an oxygen mask.
He underwent surgery on Monday night in an attempt to repair some of the damage to the meniscus cartilage on his right knee, but the 24 year old will now possibly miss up to sixteen weeks as he continues to recover.
For Mancini, the news will not be good, considering Pablo Zabaleta may not be fit for City's match with West Ham this Saturday, and Maicon is also still injured.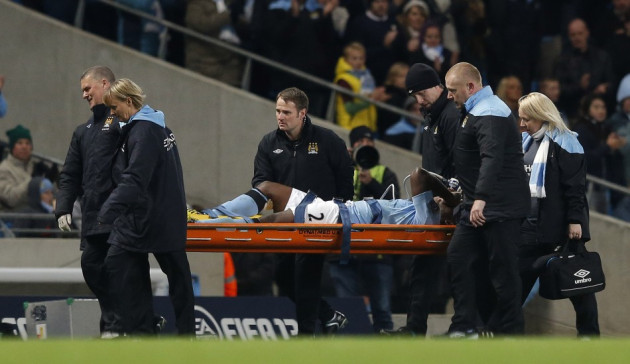 With a thin-looking defensive line-up, the club will be looking to band together and put in a performance that is much better than has often been the case recently, with Richards himself criticising Mancini's tactics two weeks ago as they stumbled to Borussia Dortmund in the Champions League.
Today Vincent Kompany insisted that City have no problems behind the scenes, saying that the club are dealing with their struggles and will come out fighting this weekend.
"The stories are based on things I can't relate to and I'm in this team," he told the City website.
"As much as I set out in my career to be the best footballer, I would expect journalists to want to tell the truth, and do the job for that reason.
"It's part of the game, and I accept that part of the game. I just wonder where the integrity of some journalists stands when they come out with stories with no foundation whatsoever."