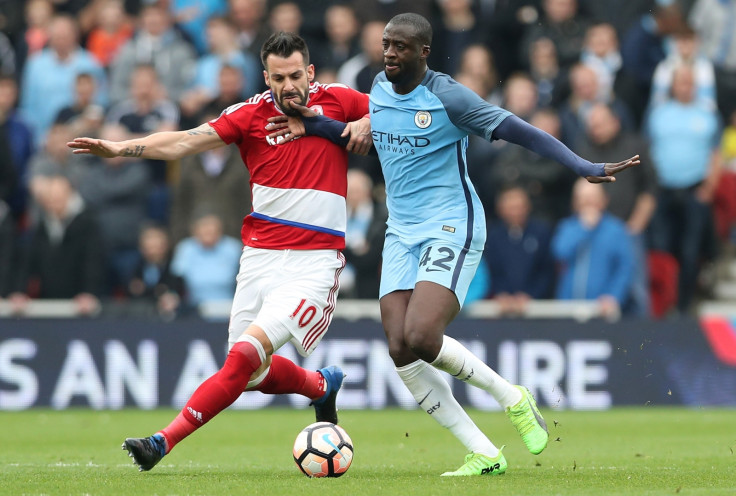 Yaya Toure has signed a new one-year contract extension with Manchester City following the expiry of his deal at the Etihad. The Ivorian joined from Barcelona in 2010 and was a central figure in the six trophies that City won during that period, including two Premier League titles.
Toure has made 299 appearances at the club, scoring 81 goals in the process, and is one of the Citizens' highest scoring midfielders of all time. He played a bit-part role in the recently concluded campaign owing to differences with manager Pep Guardiola, but returned to his dangerous self in the second half, scoring five goals in 22 appearances in the league.
Toure's contract decision will end the speculation over his future and extend his association with Guardiola, having played under him since his time in Barcelona.
City are going all out in the transfer market this summer, close to completing deals for Ederson and Bernardo Silva, as they look to seriously challenge for the title next season. The 34-year-old is delighted with the deal and insists he will do everything in his power to repay the trust vested in him.
"I'm delighted. I told myself the journey at City is not done and when I received a call from Txiki and talked to the manager I was very delighted," Yaya told City's official website. "When I was first coming here [in 2010] I was trying to be part of a new story, of something special at this club. I am very lucky now to be part of a great club with great players around me who are helping me to achieve my targets.
"Of course I want to win trophies, that is very important to me. I want to enjoy it at this age still and remaining here is a massive, massive thing. It is a great club, going in the right direction with new players who are coming in. Our mentality is always to win week in, week out and I'm delighted with the fans as well."