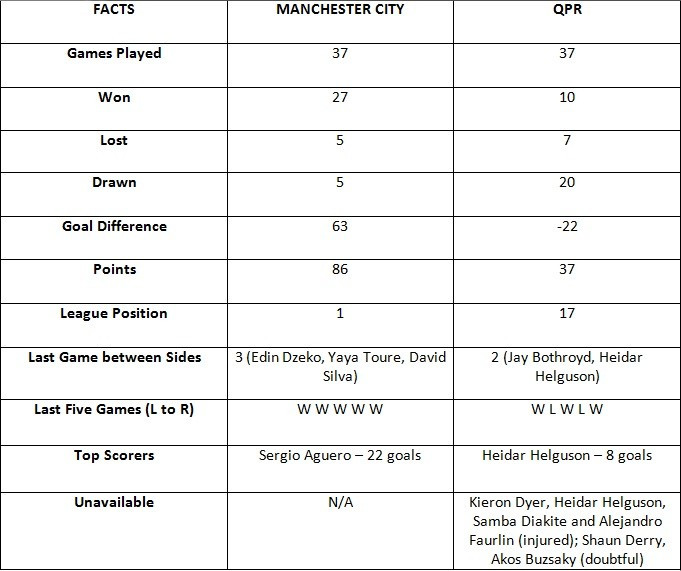 The fate of the 2011/12 Premier League title will begin 90 minutes of what will probably be nerve-wracking see-sawing, once the two Manchester clubs kick off their respective games, on Sunday. Sir Alex Ferguson will lead his side to the Stadium of Light to face Sunderland, while his counterpart, Roberto Mancini, will stay back in Manchester to entertain QPR.
Basically, whichever of the two Manchester clubs has the better result, will win the league.
When Mancini took charge at the Etihad, he said he believed he could win the league title in his first full year in charge; he took over from Mark Hughes in the middle of the 2009 season. His first full year in charge, therefore, was the 2010/11 campaign, when City finished third (tied on 71 points with Chelsea but with an inferior goal difference). United won the title comfortably, nine points ahead. The Italian may be a little late on his promise but he does seem poised to deliver his club's first league title since 1968.
The Build-up:
In the blue half of Manchester, Mancini (after weeks of refusing to accept the favourites tag and insisting United were always odds-on favourites to retain the Premier League crown) finally accepted his side were, in fact, title favourites. The admission though, reported in an earlier IBTimes UK article, came in the aftermath of the 1-0 defeat of United and was followed by one in Goal.com, immediately declaring United were once again the favourites - because they had an easier run-in.
"It is not finished. If we think it is finished, we will be making a big mistake. United are the favourites. They have easy games. They play against Swansea and Sunderland," Mancini told reporters. His point was that City would have to face a Newcastle United side fighting to defend an improbable Champions League position and Mark Hughes' relegation-threatened QPR side.
However, Mancini is not one to shy away from expressing confidence in his players. In a report by The Sun, the Italian was quoted as saying he trusted them "100 percent... they know they have everything in their hands".
Mind games aside, the fact remains City have taken eight points of United in five games, starting with United's 0-1 defeat on 11 April to Wigan. At the same time, City demolished West Brom 4-0 at home and went on a five game winning streak (6-1 vs. Norwich; 2-0 vs. Wolves; 1-0 vs. United; and 2-0 vs. Newcastle). In contrast, United have won only two of their last five games, losing two others (0-1 to Wigan and 0-1 to City). In fact, so slight has been the margin for errors this season that even the 4-4 draw at home to Everton could be enough of a slip-up to hand City the title.
Could the return in form for City have something to do with that of the prodigal son - Argentine forward Carlos Tevez? The striker who put himself and his club through much agony after refusing to come on as a substitute in a Champions League game against Bayern Munich in September, won the first three games in the most recent series for City and scored a hat-trick as City routed Norwich. We may never know but it certainly does add an interesting element to the mixture.
City's final obstacle for the season is a side that is not only fighting for Premier League status for next season but one coached by a former Citizens' boss and one fired and replaced by the same man he now faces... the man who has taken the club to the brink of their first league title in nearly five decades.
QPR boss Hughes was replaced by Mancini in December 2009, in a move that was not entirely appreciated by most of the country's footballing pundits. In fact, Hughes received support from rival's boss Ferguson, who blasted City owners, in a report by the Daily Mail.
However, despite Ferguson's calls to go for revenge, Hughes insists he will not turn his side's game into a personal battle for revenge.
"People keep throwing that word up but it is not in my mind at all. From my point of view I am completely focused on what we have to do, as you would expect. We have got a huge game and huge challenge. It is not going to be easy as Manchester City are an outstanding football team," Hughes explained in a report by The Sun.
Regardless of what the Welshman says though, the thought must surely be at the back of his mind and, if nothing else, the triple joy of denying City the league crown, showing up his former employer's new signing and ensuring Premier League status for his own team will have him desperate for all three points.
Sub-Plots:
City will host QPR for the final game of the season. QPR are coached by Mark Hughes who was not only the City manager Mancini replaced but also a former Manchester United player. Twin reasons for payback?
Team News:
The best bit of news Mancini could have going into this game (aside from an outbreak of flu in the Red Devils' camp) is that he has absolutely no injuries or suspensions to worry about. He will have a full-strength squad to choose from... and this includes controversial Italian striker Mario Balotelli.
Hughes, meanwhile, will have one or two absentees to deal with, principal among which will be Samba Diakite and Alejandro Faurlin, while Shaun Derry and Akos Buzsaky are rated doubtful.
Facts:
Manchester City have a near-perfect home record in the league, having won 17 of 18 games so far; the only blemish was a 3-3 draw with Sunderland on 31 March.
QPR have alternated between a defeat and a win in each of their last 10 league games; their most recent result - a win.
French striker Djibril Cisse joined QPR in January. Since then, he has either scored a goal or been sent off - he has five goals and two red cards to his name.
City start slowly. They have scored only 8 percent of their league goals in the opening 20 minutes of a game. QPR, on the other hand, have scored 25 percent.
Probable Line-ups:
Manchester City: (4-2-3-1) - Hart; Zabaleta, Lescott, Kompany, Clichy; Y Toure, Barry; Nasri, Tevez, Silva; Aguero.
QPR: (4-4-2) - Kenny, Onuoha, Ferdinand, Hill, Taiwo; Mackie, Barton, Taarabt, Wright-Philips; Zamora, Cisse.
Man to Watch:
Manchester City - Yaya Toure. The man is a powerhouse. He just never seems to get tired, either physically or mentally and that could be the difference between City winning the title and losing out to their rivals. The Ivorian international was the player to make all the difference in his club's last game against Newcastle and it was his two goals that ensured the title would go down to the wire. Expect the former Barcelona man to be in the thick of the action, although whether he will once again start in the slightly withdrawn role alongside Gareth Barry, to accommodate Samir Nasri or be given the license to move forward with David Silva, Carlos Tevez and Sergio Aguero remains to be seen.
QPR - Djibril Cisse. The former Liverpool striker has had an interesting, shall we say, impact on QPR since he arrived in January. His record in the seven games he has played goes like this - goal, red card, goal, goal, red card, goal, goal... there is a pattern here that is immediately apparent! Expect Cisse to have some sort of hand in the outcome of the game. Should he score (and that be the first goal of the game) expect QPR to shut up shop tighter than you'd think possible and force City to sweat it out. However, should he (and the pattern suggests this) score his third red card in eight games, City will be confident of running riot.
Where to Watch Live:
A live stream will be available via a subscription to FoxSoccer2Go.