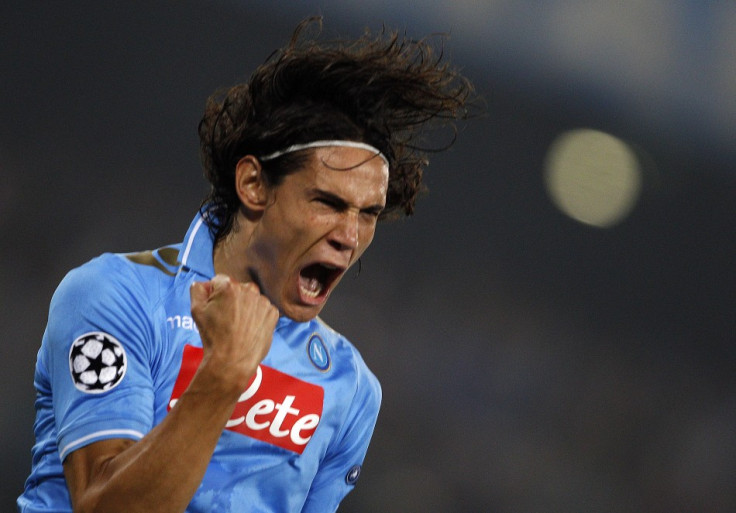 English champions Manchester City have been linked with a move for Napoli's Uruguayan international Edison Cavani as they prepare to defend their Premier League title. Cavani has also been linked to City's rivals Chelsea, and a fee in the region of £35m has been suggested.
However, recent reports suggest the Italians are reluctant to let their star striker go and have slapped a £78m price tag on the player, in a hope to deter interest from either the Citizens or the Blues.
"Cavani is not for sale, but we could let him go for €100m (£78m)," Napoli president Aurelio De Laurentiis was quoted as saying by Goal.com, "This is not his actual value, but his value to me and he won't leave for less."
Napoli's firm stance suggests Roberto Mancini and his men may have to shell out a record sum of money to secure Cavani's signature and while the amount of money itself may not be of concern to the club's Middle Eastern owners, the imminent implementation of UEFA's Financial Fair Play (FFP) guidelines will, as also the fact City are struggling to offload high-earning non-performers like Emmanuel Adebayor and Roque Santa Cruz.
City presently have a whopping six strikers on their payroll - Sergio Agüero, Mario Balotelli, Carlos Tevez, Edin Dzeko and Adebayor and Santa Cruz - and the fact that someone like Adebayor, a then high-profile signing from Arsenal, has spent the last two seasons out on loan (to Real Madrid and Tottenham) and cannot get a first team place but is on a massive wage package spells trouble for City's accountants. It also means the club will struggle to make new signings - like that of Cavani.
In addition, Premier League rules allow only 25 players to be registered for the season and once we factor in the home-grown rule, it becomes obvious City simply cannot afford the financial or administrative luxury of so many strikers.
It Won't Be Easy This Time
Meanwhile, Chelsea defender Branislav Ivanovic has issued a stern warning to Mancini and the Etihad stadium, stating the defending champions had no idea how difficult it was to retain a title.
"It's going to be very tough for City. It was the same with us," the Serbian was quoted by ESPN, "When you win the league all the other teams, big or small, fight and have extra motivation against you. A lot of teams will be going for the title this season."
The defender is a seasoned veteran of English football and was a key part of the Blues' 2009/10 league-winning team, only to lose the title to Manchester United in the next season.