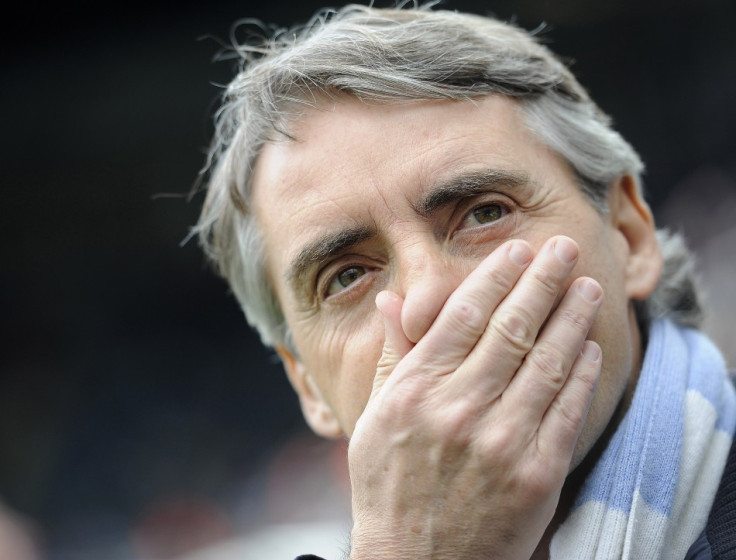 Roberto Mancini has admitted his frustrations at the lack of summer transfers, as the start of the new league season looms large. The reigning champions have yet to announce incoming transfers this summer and Mancini has called on Brian Marwood, the club's football administrator, to swing into action.
City have spent, by some estimates, more than £900m on new players since Sheikh Mansour took over the club and the largesse resulted in their first league title since 1968. Mancini is eager that the club build on the winning momentum and strengthen the side ahead of their title defense and second crack at the Champions League.
However, City's spending - so beneficial to their fortunes so far - is now proving to be a stumbling block. UEFA's Financial Fair Play regulations could penalise the club if they do not fail to control their wage bill and curtail spending and given that the likes of Emmanuel Adebayor (who has not played for the first team in two years but continues to draw a salary of £175,000, reportedly, per week) are still on their roster, the club chiefs are finding it difficult to sanction new signings.
Adebayor, for example, joined City in 2009, after a £25m transfer from Arsenal. Since then he has had two loan spells (Real Madrid and Tottenham) and no playing time at City and with the likes of Sergio Agüero, Carlos Tevez, Edin Dzeko and Mario Balotelli ahead of him in the pecking order, it seems unlikely he ever will. The Togo international is believed to be in talks with Spurs over a permanent switch but that enormous wage is a stumbling block. A similar situation surrounds Paraguayan striker Roque Santa Cruz.
Therefore the priority for Marwood is trimming the squad roster and wage bill, which, given the 25 player limit and FFP regulations is the right thing to do. Unfortunately, Mancini is focused on another goal entirely - winning trophies - and, for now at least, there seems to be a bit of tension between the two. That is surely set to be exacerbated by the club's pursuit of Arsenal forward Robin van Persie.
"For this question, speak to the man in charge. I am not in charge of this. It is important [to sign players early] because, after what we did last year, it is important we continue to win. This year will not be easy. It will be harder than last year and, for this reason, we need to improve our team. But I am not the man in charge of this. We have a man who works for this [Marwood] and we hope that they can do a good job," the Italian was quoted as saying by the Mirror.
Manchester City are set to play Arsenal in a pre-season friendly at the Beijing National Stadium in China, on 27 July.