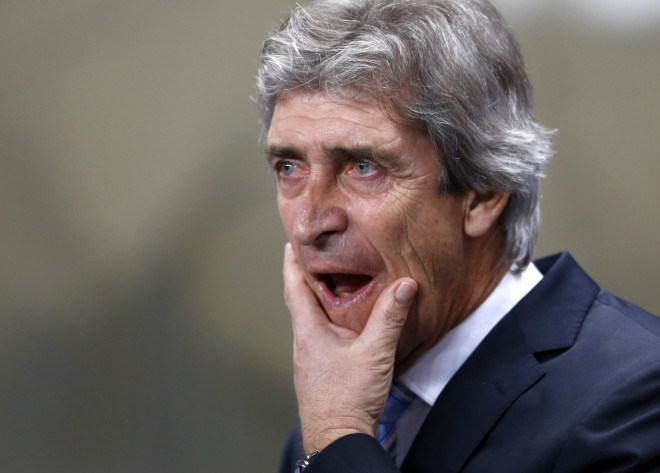 Manchester City manager Manuel Pellegrini has been banned for three European games after questioning referee Jonas Eriksson's impartiality following his side's 2-0 Champions League defeat to Barcelona at the Etihad Stadium.
The referee sent off Martin Demichelis and awarded Barcelona a penalty after the City centre-back fouled Lionel Messi. Pellegrini claimed that Eriksson made two mistakes, as he didn't award City a free kick for an incident between Sergio Buesquets and Jesus Navas while the Demichelis' tackle was made outside the area.
The Chilean boss apologised some days later for his comments but after an investigation UEFA have announced in a official statement their decision to suspend him.
"UEFA's Control and Disciplinary Body has suspended Manchester City FC manager Manuel Pellegrini for three UEFA competition matches, one of which is under probation for two years," UEFA said.
"The sanction is due to the coach's press statements and violation of the general principles of conduct under Article 11 of the 2013 UEFA Disciplinary regulations at the UEFA Champions League round of 16 first leg between Manchester City and FC Barcelona on 18 February in England.
"As a result, the City manager will be banned for his team's round of 16 second leg against Barcelona in Spain on 12 March. This means that Pellegrini may follow the game from the stands only; he may not enter the dressing room, tunnel or technical area before or during the match; and he may not communicate directly or indirectly with his players and/or technical staff during the game (Article 62(1) DR). The above decision is open to appeal (Article 54)," UEFA added in the statement."
Pellegrini suggested that the referee favoured Barcelona to make amends for errors he made during the Catalan's Champions League game against Milan last season.
"I think that the referee decided the game. Before the penalty there was a foul on Navas when he [the referee] was three meters away from the play so he saw it without any problem. But from the beginning I felt that the referee was not impartial to both teams.
"He did not have any control of the game yet I do not think it was a good idea to put a referee from Sweden in charge of such an important match and a referee who made important decisions against Barcelona," Pelegrini said after the game.
"But I repeat I think the mistake was to put in a referee who damaged Barcelona. This group referee against Milan and he made an important error against Barcelona."
After the 2-0 defeat against Barcelona, it appears unlikely that City will go through to the quarter finals of the Champions League but the ban will roll over for the start of next season's campaign.