Tempt fate in football at your own peril. Just ask Manchester City's social media team. After Roma hero Francesco Totti earned a point for his side with a sublime dink over Joe Hart in their Champions League clash on Tuesday, the 38-year-old revealed City's tweet highlighting his failure to score against English opposition in his illustrious career was the extra bit of motivation he needed.
Misjudgements, errors and plain idiocy are common themes amid the growing number of footballers tapping their worldly thoughts into the Twittersphere. The occasional gaffe is expected, retweeted and saved for eternity in a screenshot for much laughing and pointing further down the road, often for the sole purposes of being featured in pieces like this.
But aren't the clubs themselves expected to exercise a bit more tact? Well, yes. But it doesn't always happen.
Dion Dublin > David Moyes
On a Tuesday morning in late April, David Moyes' disastrous spell as Manchester United manager came to an end. A dismal 2-0 defeat to Everton three days earlier sparked a flurry of reports on the Monday morning predicting an imminent dismissal. The general consensus was that the Scot's time was up and all eyes turned to United's official Twitter account for a huge announcement.
Learning that day was the 45<sup>th anniversary of the birth of former striker Dion Dublin wasn't exactly the news the world was waiting for. Sixteen seconds later the account confirmed Moyes' exit and later removed the tweet to Dion, with someone presumably having fallen foul of the medium's 'schedule tweet' option.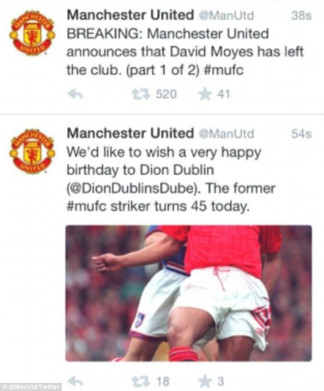 Tottenham troll Liverpool
After Liverpool surrendered a 3-0 lead to draw 3-3 with Crystal Palace in a match that altered the face of the Premier League title race last season, Twitter responded in typically sublime fashion. But amid hashtags of #Crystanbul and #TweetYourSuarezFace, Tottenham Hotspur absent-mindedly waded into the storm. Whoever assumed control of the keyboard at @SpursOfficial HQ that night dropped in a tweet featuring a vine mocking Liverpool's title capitulation while drawing the comparison to Newcastle United's implosion that saw them let a 12 point lead slip away on would-be champions Manchester United in the 1995/96 season.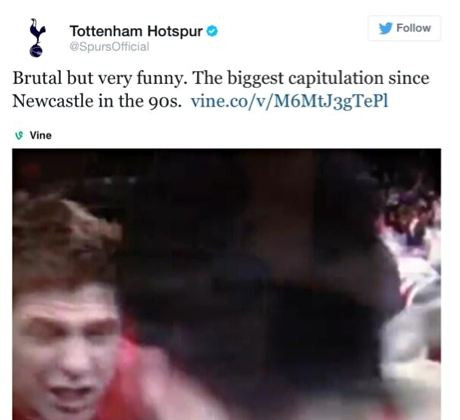 Spurs swiftly removed the offending remarks and tweeted: "We are currently looking into a security issue where our official vine account has been compromised. We apologise to anyone offended by a recent tweet, which was immediately deleted. This post was not tweeted by anyone affiliated to THFC."
Jack Sullivan welcomes Marouane Chamakh to the Boleyn Ground
Given that his father is the club's co-chairman, Jack Sullivan would appear to be a bit more privy to West Ham United's transfer dealings than your average Twitter ITK. The teenager often tweets news of an imminent arrival days before the club's official announcement and given the overwhelming amount of nonsense to emerge through the social medium regarding transfer deals, his track record isn't too bad.
One deal young Jack wasn't first on however was the arrival of former Arsenal misfit Marouane Chamakh, who joined the club on loan to the delight of absolutely no one, apart from maybe the player himself. Sort it out, Dad.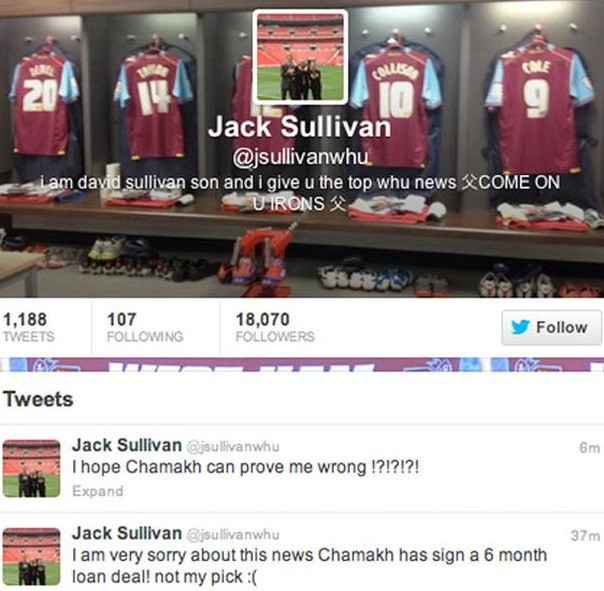 Leeds United Twitter account cruelly raise transfer expectations on deadline day
If Leeds United supporters weren't already frustrated enough having seen Massimo Cellino, a man who has sacked 36 coaches in 22 years, wrestle control of their club, a deadline day Twitter wind up is likely to have pushed some over the edge.
As the clock struck 10:50pm on Monday 1 September, a cryptic tweet emerged on Leeds' timeline. "Don't go to just yet... there is still work to be done," it read. Oooh, exciting. After a summer that saw 16 arrivals and 17 departures at Elland Road, what could possibly top that? 'Ooooo this is decent' tweeted captain Jason Pearce moments later, a remark which was subsequently retweeted by the club. Something must be happening!
Wait a minute...
What?
Really?
Gaffes from the clubs are fairly awful, but when they come from an official sponsor who has paid millions to have their flashy logo plastered across countless shirts, it is not much better. American car company Chevrolet, who signed a seven-year contract worth around £25m a season with Manchester United, took it upon themselves to announce the arrival of, erm, 'striker' Juan Mata at Old Trafford in January while the player and the club were still in talks over his move from Chelsea.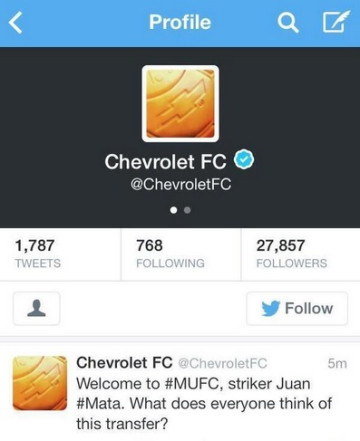 Maybe they were on about a different Juan Mata. You know, one who plays as a striker rather than the Spanish attacking midfielder?