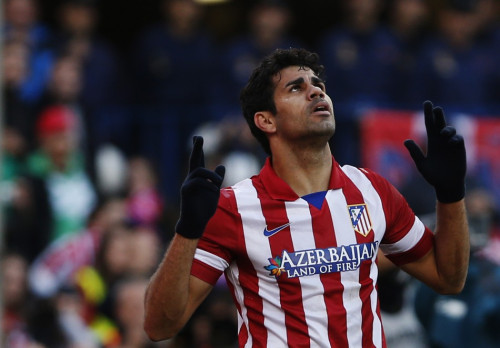 Atletico Madrid boss Diego Simeone has given a huge boost to the Premier League giants after claiming that La Liga star Diego Costa is not "indispensable", suggesting the club may listen to offers this summer.
The 25-year-old striker is the second top scorer in La Liga, just behind Cristiano Ronaldo, and after netting 19 goals in 20 domestic league appearances he has become in one of the most sought after players in Europe.
His impressive form in front of goal has been one of the key factors behind Atletico's incredible first half of the season but when asked by Spanish TV station Cuatro if selling the player would disrupt his team Simeone said: "No one is indispensible. What's most important is the club."
Furthermore, Atletico's coach recalled occasions in the past where the club were forced to sell former stars such as Sergio Aguero and Radamel Falcao due to financial issues.
"Atletico has always had a turnover at the striker position from Torres, Aguero... Atletico, as a club, has always survived."
Costa is yet to score a goal in 2014 but Simeone was quick to play down the significance of goal-scoring droughts.
"Strikers have ebbs and flows and the moments when he can score goals he's score in droves. He's an extraordinary player. They're talking about a player having a crisis, when 20 days ago Spain and Brazil were fighting over which team he'd play for."
With Porto's Jackson Martinez close to secure a new deal with his club Costa has reportedly become one of the main summer targets for Chelsea while Arsenal boss Arsene Wenger has also expressed his admiration for the striker several times.
At the same time, reports claimed last month that the Brazilian born forward was the focus of attention when Manchester United manager David Moyes travelled to Madrid.
Costa turned down a Liverpool offer last summer but Simeone's lates quotes suggest that he may leave the club at the end of the season, with his £32m release clause unlikely to deter the Premier League giants.