Arsenal and United Midfield Target Reveals Fabregas Influence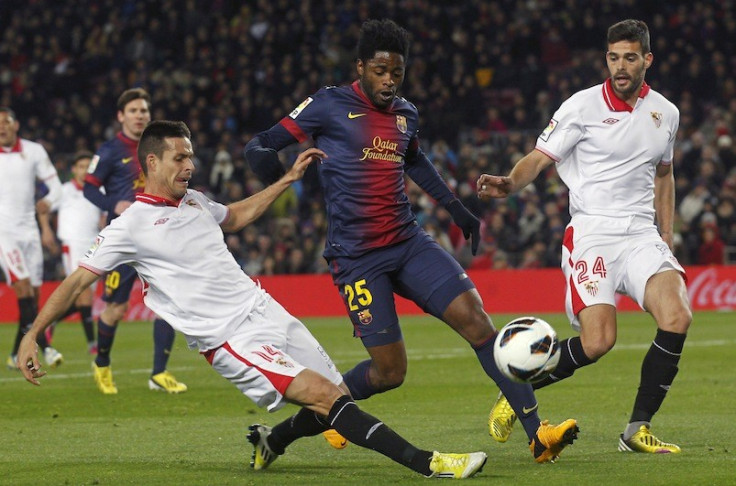 Alex Song says Cesc Fabregas has had a big influence over him at Barcelona with the former Arsenal midfielder insisting he's happy at the club and ignoring transfer speculation.
Song made the move to the Catalan giants in the summer of 2012 and six months later was voted the worst signing in La Liga for that transfer window.
But the Cameroon international has worked his way into the side on a regular basis and so far this season has made 10 appearances for Barcelona.
Arsenal and Manchester United were both believed to be monitoring his situation in the hopes of making a move in January and while Song says Fabregas has been instrumental in his career at Barcelona he insists he doesn't want to make a move at this stage in his career.
"In comparison to my first year, I feel much better," he told AS. "When you move to a new country and have to adapt to a new language, a new culture, it requires time.
"What I have discovered here is that we are like a big family and everyone has welcomed me with open arms.
"Cesc (Fabregas) is like a brother to me. He took me by the hand and guided me through those difficult early moments, and that made me feel better right away.
"Now I understand the language a little more, although I still struggle to express myself. Life's much better and I am very happy to be here."
United are believed to be in the market for midfielders in the lead-up to the winter window with the side currently outside the top four. In Arsenal's case their fortunes are quite the opposite but the north London club are hopeful that they can continue to build on their squad and improve their depth.
The Gunners were sad to see Song leave for Barcelona and his return would certainly provide Arsene Wenger with more options in the middle of the park. But the side, along with United, will have to look elsewhere until the summer at least with Song insistent that he's happy with the current La LIga title holders.
© Copyright IBTimes 2023. All rights reserved.