Guardiola may hold a few trophies that Sir Alex Ferguson would love to get his hands on, but that doesn't make him a better manager than the Manchester United legend, even though he may be remembered as on par with the Scot.
When Ferguson took over the fold at Old Trafford in 1986, Liverpool were far ahead in the title count, and the manager was almost laughed at when he set the goal of toppling them on the domestic front at the very least.
25 years on, Ferguson has done just that, and after a quarter of a century in charge at United, he still looks as strong as he ever did, with the occasional falter, but all in all the strongest of any of the Premier League gaffers.
For Ferguson in the 1990s, Juventus were his weak point in Europe. It took some years before United were about to stand tall against the Italian opposition, and when they did so in the 1999 semi-final of the Champions League, they showed that the dominance of teams such as the Serie A side never last.
Domestically, teams have challenged United over the past 25 years, but the challenge hasn't often been long term. Newcastle and Blackburn were once threats to Ferguson's reign, while Chelsea came along with massive spending power, and for a short time, were dominant over the Red Devils.
Now, Manchester City are posing a threat to the side's dominance in England, and Ferguson is set with another uphill battle in trying to create a team on a fraction of their budget that can topple the best.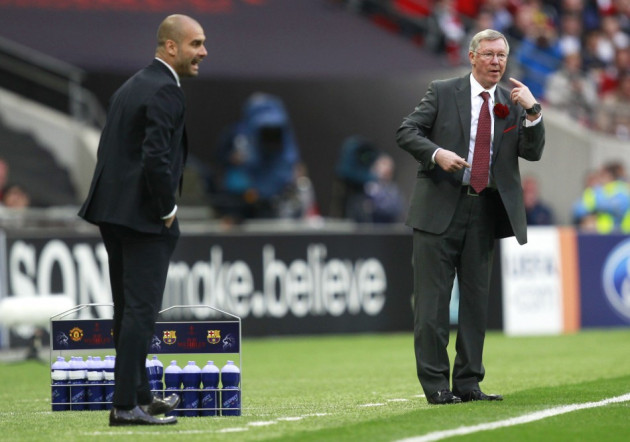 But despite yet another tough challenge, the manager says he wants to go on for as long as his health allows him.
Guardiola, meanwhile, moved from coaching the Barcelona B team to the senior side in 2008. Over four years, he's had a side that have dominated United in every way, defeating the English giants twice in the Champions League final and playing a style of football that can only be described as beautiful while they did it.
The team spirit the players have is second to no other, and though Guardiola is widely credited with playing a part in this, just how bigger part he had in making those bonds is up for wide discussion.
Was Guardiola the factor that made Barcelona so successful, or was he just part of a system that was destined to be successful as soon as the right players came through at the right time? We won't know either way, and his resignation has made sure of that.
Guardiola claimed that he wanted to leave the post at Barca to 'recharge his batteries'. This may will be true, or there could be other issues at stake.
One, which cannot be ignored, is that this is the first season that the Catalan giants will go without winning the La Liga title since Guardiola took over.
Ferguson, meanwhile, took seven years to win his first domestic title, and two years later he faltered to Blackburn.
To be fair, the English and Spanish football leagues are completely different, in that the Premier League has a great deal more competition because the teams are more equally funded. If a manager goes to Real Madrid or Barcelona, they have a higher chance of winning the title than if a manager goes to United or the likes of Arsenal, Chelsea etc. because the competition is more prevelent in England.
But even so, Ferguson moved through the adversity facing his side at the beginning of his tenure, when the 1999 treble winning side began to age and leave and now, as the side of the 2000s starts to grow older and one club legends like Paul Scholes, Ryan Giggs and Gary Neville say goodbye to the pitch for the last time.
Three generations of players have come and gone under Ferguson, and looking at the Scot as he argued with Roberto Mancini in the dugout during the derby last week, one must wonder where he gets the energy to keep going.
It's that which makes him the better manager than Guadiola, for now at least, because Ferguson's staying power is something that hardly any managers have been capable of doing, and Guardiola proved he was incapable of.
Barcelona legend Johan Cruyff said that he felt the Spaniard should have retired, telling reporters: "It is a consuming task [managing Barca].
"Work has been done extremely well and it takes strength to continue, especially in a very difficult time because there are changes.
"Everyone lives as he likes and Guardiola has taken this decision after a lengthy period and now takes a rest and I think it's well deserved.''
And this is why, for now, those Champions League trophies don't make him a better manager than Ferguson by a long stretch yet.