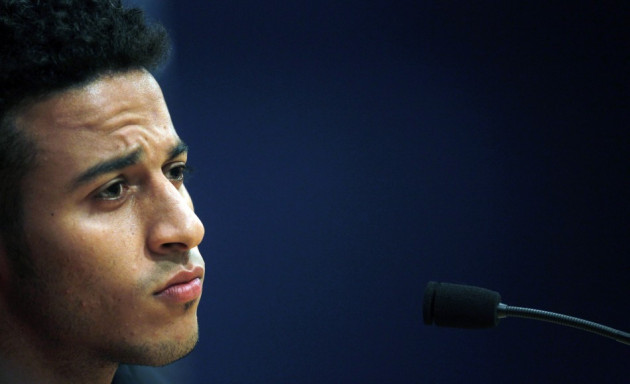 Barcelona believe that Thiago Alcantara has already agreed to join Manchester United, but are hoping that a last minute offer of a vastly improved contract will persuade the in-demand midfielder to remain at the Camp Nou.
A report in El Confidencial claims that Thiago has been guaranteed regular playing time by new United boss David Moyes and that a deal was struck at the end of last week after officials met with the midfielders father Mazinho.
The future of Thiago has been the subject of much speculation in recent weeks after it was revealed that he would be available for just €18m. This is because of a release clause in his contract that was activated after he failed to make a certain amount of first team appearances for Barcelona.
His performances at the Under-21 European Championships, where Spain won the title and the midfielder was named player of the tournament, led to enhanced rumours that Manchester United would activate his release clause.
With Paul Scholes announcing his retirement there will be a hole left in central midfield which Thiago could well fill. The 22 year old has a wonderful array of passing and is extremely skilful with the ball at his feet.
He has also shown his ability in front of goal but has struggled to become a regular in central midfield for Barcelona because of more established stars like Xavi, Andres Iniesta, Cesc Fabregas and Sergio Busquets being the preferred options from manager Tito Vilanova.
However, it is believed that Barcelona president Sandro Rosell will make a last ditch attempt to keep him at the club by handing him an improved contract.
The Spanish champions have attempted to convince Thiago that he must continue to develop at the club and point at Iniesta who was forced to bide his time before becoming a regular starter in midfield.
It seems the decision is now down to Thiago, who will have been aware of interest from Manchester United for some time as Martin Ferguson, one of the club's chief scouts, has repeatedly visited the Camp Nou in recent seasons to watch the midfielder.
Should Thiago decide that Barcelona cannot offer him regular game time then it seems he could be a Manchester United player before the end of the week.