Jose Mourinho is partial to a vociferous post-match tirade and officials have regularly born the brunt of the Manchester United manager's displeasure.
Quite often Mourinho uses his time with the media to deflect attention from his side's shortcomings, but his most recent outburst regarding referees seems to go deeper than just simply covering up a poor result.
Speaking after United's turgid 0-0 draw with Hull on 1 February, Mourinho told The Telegraph: "If you go game after game with Manchester United and you see what happened here, with Manchester City, what happened here with Burnley, what happened here with West Ham United, what happened at Stoke City, what happened almost everywhere, you do your job and you do a public service. Tell the truth. It's as simple as that."
What did the officials get so spectacularly wrong – in the eyes of Mourinho – in those games to make them stand out in his memory, and is he right to think that there is a refereeing conspiracy against his team?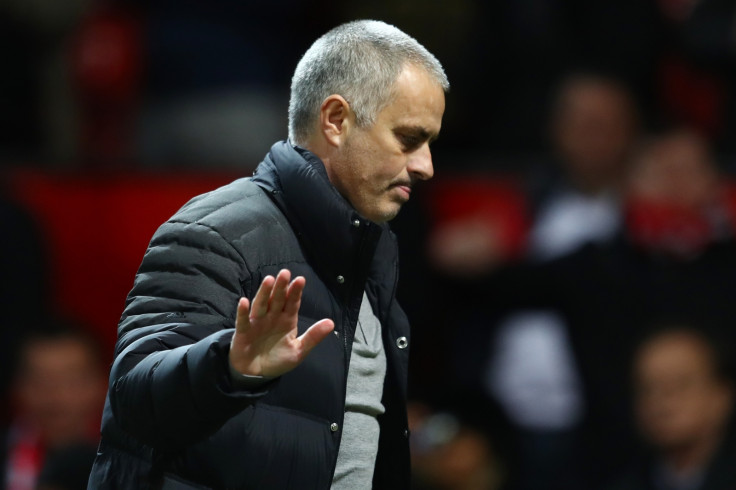 Manchester United 1-2 Manchester City – 10 September 2016.
Claudio Bravo's debut for Pep Guardiola's side was on the cusp of being a complete shambles. The Chilean recklessly lunged in on Wayne Rooney and caught him high on the leg with his studs after overrunning the ball.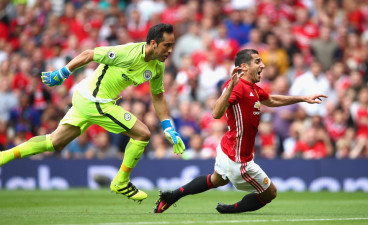 Bravo, who was also culpable for United's consolation that day after fumbling a cross into Zlatan Ibrahimovic's path, should have really been sent off for the challenge but was only given a yellow card by Mark Clattenburg, who inadvertently "punished" United, according to Mourinho.
"We were punished by a bad first half – my responsibility – and we were punished by Mark with his bad decisions." Mourinho told The Daily Mail.
Manchester United 0-0 Burnley – 29 October 2016.
Mourinho was left seething when his side were not awarded a penalty for Jon Flanagan's tackle on Matteo Darmian and at half-time told Clattenburg – the same referee who '"punished" his side the month before – in no uncertain terms how he felt about his interpretation of the incident.
The Portuguese was subsequently sent to the stands for the second half and could not remonstrate with Clattenburg when he sent off Ander Herrera for a second bookable offence. Replays showed that the Spaniard was perhaps unlucky as he slipped into Dean Marney for the foul that prompted Clattenburg to give him his marching orders.
Mourinho chose not to discuss the finer details of the match with the press after the game and was inevitably given a one-game touchline ban. He was also fined £8,000.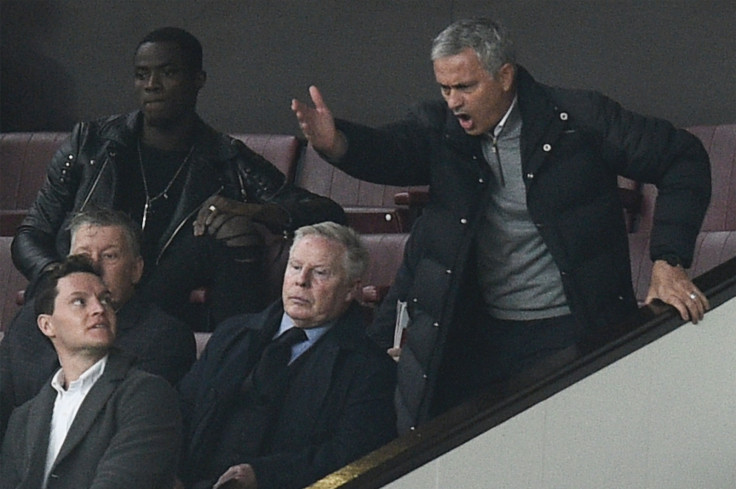 Manchester United 1-1 West Ham United – 27 November 2016.
This time Jon Moss and an innocent, unassuming water bottle were in line for a Mourinho mauling. The three-time Premier League winner was incensed by Moss' decision to book Paul Pogba for simulation – replays showed that he did indeed dive – and kicked a water bottle in frustration.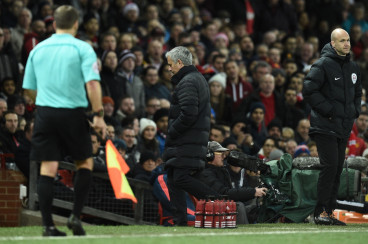 He was unsurprisingly given his marching orders moments later by Moss, who also sent Mourinho away from the touchline last season after he unleashed a foul-mouthed rant in his direction as his Chelsea side lost to West Ham at Upton Park.
Mourinho shirked media responsibilities again with trusted assistant Rui Faria stepping up and answering questions a slightly more diplomatic manner. He told BBC Sport: "The referee explained it to Jose and there is nothing more to say. I think there was frustration from Jose after the yellow card for Pogba. It should be a foul for us but the referee understood it in another way."
Mourinho was handed another one-match touchline ban and was fined £16,000.
Stoke City 1-1 Manchester United – 21st January 2017.
It's hard to know what Mourinho is referencing here. There was little in the way of refereeing controversy as his side huffed and puffed against the Potters, with the game best remembered for Wayne Rooney becoming United's all-time leading goalscorer.
Manchester United 0-0 Hull City – February 1 2017.
On a night largely devoid of action, Oumar Niasse did his best to whip up a frenzy with a couple of daft challenges that on another day could have seen him sent off. The Everton loanee caught Michael Carrick's knee with his studs and performed a wild, bizarre-looking challenge on Daley Blind.
Both fouls were committed while the Senegalese forward was already on a yellow card, but referee Craig Pawson did not think the tackles were worthy of a second. For Mourinho, it was a case of "here we go again".
"There were lots of things that happened today on the pitch that give me a feeling of déjà vu and I have that feeling a lot of times during the season, Mourinho said, according to Sky Sports.
"I don't want to speak much. I just want to say I am not critical of Hull City because a team that is in their position every point is gold and they tried to see what they could do, what they were allowed to do.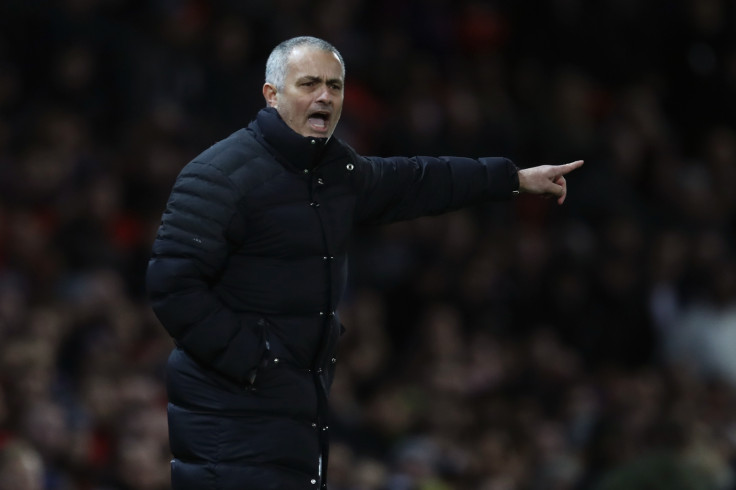 "You know clearly that I am different. The rules for me are different. I am different in everything. I (had to) watch my team play in a hotel, I was forbidden to go to the stadium, my assistant had a six-match stadium ban and he didn't touch anyone.
"On Tuesday, one fourth official told a manager: 'I enjoy very much your passion, so do what you want to do'. Today I was told 'sit down or I have to send you to the stands', so everything is different for me."
Is Mourinho within his rights to feel aggrieved about the aforementioned decisions? Yes. Any manager would be. But referees are not conspiring against him or his team. Poor officiating is now, unfortunately, part and parcel of the modern game and it has both benefitted and hindered United – and every other Premier League club – this season. He shouldn't be playing the victim, he should be using his voice, which reverberates all over the world, to spread the message that referees need more help.
Herrera should have been sent off during United's home draw against Stoke City in October, West Ham's Sofiane Feghouli should never have been shown a straight red card when the Red Devils paid a visit to The London Stadium on New Year's Day, while Marcos Rojo is lucky he has not been given his marching orders this season after putting in two frankly horrific challenges against Everton and Crystal Palace respectively. Mourinho is long in the tooth when it comes to football and knows that refereeing decisions tend to even themselves out over the course of a season.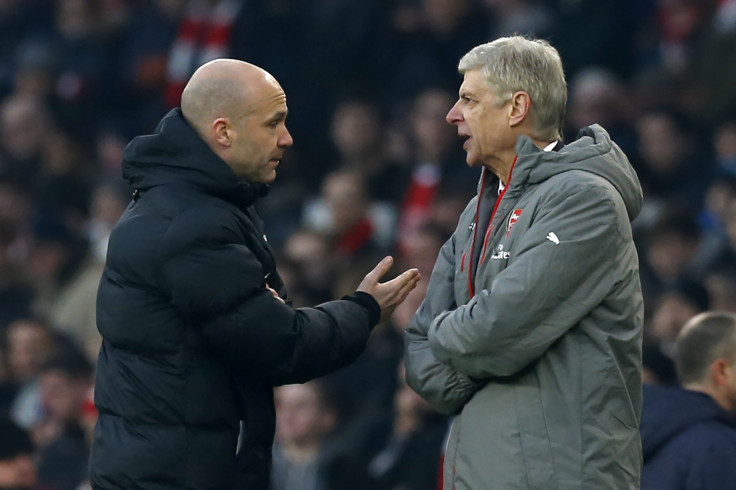 If Mourinho is right when he says the rules for him and the rest of his counterparts are 'different', it could be because he is very much a repeat offender; along with his two touchline bans, he was also fined £50,000 by the FA earlier this season for his comments over Anthony Taylor before the dross that was "Red Monday".
When Arsene Wenger was handed his four-match touchline ban after pushing Taylor in the tunnel, it was noted by the FA that he has a clean recent disciplinary record, and he was also evidently remorseful straight after the incident. Mourinho has been charged by the FA three times this season, while Wenger has been largely trouble-free for the best part of a decade and has not been such a constant headache for English football's hierarchy. The rules aren't different, Mourinho just breaks them more often than Wenger.
Also, if Jurgen Klopp said or did something to a fourth official that was not in the laws of the game, it would be reported and he would be punished accordingly. The officials are not playing favourites and for the Manchester United boss to suggest otherwise questions their integrity, which could be worthy of another fine.