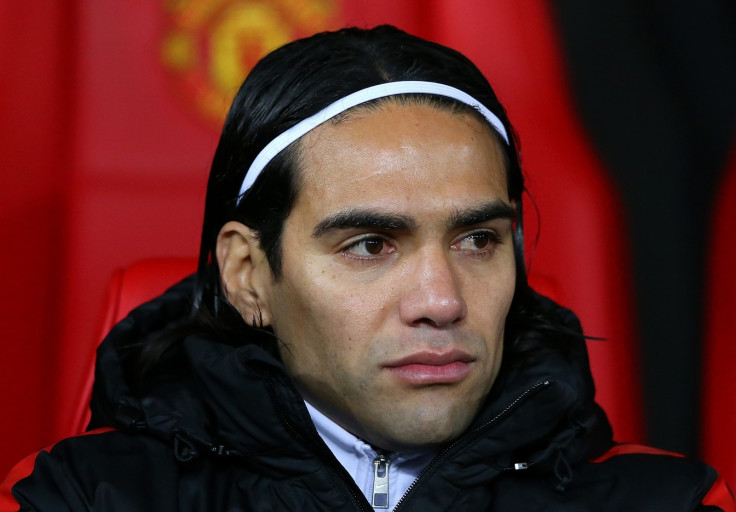 Manchester United manager Louis van Gaal will not bow to Radamel Falcao's desire to play through the pain barrier and will continue to restrict the Colombian striker's opportunities until he reaches full fitness.
Falcao has made only cameo appearances against Hull City and Stoke City in the past week upon his return from a calf injury, with Robin van Persie and James Wilson among those leading the attack from the start.
The 28-year-old striker is again set for a peripheral role as United travel to Southampton on Monday 8 December, with returning captain Wayne Rooney set to start alongside Van Persie at St Mary's as Falcao continues his recovery.
And despite United having signed Falcao on a season-long loan with a view to a permanent deal, Van Gaal feels under no obligation to play him and risk his long-term fitness.
"I'm not interested," said the United boss. "He has to follow my philosophy. Do you understand that? Yeah, I'm here because of that".
"[Because of] match fitness. He has trained now maybe two days after the match [with Hull]. So we had the match against Stoke on Tuesday when he played for 15 minutes.
"Then we had the training sessions after Tuesday. And before Tuesday I didn't train – I trained the box exercise. You know the box exercise? Yeah? It is not a training session.
"We had to play again within two days after the Hull City game, then I have to recover the players. Then I cannot train him. After Tuesday I can train him. And we have trained very well on Wednesday.
"Then Thursday they are off. I can say to him to train but, no, we have trained before that. Then on Friday we had a training session. So he has trained in two training sessions.
"But a bigger contribution is to play in the second team for 45 or 60 minutes or even 90 minutes – what Jonny Evans has done already.
"But I cannot do that because I need him because [Wayne] Rooney was injured [for Stoke]. James Wilson was injured also [for Hull]. I have to adapt to the needs of the selection.
"Then I selected him in spite of the fact he can only play 20 minutes at that level because the rhythm of the game in the Premier League is the highest."