It was the move nobody expected, as Radamel Falcao stood with some of the world's biggest clubs at his feet.
The striker had the likes of Manchester United and Chelsea knocking on his door, after a hugely immpressive season for Atletico Madrid that saw him score 32 times in 37 appearances, placing the Colombia international behind only Cristiano Ronaldo and Lionel Messi in the scoring stakes in La Liga.
But instead he appears to have taken a road less recently travelled, agreeing a deal to move to Ligue 1 newcomers Monaco, who spent last season in the second division of French football after a spectacular fall from grace.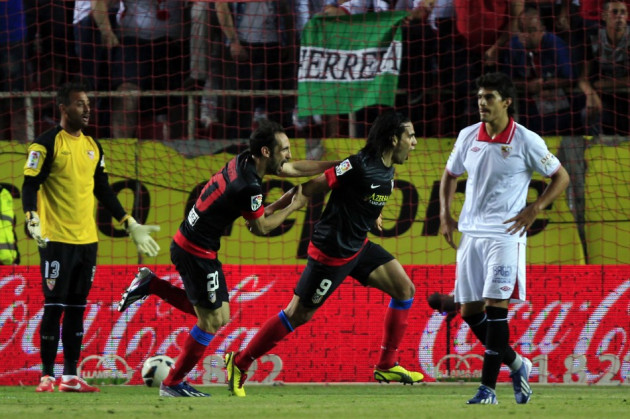 The side were Champions League runners-up as recently as nine years ago and since Russian billionaire Dmitry Rybolovlev purchased the club at the end of 2011, he has insisted he will take them back to those glory days again.
Details of Falcao's move to Monaco are now being revealed, with ESPN claiming that the French club have made sure that there is no exit clause in his contract, so the likes of United and Chelsea will have to give up their pursuit of the star for now.
While in Ligue 1 taxes on players are set to get even heavier in the coming season as the government clamps down on people earning vast amounts of money, Monaco can offer its players much higher wages as they look to qualify for the Champions League again.
This rule is still in contention, with the French Football Federation ordering Monaco to pay €200 million to enter Ligue 1 and the side fighting the decision, but in the meantime they can offer high wages to players who want to be part of their project for growth in the future.
In Falcao's case, he will make around €14 million per year after tax at the club, which is triple the wage he was on at Atletico Madrid. This is alongside a transfer fee of just under €60 million.
One of the reasons why Chelsea and United would have been perturbed by doing a deal for Falcao, besides the high wages that Monaco had on offer, was the complicated third party ownership deal he had between Atletico and a company called The Doyen Group.
Monaco were happy to oblige this and make sure that all parties were happy with the money exchanging hands, leaving Falcao to prepare for life in Ligue 1 where he will pocket around €190,000 per week to play in front of around 15,000 fans... for now at least.