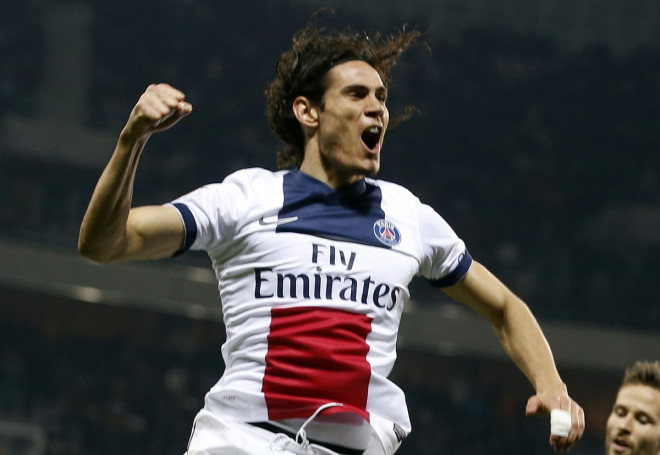 Manchester United are preparing a £50m bid for Edinson Cavani in the summer as replacement for Robin van Persie in the summer, according to the Daily Mail.
The Paris Saint-Germain man is frustrated by Laurent Blanc's insistence to use him on the flanks with Zlatan Ibrahimovic taking precedence over him in the starting line-up.
David Moyes is a huge fan of the striker and wants him to spearhead United's attack next season alongside Wayne Rooney, with van Persie expected to be shown the door.
The former Arsenal man has not been able to hit the strides he did last season and has cut a frustrated face through the length of the campaign.
Manchester City and Chelsea are also interested in the player, but the Glazers, who have set aside a transfer budget of £220m to spend in the summer have given Moyes the green light to outbid any other club in the market if need be.
United are currently seventh in the league, six points behind Tottenham Hotspur, with two games in hand.
Cavani's arrival will give Moyes a much needed boost to attract other players, with the Red Devils seemingly out of contention for a place in the Champions League.
Moyes has revealed that the transfers will not be dependent on their qualification to Europe and that a host of players are still willing to make the Old Trafford.
In a recent interview, he revealed that he is already making plans for the summer but is encountering problems owing to the World Cup.
"I've got to say I'm well into my planning with my thoughts and ideas getting ready for next year. We're linked with player after player and every time I go to a game, I'm supposed to signing three or four players from that game," Moyes said.
"That isn't the case, but everyone is well aware we are looking to make signings and will try to do that whenever the opportunity arises.
"It will probably be after the end of the season before anything takes place, but we have got to look to do one or two things.
"It's difficult as players are going to be going away for the World Cup so it's maybe not quite as easy as ideally all clubs would like to get the work done early. We cannot guarantee it, but will try to make that happen," he concluded.