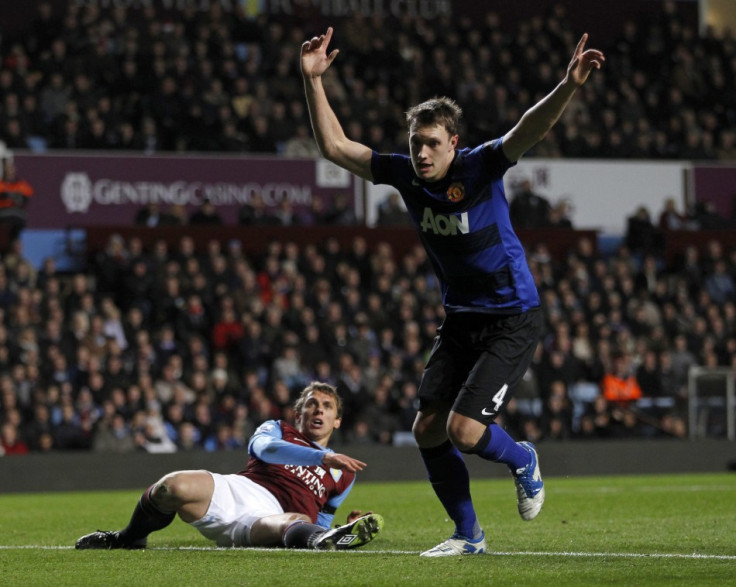 Phil Jones has admitted he is enjoying every minute of his time at Manchester United after expressing his surprise at the amount of first team action he has received this season.
Jones concedes he had expected to play a peripheral role at Manchester United when he first arrived at Old Trafford in the summer. The 19-year-old has instead emerged as one of Sir Alex Ferguson's most trusted performers, featuring in more games than any of his teammates despite his relative inexperience.
The former Blackburn Rovers prodigy had expected to play between 25 and 30 games in his debut season at Manchester United, yet his adaptability has seen him feature at right-back, centre-back and perhaps most impressively in central midfield and he is well on his way to surpassing that total.
The rising Manchester United star claims his move to Old Trafford has surpassed all of his expectations and he is now ready to continue his meteoric rise to stardom.
"I didn't think it was going to go as well as this," The Manchester United youngster told the Manchester Evening News. "I hoped it would be as good as this but I thought I would have to spend a few times on the bench.
"I prepared myself to be frustrated, not because I expected to play every game but because I am young and want to play football."
"I said to myself before the start of the season that if I made 20-25 appearances (for Manchester United) - whether on the bench or starting - I would be reasonably happy. And I have done that already.
"But I don't want a rest. Don't be telling the manager that! The way it has panned out has been fantastic. I am probably playing some of the best football I have ever played in my short career. It is exciting times.
While eager to acknowledge the huge part Blackburn Rovers have played in his fledgling career, the Manchester United defender admits his subsequent move to the defending Premier League champions has been a dream come true.
"I loved it at Blackburn playing week in and week out in the Premiership for the club I supported as a boy." The Manchester United star continued.
"That was a massive buzz for me. It was a dream come true but moving to Manchester United - there was nothing bigger than that. When I came to here I was nervous and apprehensive and all those words that come into that category. But I knew if I wasn't good enough I wouldn't be here. I knew my ability warranted my position at the club.
Jones believes playing for Manchester United is different in that you are judged every time you wear the shirt, whether its in training or on match day.
"You have to prove yourself to your team-mates. They test you out in the first few weeks and that is natural, it happens at every club. I got through that." Jones said of his initial days at Manchester United.
"On and off the pitch the players test you in situations and try to make you stand out like a sore thumb. You have to be sharp and luckily I was.
"I got through all that unscathed so I don't think I have a lot to worry about now."