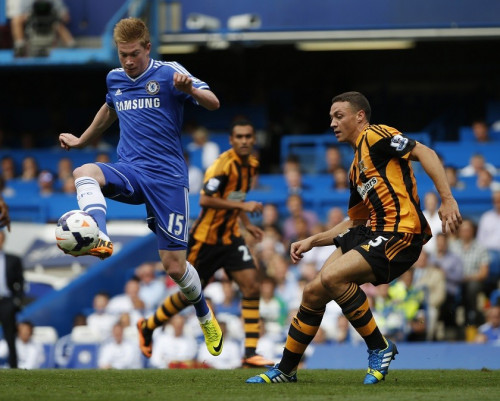 Manchester United are considering a January approach in signing Chelsea midfielder Kevin De Bruyne, according to Tutto Mercato Web.
The 22-year-old had an impressive spell on loan with Werder Bremen during the last term, after being a first team player under their former manager Thomas Schaaf.
However, the Belgium international has failed to replicate last season's form and has seen his playing time being reduced, which has seen him start in only two Premier League this term.
The lack of game time has seen him being left on the bench. Belgium head coach Marc Wilmots has urged De Bruyne to make a move away from Stamford Bridge and has also issued warning that he could miss out on the 2014 World Cup in Brazil.
The report claims United manager David Moyes is keen on signing the Belgium midfielder in January after closely watching him since his Everton days. Any move from the Premier League champions for the services of Chelsea player could see them cough a lot for his signature.
Jose Mourinho is not willing to let his midfielder join Chelsea's league rivals. However a bid of €25m for De Bruyne's services will see the former Real Madrid manager allow the sanction of his player to join the Old Trafford club.
Lack of playing time at the west London club has left De Bruyne frustrated. Bayer Leverkusen sporting director Rudi Voller earlier confirmed that the number of clubs across Europe are keen on signing the Belgium in January, along with the German side.
Meanwhile, the player's agent Patrick De Koster has revealed the Belgium international is looking for a permanent move away from Stamford Bridge in January.
"Another loan wouldn't be good for the player or the club. The player and his family would like to secure a permanent solution because he has been out on loan already twice," De Koster said, as quoted in Sky Sports.
"It's a World Cup year and for this reason he needs to play. Now in the next few hours or days, we will see if somebody finds an agreement with Chelsea. If there is an agreement I will speak with the player about what we will do," he added.