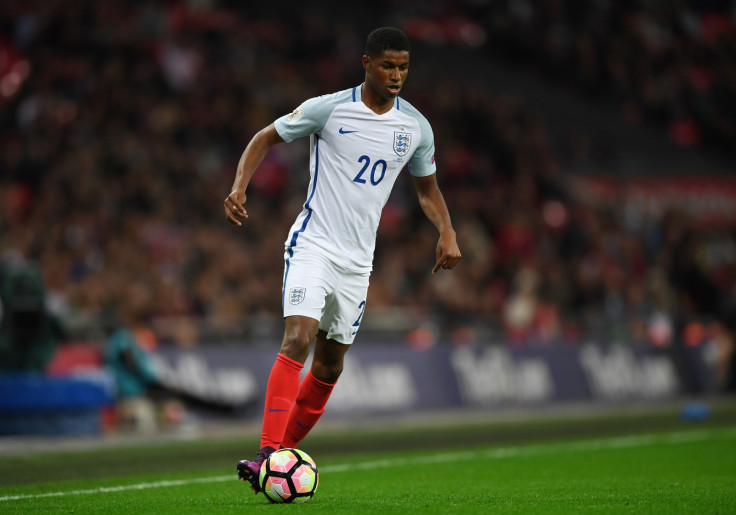 Manchester United forward Marcus Rashford has been forced to toughen up since making his first-team breakthrough. The in-form 18-year-old has been a revelation ever since he scoring a brace on his United debut in the Europa League against Midtjylland in February – but Rashford has admitted it has not all been plain sailing.
Rashford confessed he has had to contend with more bumps and bruises since he was promoted to the first team last season under Louis van Gaal. But Rashford said the experience has served to toughen him up.
Asked if he has been kicked more since he started playing first-team football, Rashford said, according to Inside United: "A little bit, but you don't go through a game of football without having a knock. I don't think I have done that for years. It does toughen you up.
"When you get the first knock it kinds of wakes you up, you know they are men and it is not like under-18s when you can take loads of knocks and know you will be fine, that you won't feel anything after the game."
The United youngster has insisted that being on the end of strong-arm tactics has helped to make him a better player. "You definitely get harder knocks but it helps," he said. "You just get up and get on with the game, and then you can give it to them back. It's important and when you're young I think you need those types of game."
Rashford was recently named in the senior England squad by interim boss Gareth Southgate for their World Cup qualifying matches against Malta and Slovenia, having scored a hat-trick during a one-off appearance for the under-21s in September. However, Southgate recently revealed the United forward could return to the under-21s for the European Championships in 2017.
"We would hope Marcus will go to the under-21 championships next summer, that would be great for his development. That will be a good experience for him," Southgate said, according to The Telegraph. "He's in good form, scoring for United, outstanding in the under-21 game against Norway. So it's good for him to be involved back with the seniors."