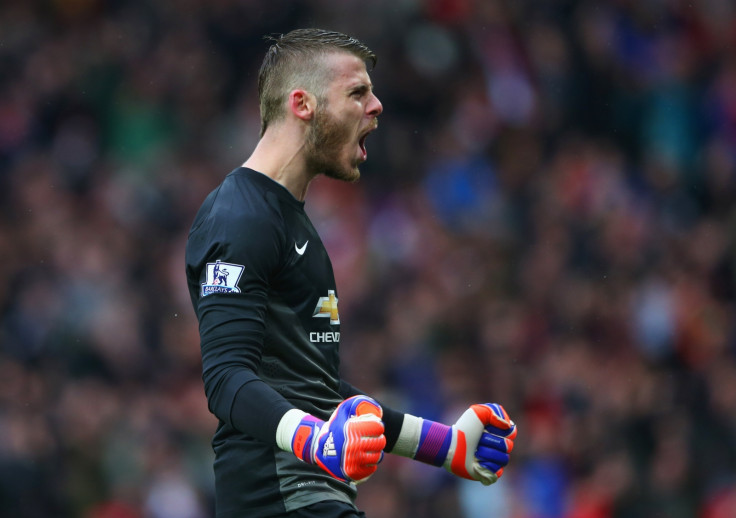 David de Gea's girlfriend Edurne Garcia has added fuel to speculation over the Manchester United keeper's future at Old Trafford after refusing to respond to questions regarding a potential move to Real Madrid.
The Spaniard's future at the Premier League giants has been under increasing scrutiny in recent days after reports claimed he has agreed personal terms to move to the La Liga giants at the end of the campaign, with the clubs having already negotiated a fee.
The fact that De Gea's girlfriend is based in Madrid is said to be one of the main reasons behind the 'keeper's intentions to return to the Spanish capital, where he played for Atletico Madrid before joining United.
United manager Louis van Gaal recently claimed his club have made De Gea a lucrative offer to renew his current contract, which is set to expire in the summer of 2016, but admitted the 'keeper has a difficult decision to make on whether to stay or move to Madrid and be with his girlfriend.
"With every transfer it is also a process. It is also a process with David de Gea, but he shall not leave us so easily because we are a great club and he wants to participate. But of course he is Spanish and his girlfriend is Spanish. But he shall not leave easily," Van Gaal said after the 1-1 draw against Arsenal on 17 May.
Garcia, who will be representing Spain in the Eurovision Song Contest on 23 May, was asked during an interview with Spanish TVE whether the United player will be supporting her during the competition or signing a deal with Real Madrid. She responded: "No, you know my boyfriend is working. He has to play and will not be able to come. I have already said many times."
When the reporter asked: "But he will sign for Real Madrid?" she said: "I am so happy to be here. I am totally focused on the festival and very happy to be here, fighting and defending our song, we go for it. It is what matters."
And after the reporter pushed the issue once more, Garcia responded: "I can't hear you properly. There are interferences and I can hear anything. I can't hear anything, really. I am just focused on Eurovision..."
Earlier this season, Garcia allegedly said Manchester is "uglier than the back of a fridge" although she later claimed reporters had twisted her words.