Manchester United legend admits recent transfer business has 'smacked of desperation'
Gary Neville admits the Red Devils have made major mistakes in the transfer market.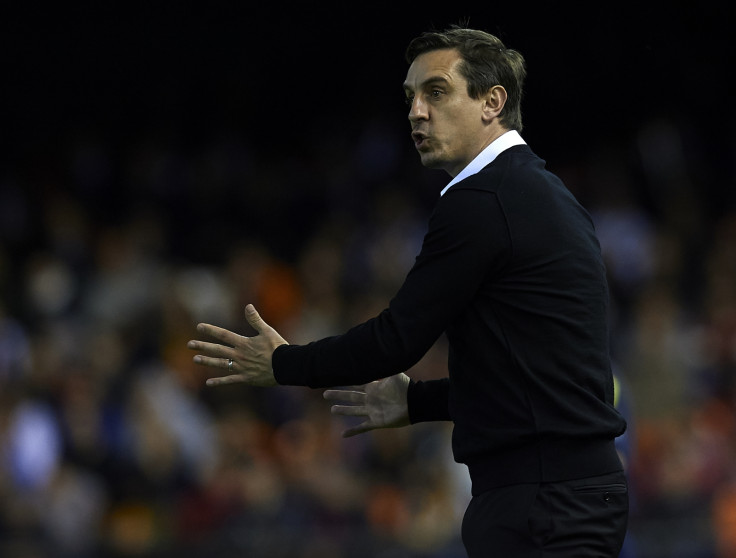 Ex-Manchester United captain Gary Neville thinks some of the club's recent transfers "have smacked of desperation". The player-turned-pundit believes United have made some major errors in the transfer market since Sir Alex Ferguson's departure in 2013.
Neville is, however, broadly supportive of Jose Mourinho's summer signings, even though they have not scaled the heights expected of them during pre-season. Neville admitted that Mourinho has made more astute signings than his predecessor, Louis van Gaal.
United spent lavishly on the likes of Paul Pogba, Zlatan Ibrahimovic, Eric Bailly and Henrikh Mkhitaryan following Mourinho's arrival. Neville believes that those signings fit the profile of a typical United player.
Asked about the summer transfer business, Neville said: "I do think they are players that traditionally fit the Manchester United profile. Players like Paul Pogba, Zlatan Ibrahimovic and Eric Bailly are physical signings. Louis van Gaal liked to sign possession-based and technical players.
"The best United teams have pace, they counter-attack, they are dynamic. Louis van Gaal felt like a departure from that. Jose Mourinho I think has been trying to correct a situation where there have been signings that have smacked of desperation of times."
Meanwhile, Neville also called on United's players to take more responsibility for their recent failings, rather than allowing the manager to be the scapegoat. Since Sir Alex's retirement three years ago, United have sacked David Moyes and Van Gaal, while Mourinho has already come under pressure in the early months of his tenure.
"The managers are fall guys. When I was there, we simply knew that we would be gone before the manager Sir Alex Ferguson, unless he chose to leave," the ex-United captain said, according to the Daily Mail. "We live in an industry where the employees have more power than the employers. It is easier to get rid of the manager than 22 players. Players have to take responsibility.
"I never came out of a game and thought, 'That guy sat on the side of the pitch lost that game for us.' A lot of the United players have been inconsistent. Some were also incredibly used to one man's vision of football. It's been difficult for players and coaches to get over Sir Alex Ferguson leaving."
© Copyright IBTimes 2023. All rights reserved.