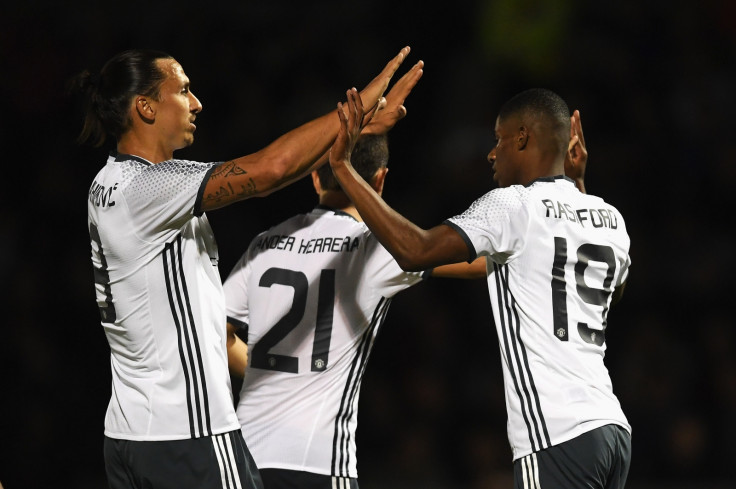 Former Manchester United captain Gary Neville thinks Zlatan Ibrahimovic and Marcus Rashford are "a fit" for each other. The attacking duo are yet to feature in a two-man forward-line at Old Trafford – but Neville has suggested they could form Manchester United's first-choice strike partnership in the near future.
Ibrahimovic, 34, has played as United's lone central striker since the start of the campaign, with Rashford typically playing on either the right or left wing. However, Neville believes the 18-year-old star could eventually form a fearsome partnership with the record-breaking Swede.
"Zlatan Ibrahimovic and Marcus Rashford seem to be a fit," the ex-United captain explained, according to ESPN. "Those two could eventually end up playing together. Ibrahimovic is clever enough to find the runs of Rashford. Rashford is clever. He isn't just a runner and a finisher."
Meanwhile, Rashford – who has scored in each of his last three games for United – recently admitted to being frustrated by his lack of playing time. However, the highly-rated teenager also said it is important he remains patient with manager Jose Mourinho's team selections.
"It is frustrating but I'm not angry that I'm not playing because I understand it's difficult," Rashford told Sky Sports. "We have a lot of big players and a lot of players in my situation as well who are not getting the minutes they probably thought they deserved to get.
"But all of this is good for the squad because everyone is competing in training and it's improving us as players and as a squad. What the manager has done with the team and the players is a good thing.
"I'm just trying to play with freedom like I did last year and the manager supports me with that. Like he did in the Hull came, the manager just tells me to go and help the team win the game. I was here, there and everywhere during that game trying to find gaps and help the team win the game."