Former Real Madrid president Ramon Calderon believes Javier Hernandez's future at the Santiago Bernabeu is still uncertain even though the Manchester United loanee has recently become a crucial figure for manager Carlo Ancelotti.
Having being exiled during much of the season, the Mexico international scored the winner against Atletico Madrid to lead Real Madrid to the Champions League semi-final before netting a crucial brace in his side 4-2 La Liga victory over Celta de Vigo on 26 April.
Some reports in Spain have since claimed Los Blancos are considering securing his services on permanent basis from next season after they agreed a €10m (£6.5m) buy-out clause with United as part of the loan deal in the summer of 2014.
But during an interview with IBTimes UK, Calderon says Hernandez may decide against staying at the Bernabeu as, despite his recent good form, he will be benched again as soon as Karim Benzema returns from injury.
"I think Real Madrid can buy him for €10m but we will have to see whether he accepts to be just a back-up another year," Calderon said to IBTimes UK.
"Hernandez's recent form have been a surprise because he had said before that he was not very happy with his situation at Real Madrid.
"Ancelotti has opted to use Benzema ahead of him this season because the president [Florentino Perez] wants the French striker to play. I do not say that this is the only reason because for me Benzema is also ahead of Chicharito. If Benzema is fit he is a better player. It is true that Ancelotti may have could rotated both more but if Benzema is fit he has to play. And I have not doubt that as soon as he is fit he will play again because beyond doubt Benzema is better."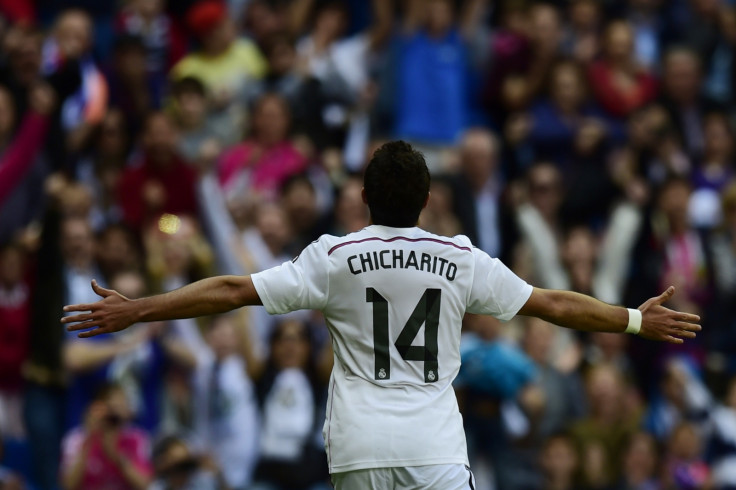 Calderon also points out the Champions League holders have the chance to bring Alvaro Morata back from Juventus after they included a buy-back in the deal that saw the academy star moving to the Serie A giants in the summer of 2014.
"Real Madrid may consider to bring back Morata [instead of keeping Chicharito] should he wants to return," Calderon said to IBTimes UK.
And asked whether he believes Morata is a better player than Hernandez, he said: "Yes, I think so but the manager has also to decide about that.
"He is playing well at Juventus. He is a great player although for him has it has been easier to succeed outside because it is not easy to play at Real Madrid when you come from the academy. Supporters are not very patient and there is not space for everyone."