Manchester United transfer news: Ferguson to choose one of Sneijder, Modric or Nasri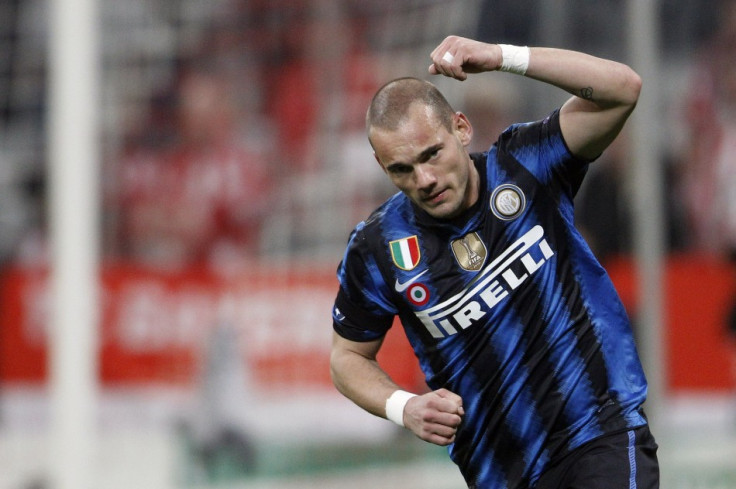 Man Utd are set to renew their interest in Inter Milan midfielder Wesley Sneijder after the Serie A side suggested they may need to sell the Dutchman.
United were linked with a £35m move for the Inter playmaker earlier in the summer, but were dissuaded when Sneijder indicated he planned to stay in Milan.
However, club officials have been put on alert after Inter coach Gian Piero Gasperini hinted that the club will need to sell existing players to fund new arrivals -- as reported by the IBTimes on Tuesday -- ahead of the new Serie A campaign.
"At the moment, Inter have every intention of keeping Sneijder," he said.
"What is clear is that Sneijder is a key player. But at the same time it is difficult to predict what the situation will be in 50 or 60 days and we have to wait and see what happens.
"I'm not worred about the situation surrounding Wesley. In the last few years, Inter have made fewer bad moves in the market than anybody else and have made the best decisions."
But Inter are in a precarious financial position, as The Telegraph reports, with accounts showing losses of £449m over the three years to 2009, which is of concern ahead of UEFA's Financial Fair Play rules.
"We have to sell, then, after we have sold, we will see what Inter will buy," said Inter chief executive Ernesto Paolillo.
"The first move will be selling and not buying.
"Absolutely, we are thinking of UEFA's rules on Financial Fair Play. That's why we will start selling, otherwise we will not buy anything.
"But of course we don't want to say who we will sell because that would not be a good thing for us to do in the market."
Gunners target
United have had a £20m bid for Arsenal midfielder Samir Nasri rejected, according to reports today.
The Old Trafford outfit made the offer two weeks ago and it was immediately rejected by the Gunners. Both clubs made an agreement not to publicise the bid at the time.
Arsenal are understood to value Nasri at closer to £25m and sources suggest United will consider making an improved offer for the 24-year-old in the next few days.
Nasri has entered the final year of his current Arsenal contract but is yet to agree a new deal at the Emirates. Reports last week suggested the Frenchman is holding out for £115,000 a week, similar to the amount captain Cesc Fabregas currently earns.
But, speaking at the weekend, Nasri insisted that money was not his primary reason.
"Money has never been my motivation. I have always taken decisions from a football point of view. I don't want to sign for a club where I wouldn't be playing the football that I like, where I wouldn't feel happy, just for the sake of money.
"We already earn huge wages. The priority is to make a big career and to win titles. With not titles under your belt, you can't be on the list for the Ballon d'Or."
Box-to-box
Sir Alex Ferguson has 'entered the race' to sign Toulouse midfielder Moussa Sissoko, according to reports on talkSPORT.
The highly-rated France international is also wanted by Manchester City, Arsenal and Liverpool, and could be available for £7m.
The 21-year-old made his France debut in 2009 but failed to make the squad for the 2010 FIFA World Cup.
© Copyright IBTimes 2023. All rights reserved.