Manchester United Manager David Moyes Comes Under Renewed Pressure From Fans and Players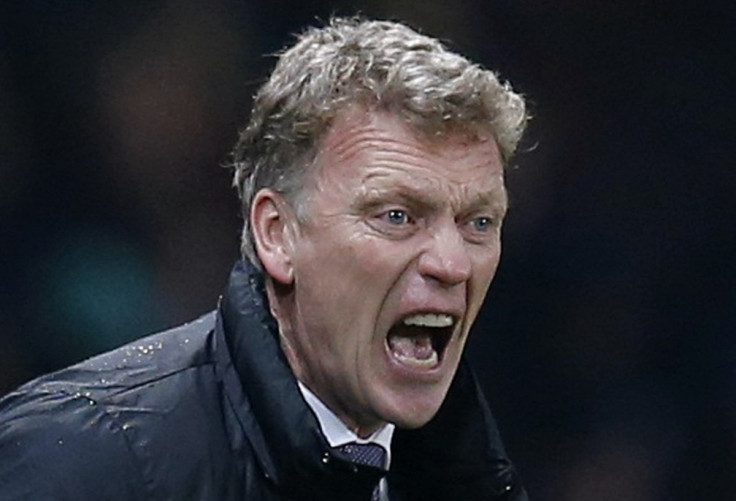 David Moyes' position as Manchester United manager is becoming increasingly unstable after supporters of a leading fans group pledged to protest against the Scot's regime at the club amid further reports of a major falling out with senior players at Old Trafford.
The derby defeat to Manchester City on Wednesday was United's sixth home league loss of the campaign, a record in the Premier League era, as their season lurched into the insipid with qualification for European competition next season becoming increasingly unlikely.
Though United face Bayern Munich in the Champions League quarter final first leg next week Moyes has overseen a torrid first season in charge and many fans used to consistent success under Sir Alex Ferguson are keen to oust the 50 year old after just eight months at the helm.
Moyes was Ferguson's unanimous choice upon his retirement at the end of last season, leading to a banner depicting the former Everton boss as 'The Chosen One' being hung in the Stretford End. United fans have since grown angry over the label and stewards were forced to prevent the banner being taken down following the 3-0 loss to City in midweek.
And fans are planning to react to this slogan and United's poor form which has seen them lose eight times in 2014 by flying a plane over Old Trafford 10 minues prior and five minutes into Saturday's Premier League meeting with Aston Villa with the message 'Wrong One: Moyes Out'.
A statement from supporters on the forum of the United fanzine Red Issue said: "The decision to fly a plane over Old Trafford bearing the slogan 'Wrong One: Moyes Out' is one borne out of acute frustration - frustration at the poor results, lack of fight on the pitch and the unavoidable signs that David Moyes isn't up to the highest standards required to manage Manchester United Football Club.
"A significant proportion of Manchester United fans have had enough and unequivocally want David Moyes sacked. This isn't a reaction because we aren't getting our own way in terms of winning games. There is neither sufficient time or space to list the unwanted records set by the club this season under Moyes stewardship.
"We want a manager who understands and embraces our attacking traditions and has a vision of confidence for the future, not a manager who seems to be completely disassociated and visibly uncomfortable with the fact that he is the manager of Manchester United."
While Moyes is quickly losing support off the pitch, reports have been rife over training ground bust-ups and major fallings-out with senior individuals including player-coach Ryan Giggs and Rio Ferdinand, both of whom have played a peripheral role this season and are out of contract in the summer.
Former United goalkeeper Mark Bosnich told talkSPORT: "It has been obvious for some time that things are not quite right there.
"I'm hearing very strong rumours that Ryan Giggs has had a falling out with the management and that is a real shame because that is somebody there with exceptional experience. He has been like an institution at Man United, just as much as Sir Alex Ferguson.
"The board have to back the manager while he is employed by the club, but they must be concerned behind the scenes with how things are going. The slide has been absolutely incredible.
"I mentioned those rumours about Giggs and I don't think he is the only one [who is unhappy] so there are a massive amount of problems there and they need to be sorted quickly."
Former United players Paul Scholes and Gary Neville have both called for Moyes to be given time by the club hierarchy and Ferguson and Sir Bobby Charlton, who sit on the board and were architects of his initial appointment have offered their support.
Though substantial spending in the upcoming summer transfer window has been promised by executive vice-chairman Ed Woodward, it does little to distract from the 17-point gap between United and current leaders Chelsea, less than a year after winning the Premier League title by 11 points.
Defender Ferdinand told BT Sport of United's slump: "It's embarrassing. I don't want to go out when the game is finished and you even stop watching TV. I don't want to take my kids to school. I don't want to fill my car up with petrol or go to the shops.
"I don't want to walk on the school path and think I'm hearing things or seeing people look at me because we lost a game.
"It gets personal with everyone looking at you and talking about the results and the form and stuff. You don't want to live like that. You want to live freely and comfortably."
"You don't want to see that. You don't want to see other people lifting titles. That's what we're used to. That's what we want. That's what we train for and work for.
"Don't get me wrong, we've got no divine right. You've got to earn that right - and this season, we simply haven't done that."
© Copyright IBTimes 2023. All rights reserved.